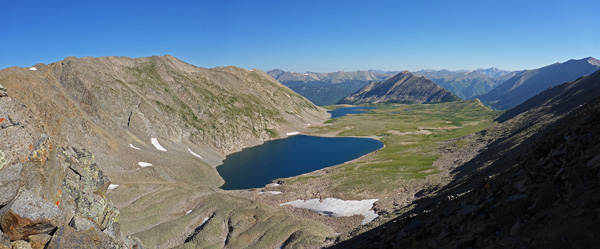 Base Camp: noun –  The place whereby expeditions start and end. A place to call home away from home, and a place where noble troupes gather. (Urban Dictionary)
When I hear the words "Base Camp" my mind automatically thinks of Mt. Everest, and the adventurers waiting at base camp for inclement weather to clear, seizing that window of opportunity, in hopes of reaching the summit. Although it's not likely that you'll ever find me at an Everest base camp, I do find the more local base camp experience a nice change of pace. My friends and I usually strap on our 50 lb. backpacks and head off into the wilderness for a week at a time, hiking to the off-the-beaten-path areas to fly fish. However, to change things up a little we decided to do a four-day base camping trip and take daily excursions to lakes in the area.
This trip would take Shawn, Tom, Carper and me into the San Isabel National Forest. Covering 1,120,233 acres in central Colorado, with seven designated wilderness areas within these acres, it wasn't difficult to find a spot where we could set up camp.
Each morning, we woke up at 6:30, fixed breakfast burritos, brewed coffee, and packed up our daypacks. My rain gear, fly fishing gear, water, lunch, camera, trekking poles, net, and more, were all stuffed into the Scream 25 pack, and I was ready for our daily expedition. Half of our day hikes would be off trail/bushwhacking, and since we were away from base camp, it was imperative we bring enough clothing and food and other essentials, yet be able to carry it easily and comfortably all day.
In the four days that we took our hikes, we managed over 7,300 vertical feet of climbing, fishing six lakes and catching six different species of fish: brook trout, rainbow trout, cuttbow trout, cutthroat trout, golden trout and grayling. With all of these miles and all of the hours of fly fishing, every day it was extremely comforting to know we were going to eventually be back at our base camp.
Steaks, bratwursts and burgers cooked over the fire with sautéed peppers, mushrooms and onions for dinners – not to mention the ice cold beer to go with it all. We kept the canopy over the picnic table for when the afternoon thunderstorms rolled through. And of course we had camping chairs, so we could comfortably enjoy the fire every night with our s'mores. I could really get used to this whole base camp idea, but I owe a lot of that to my Scream 25, which gave me the assurance that I could leave the camp behind, yet still comfortably carry everything I need.
More Photos
More Stories from Jon
Finding Fish in Colorado
Timing is Everything
Curiosity and Research