By Brynna Rao //
These days, success means something more to me. It means happiness… and happiness meant pursuing creative work abroad.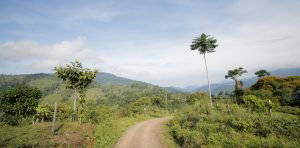 A New Chapter
Two months prior to my 25th birthday, I accepted a role as Media & Marketing Manager at Outward Bound Costa Rica (OBCR). I traded in my black Manhattan blazers for sturdy hiking boots, minimized my possessions, packed up my photo and video gear, and embraced a new family of outdoor enthusiastic co-workers. After studying abroad in Costa Rica for five months in 2012, I was returning home to a familiar and loving face. But, my familiar home had a new adventurous spin to it.
The Hike…
Each new full-time staffer was required to experience one of the most challenging OBCR courses: the hike. You don't have to ask me twice. I was eager to conquer this rite of passage and become a walking bank of first-hand knowledge for curious OBCR participants. I was prepared with only with a packing list and a vague idea of the trials ahead.
The night before, I loaded my pack in the pickup truck, slept for an hour, and climbed into a van with eleven fellow zombies. As the hours passed by, hazy pinks emerged between the forest canopy and a pine car freshener hanging from the dashboard mirror. The pavement beneath us turned into gravel, as we inched closer to our remote launch point.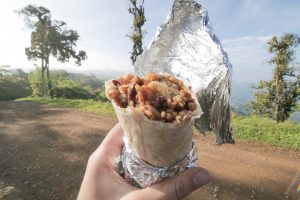 I spot Mauren, one of our instructors, a few meters ahead, resting her head on her pack with twelve others scattered around her. We clamber out of the car, and I take my first steps across a five-foot wide wooden suspension bridge over a rushing river. My head, broad shoulders, and torso practically disappear from view under my hulking pack. I justified looking like a Mountainsmith product that sprouted legs on the added weight of my Canon 70D, extra battery packs, portable shotgun mic, GoPro Hero 4, and waterproof casing.
"It's my job," I reassured myself, as I repeatedly hung my limbs down to touch my toes at every stop. The weight of my pack slid up my stressed spine, elongating each vertebrae like stretched accordion.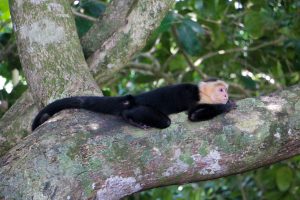 Life on Trail
My eight-day technological disconnect provided all of my senses a renewed sense of life. I heard monkeys howling in distant trees, the rush of rivers and monstrous waterfalls, chirping cicadas, and the sweet juice of water apples plucked fresh from trees along our route.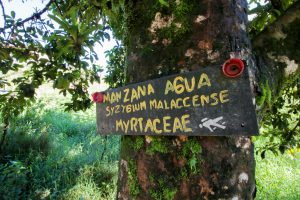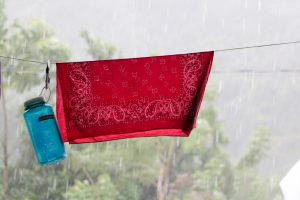 The rain turned into an unexpected relief from the sweat dripping off my brow. My boots sloshed through clay marshes and bone-dry dirt over high-mountain passes, to arrive at the porch of homestay families welcoming us with a cup of hot coffee, empanadas, dinner, and a heavenly shower.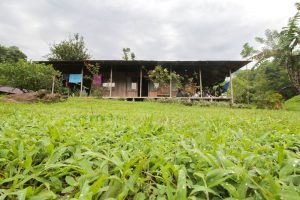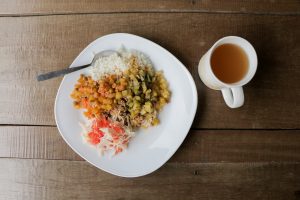 Each night I proudly collapsed in my sleeping bag, barely registering the planetarium of stars above my head before my eyes shuttered shut.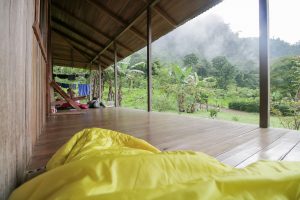 Mira Abajo!
At the faintest glimmer of daylight, I stretch out my arms and take in a whiff of an entire breakfast buffet. The invigorating odor of Giselle's gallo pinto, coffee, plantains, eggs, and juice lifts my foggy veil, and I am immediately ready for the day ahead.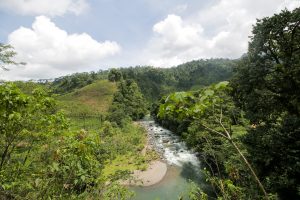 Each bend gifted a new vista for me to awe at, along with a fresh set of challenges. This time, I find myself teetered on the edge of an 80-foot waterfall drop. Mauren yells from above, "Mira abajo!" (Translation: Look down). I smile and jokingly shout back, "No way!" I caught her eye mid belly laugh as she gave me some slack and my vision dips below the edge.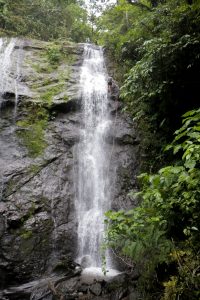 My focus zeroed in on my foot placement. It was impossible to read the optimal foothold through the whitewash of the cascading water. A distracting force pounded onto my chest and legs. I kept my knees bent and my entire body horizontal as I inch my way down. The moment my feet sank into the pool of water below brought the same rush of accomplishment as the final moments before touching our pickup van—marking the end of our trek.
Back to the Office… In the Jungle
Four days later, I'm back at my desk. But instead of looking out to concrete city, I'm a wide-open windowpane away from a mountainous rainforest canopy. Through my new surroundings, I've not only found adventure and a job I love, but I also found community: an amalgamation of locals and expats that look after one another, host surprise birthday parties for each other, and cause one another to cry with laughter.
I take a peaceful breath, and with a renewed sense of drive and purpose, I dive into my loaded inbox to share my new knowledge and rapidly save the 94 GB of memories from my first expedition with Outward Bound Costa Rica.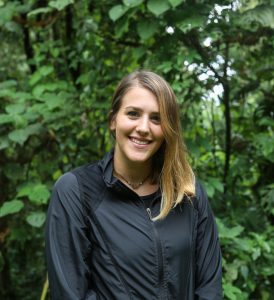 Brynna Rao
Cheshire, CT
@BrynnaRao
Facebook: @OutwardBoundCR
Instagram: @OutwardBoundCR
Twitter: @OutwardBoundCR
Brynna Rao is a New England native, outdoor enthusiast, writer, photographer, and videographer. She is now the Director of Marketing & Communications at Outward Bound Costa Rica—an outdoor adventure organization offering Summer, Gap Year & Semester, and Custom Courses to all ages with a focus on personal development, leadership, and cultural immersion across Costa Rica and Panama.