Joining thru-hikers for the 75-mile finish of the Colorado Trail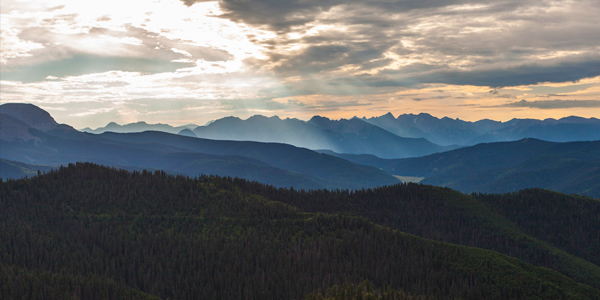 A close friend of mine asked if I would be interested in joining her for a section of the Colorado Trail. She was aiming to finish all 486 miles in about five weeks, and invited me along to join in the last week of fun: Silverton to Durango. This was her final leg of the trip, and it would allow me to experience the full force of a group of through-hikers at their prime.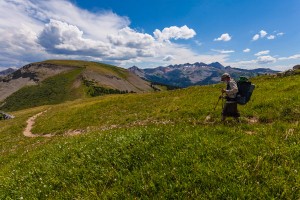 When I arrived at Molas Lake Campground I found an RV site filled with small one-man tents; here they were! She had been hiking with four or five others that all shared the same pace on the trail as well as playful and easy-going personalities. I wasn't the only outsider joining up with this group of warrior-like hikers. There were two other couples there to support the group for the night (bbq and cold beers). We had an early night, and got treated to a full breakfast before we set off down the trail.
Day 1
Day one was sixteen miles from Molas Pass to a beautiful waterfall nestled in a scenic valley. Within the first four hours of my journey, it was hailing sideways and we had a big pass to climb. I was the only one in the group that hadn't been on the trail for four weeks, so earning my trail legs wasn't going to be easy. I got a glimpse of their grit through their smiles as little balls of ice stung any part of skin that wasn't covered while we climbed over our first pass. It gave me confidence that they had been through many days of similar or worse conditions. Although climbing a pass above treeline with thunder all around was unsettling at best (and for safety reasons, not encouraged), the strategy was simple: step by step. The storms momentarily paused, and we arrived to camp with plenty of time to set up before more rain was upon us. We napped while the weather cleared and allowed us to take full advantage of this campsite on top of a waterfall. Incredible!
Day 2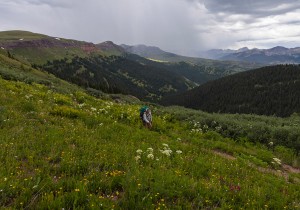 Day two was 14 miles of a windy trail that followed the contour of the mountain range. We stayed high as we curved around the valley below, and ended the day with yet another large pass. With the usual afternoon storm clouds keeping us cool and wet. We arrived to a less than flat campsite, but made the most of it. We dipped into the reserve tank to hike up a side trail to a waterfall, and gather wood for a fire. Hikers midnight came early tonight as we prepared mentally for tomorrow's challenge: 23 miles ending with Indian Ridge.
Day 3
Our destination was Taylor Lake. We knew to cover that much distance we would need an early start, and we did just that. By 5 a.m. we were on the trail with our headlamps lighting the way. This was the only morning I got to enjoy the full sunrise, and it did not disappoint.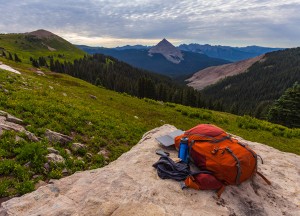 We were challenged with several long and sustained climbs right off the bat. By lunch I was feeling drained, and the weather was looking skeptical. We knew we had a few miles above treeline to finish the day before we would arrive to camp. We refueled our bodies at a beautiful scenic overlook, and kept our fingers crossed as we followed the trail for several more miles. By afternoon we were approaching Indian Ridge, and the clouds lifted as did our spirits for this incredibly high and open section of the trail. We could see for miles in every direction we looked; this rewarding scenery was the only thing that kept our tired bodies walking. We got to the top and took advantage of the opportunity to drop our heavy packs. We reveled in the gorgeous mountains that seemed to never end. After four and a half weeks of hiking, this was the last big challenge for the group. The trail is mostly downhill from this ridge all the way to Durango. I felt fortunate to be able to celebrate with the group on top of the world as they realized their dream of walking the whole Colorado Trail was nearing its end.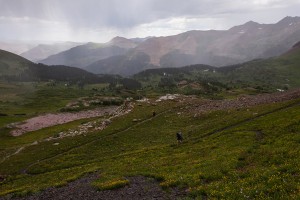 That night we celebrated at the high alpine lake, and were granted a crystal clear night sky to remain humble and be reminded of scale (as if these mountains weren't enough). I have never seen the Milky Way so vibrant before, but the condensation kept my camera lens too wet to snap a good photo. It was overdue for me to forget the camera and take it in for myself.
The Celebration
It was less than 48 hours later that we were at Carver Brewing Co in Durango clinking our glasses in congratulations to this group of hikers. Walking across almost 500 miles of mountain terrain is no small task, and only a small percent that start actually finish, but this group came out on top.
The group varied in age, experience, and nationality, but they all proved their mental and physical toughness. Committing to the Colorado Trail means you are prepared, self-sufficient, and determined. They found strength in numbers, and admitted they would have hiked a different hike if it had not been for each other. This rag-tag group of hikers were more alive than most. They felt the sun and rain, the hot and cold, the pains and joys of life on the trail. For me, I was proud for completing my relatively short 75-mile segment.  It was an honor to be welcomed into a group that had already hiked together for hundreds of miles. It left me wanting to explore more of this colorful state by foot; which is the only way to truly digest and indulge in the impressive land that is out there waiting to be explored.
More Photos