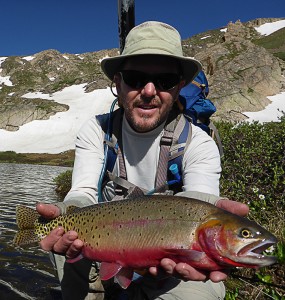 People say location is everything, but in the world of hiking and fly fishing location is only part of the process, and timing is everything. When it comes to spring fly fishing in the Colorado Rockies, traveling to a lake that sits at 10,000 feet or higher is quite a challenge. For some lakes, the best fishing is just after the ice melts but before the lake turns over. Trying to time this event is a different gamble every year. Some years the snow pack in the Rocky Mountains is lean and you get an early start to fishing open water. Other years mother nature will continue to drop snow well into June. This was one of those years.
As is typical of my day trips, the Mountainsmith Scream pack was the perfect choice, allowing me to carry in my fly fishing gear along with extra layers, rain gear and some lunch.
The first week I tried to hike to a pair of lakes that sat at 12,000 feet above sea level. One lake was 95% frozen and the other lake about 80%. I only saw one fish and got nothing to the net. This information was valuable, however, because based on the temperatures we were going to have the next week, the lakes would soon be very fishable. So the week after that first ascent I went back up with my friend Shawn and the timing couldn't have been better.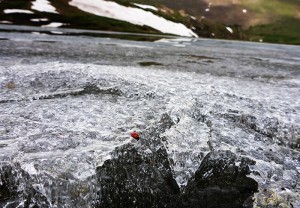 Ice was off of one of the lakes, with the other lake still having a small amount of ice, and we saw a lot of cutthroat trout cruising around the shoreline. By mid morning it had warmed up enough and the fish started hitting dry flies off the surface of the water. With all this action you would think we would have had a stellar day, but the fish were extremely picky. Shawn and I threw everything we had in our arsenal at them and only managed seven fish between the two of us. Which is a better way of saying that I only caught one fish that day and Shawn did pretty good.
With only one fish to the net, I still had an amazing day rambling around in the mountains. The timing was perfect this year, even if it did take me two tries to get it almost right.
Jonathan Hill is a regular contributor to the blog and a Mountainsmith ambassador. Find more of his fishing adventures at jonathanfhill.com.