Paula Francis an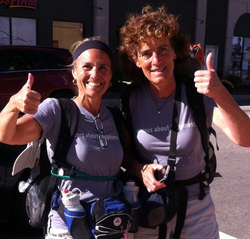 d I have walked from Montreal, QC to Raleigh, North Carolina, about 1080 miles. We're heading south from there, and west, expecting to be in Los Angeles sometime in 2016.
The Happiness Walk is a project of Gross National Happiness USA, a non-profit organization based in Vermont. The mission of GNHUSA is to "measure what matters," because the indicators we use for policy and other decisions must reflect our true values. The purpose of The Walk is to gather and share statements about what actually does matter to people. Our first 1000 miles has provided us with an astounding collection of heartfelt wisdom and goodness, and has started what we think is the most critical conversation of our time.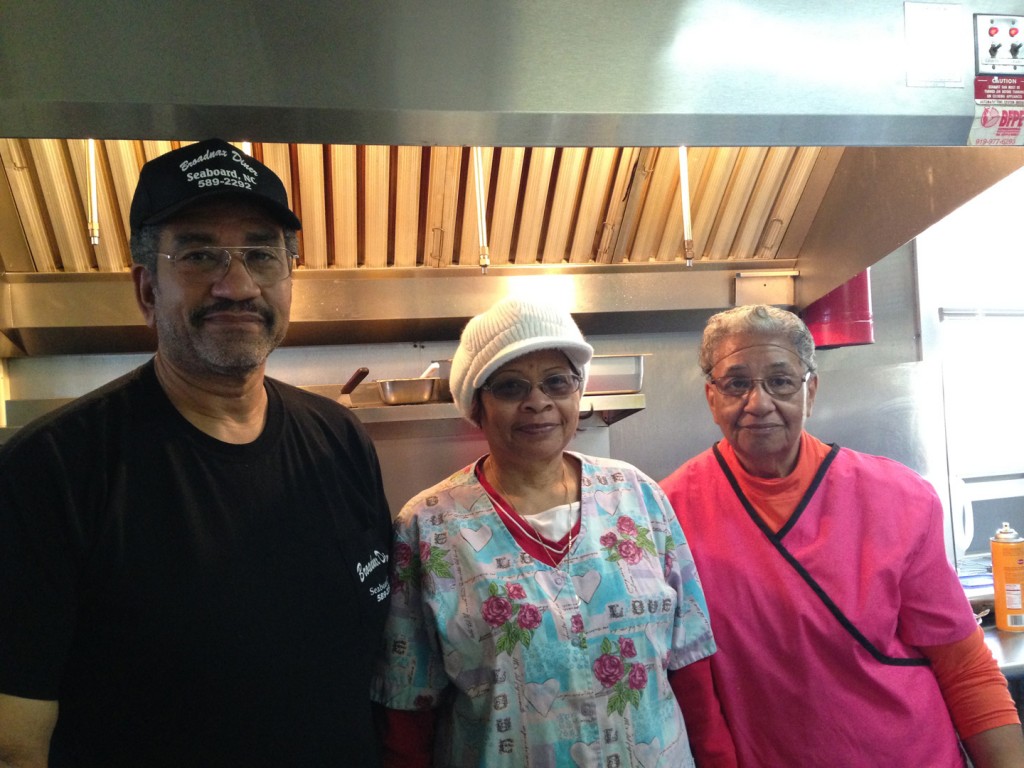 A "typical" day for the Happiness Walkers starts with breakfast, let's say… at Broadnax Diner in Seaboard, North Carolina. The owner and chef is Johnnie Lassiter, son of Louise, a powerful voters' rights activist during the civil rights movement of the '50's. We had plans for an 18-mile day, Seaboard to a little beyond Roanoke Rapids. Conversations with other diners (this is typical) postponed our departure so we adjusted our distance goal downward. John, a local hunter sitting at the next table, paid our tab after overhearing our story and before we could stop him. When we finally left Seaboard, we were blessed, nourished, light on our feet and humbly grinning at the generosity around us. This is what we do: walk from town to town, across the country, talking with anyone interested about happiness and what matters. The conversation has power.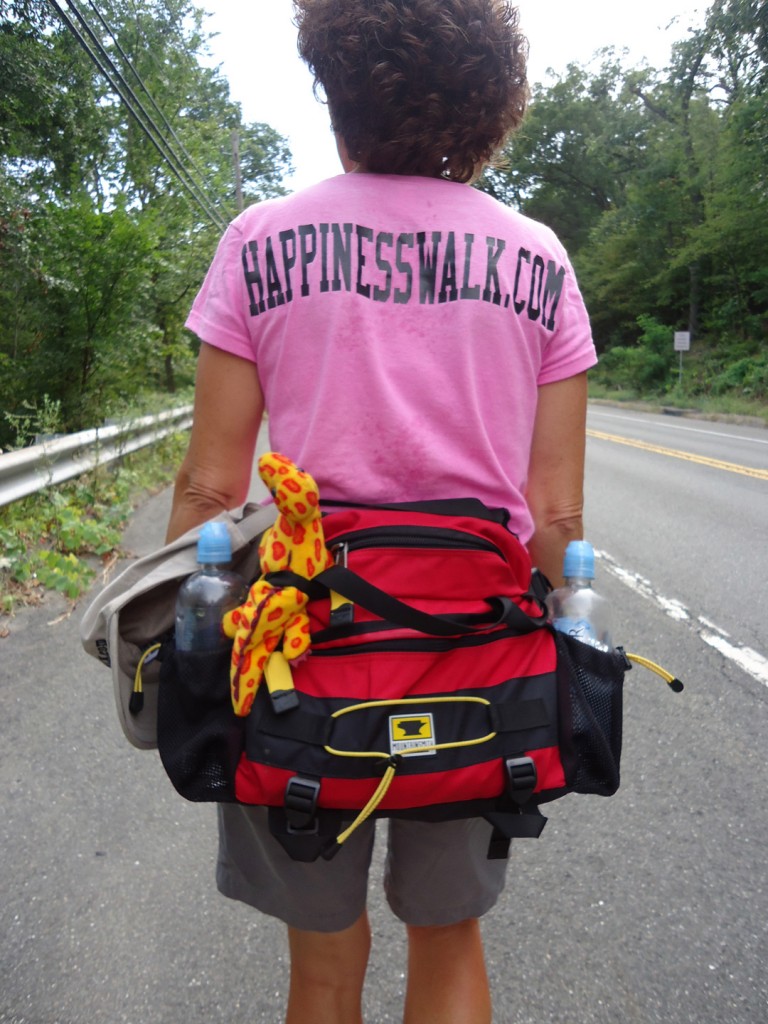 It was cold for November in North Carolina – 36 degrees – and there was a headwind. We had almost every piece of clothing we carry on our bodies, and the rest was stuffed in my Mountainsmith waistpack. There was a flat, grassy shoulder along Route 158. The winds, blowing across the open fields of late season cotton, were blocked occasionally by stretches of woods. Eighteen-wheelers flew by in both directions, carrying long pine tree trunks or enormous rolls of cotton. We passed a paper mill and a cotton gin en route to Garysburg.
Garysburg is a crossroads, with a mini-mart, a dollar store and La Kitchen Delight, a barebones luncheonette offering deeply fried fried-food. It was a delightful break from the cold and wind. Lovely Louiza served us hot tea (unsweetened) and, with a persistent wink, shared her thoughts about happiness. We discovered she was related, through her husband, to our breakfast chef, Johnnie. She was curious what he'd served us. Her husband was silently deep-frying behind the counter.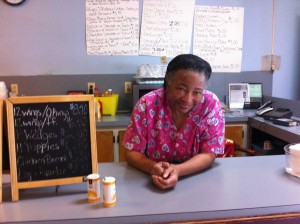 The headwind and the cold were wearing on us. We checked our GPS for potential warm spots ahead – not common in rural, northeast North Carolina. But there, on Yelp, was Jermonico's, about three miles down the road in Weldon.
Jerry, the owner and chef, is a Weldon native and a Johnson and Wales' Culinary Arts program graduate. The restaurant doesn't look like much from the outside (sorry, Jerry) but the menu is a bright and healthy spot in the deep fried south. After a well-presented and delicious meal of blackened tilapia and roasted vegetables with aioli, we chatted with Jerry about the impact he is having on the health and vitality of his community. He's worked to persuade his neighbors to try new things…like vegetables. He gives away a lot of free samples of unfamiliar foods…like… zucchini. Only three years since opening, Jermonico's has waiting lines every day for lunch.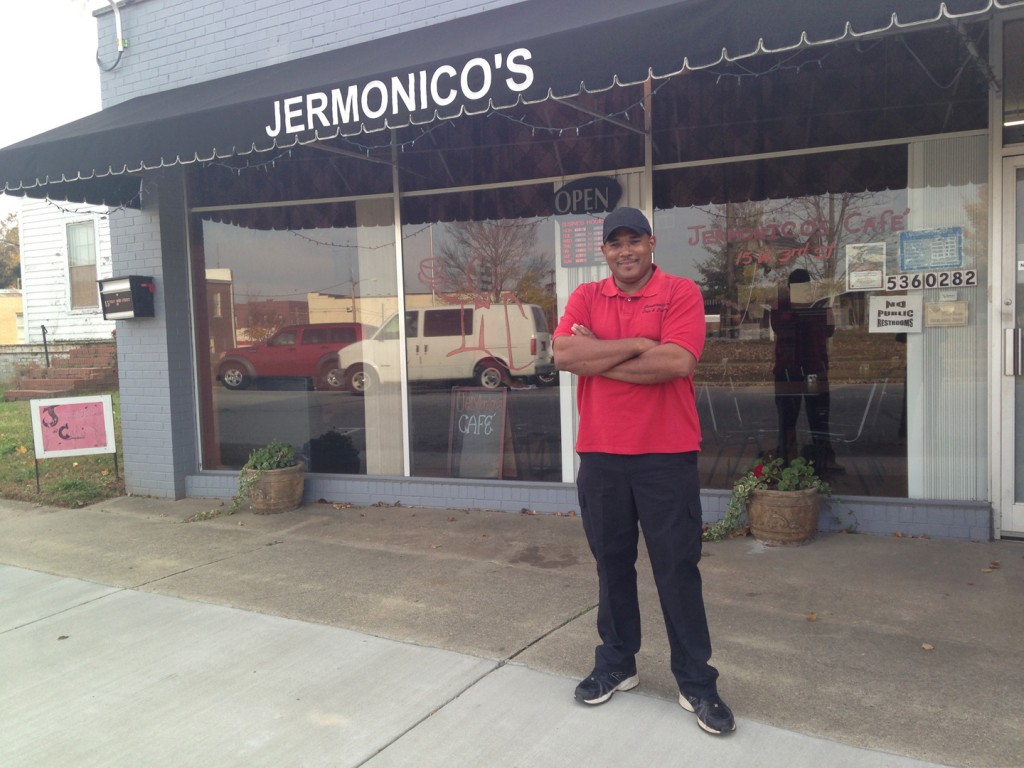 We closed the restaurant talking with Jerry, around 3:00 pm, then tried to get another few miles in before sunset, mainly on the strip-mall section of Route 158 south of Roanoke Rapids. We anxiously watched the sinking sun, knowing that hitchhiking was not a common form of travel around here.
We finished our day at the corner of Route 48 and American Legion Road. We put out our thumbs for about twenty minutes but gave into a taxi service as the temperature dropped into the 20s. Every moment offers an opportunity, though, and we became fast friends with our driver, Dennis, as he tried to comprehend what we were doing. He accepted half the quoted fare and we called him the next day to arrange a ride back to our starting point. OH, and the couple we met at the diner in Seaboard…The Vanns. They offered, via facebook, to pick us up the next day, after our day's walk, and stay with them for the night. Just a typical day…
So, what is the Happiness Walk really about, if not just a cross-country dining adventure? Paula and I propose that The Walk is about a critical and hopeful conversation. What matters to people is relationships, our friends and family, making others happy, taking care of each other, faith, god and spiritual growth, health, nature, freedom, education and opportunity, good food, pets and music. The Walk and the conversation are about our democracy. They are about generosity, the wellbeing of everyone and the empowerment of individuals and communities to pay attention to what truly matters in life and ACT on that. We invite you to join the conversation: follow us on Facebook, Instragram, Twitter and at our web site; host a Happiness Dinner on International Day of Happiness.
Follow The Happiness Walk:
Web Site: www.happinesswalk.com
GoFundMe: http://www.gofundme.com/The-Happiness-Walk
Email: Linda – linda@happinesswalk.com Paula – paula@happinesswalk.com