When most people think of Thailand, they think of the bustling city of Bangkok or the party beaches of Phuket and Koh Phangan. If they are more into the tropical beaches, than the blue water and stunning cliffs near Railay Beach come to mind, or even the classic Maya Bay (where the movie "The Beach" was filmed. In fact, these used to be our first thoughts of Thailand… until we discovered the hidden gem of Sukohthai!
You may be thinking "where is Sukhothai and why would I want to go there?" Well you are not alone. Actually, when Liz mentioned to me about stopping off in Sukhothai for a couple of days between our visits to Chiang Mai and Bangkok, I wondered the same thing. But she had done her research, and assured me that we would love it…and she was right!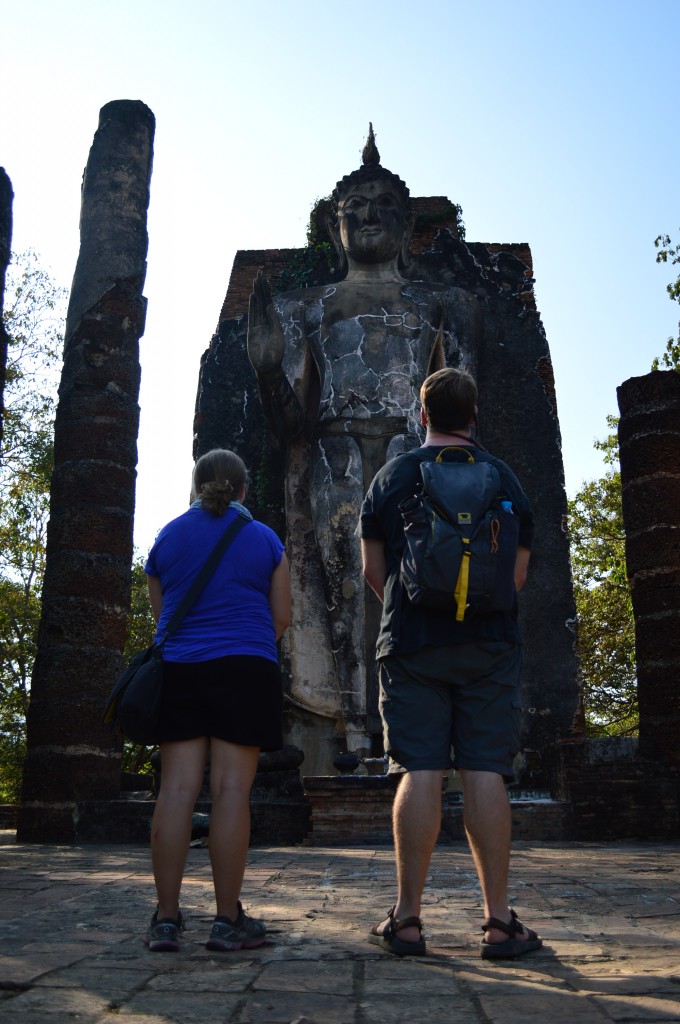 Sukhothai is the site of an ancient kingdom that hearkens from the era just behind that of the famous Angkor Wat. A UNESCO World Heritage site, the town is located in the northern middle part of Thailand, just off the main travel route between Bangkok and Chiang Mai.
Because Sukhothai is a bit off the beaten tourist trail (there is no train direct into the town), many tourists skip visiting…but this is a huge MISTAKE. Our visit to Sukhothai became the highlight of our 4 months traveling around Thailand.
We opted to take a 5 hour scenic bus ride from Chiang Mai directly to this peaceful and historic town. The town of Sukhothai consists of a new town and an old town, where the historic park is located. We chose to stay in the old town, near the park, because it is more peaceful and closer to the sites. And as soon as we stepped off the bus, we could feel the relaxing vibe in the air.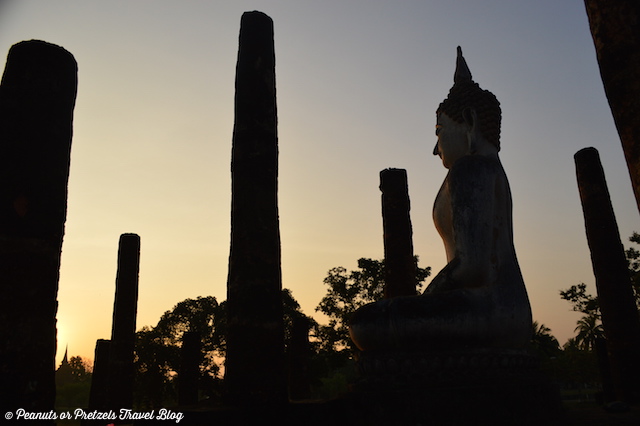 The next day we woke early to catch the sunrise over the ancient temples in the Sukhothai historic park. And while you will find similarities in the architecture between Sukhothai and the famous Angkor Wat, one thing you will not find are the crowds. That's what makes Sukhothai such a wonderful place. At times, we nearly had the historic park to ourselves!
Imagine having Angkor Wat to yourself?!?! Yeah, we know that will never happen. But at Sukhothai, you can have that kind of moment.
While most of the best preserved temples are in the old city historic park, many others are spread out into the countryside. No cars are allowed in the old city historic park, and the outer temples are a bit far for walking. So the best way to see all the temples is to rent a bicycle or a motorbike.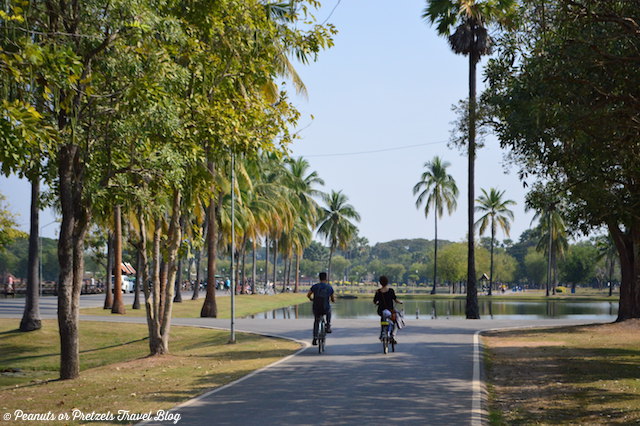 Renting a bicycle is a peaceful way to explore all the temples, and we saw many people riding bikes around and soaking up the sun. But since we had just became experts at riding a motorbike while we were living in Chiang Mai, we opted to rent a motorbike for a couple days while in Sukhothai.
Having the motorbike allowed us to to cover more ground in a shorter amount of time. As an added bonus, having a motorbike will make it easier to venture beyond town into the countryside, where you will find national parks, waterfalls, and even other temple complexes.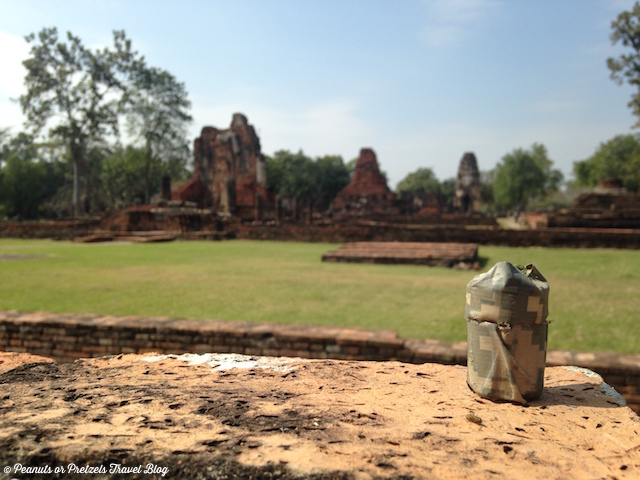 While the temple hopping is incredibly interesting, it can get a bit old after a few hours. Luckily, there is a way to add a bit more adventure to your experience…Geocaching! Yep, there is a geocache at nearly every temple at Sukhothai — perfect for adventurous cachers like ourselves! So it was like having our own little treasure hunt while we were out exploring the area.
After discovering most of the caches (over 30) and learning so much about this little hidden jewel of Thailand, we couldn't think of a better way to end the day than with a bowl of the local specialty dish, Sukhothai Noodle soup!
Complete with a few veggies, just a bit of meat, and some garnish of herbs and spices, these noodles are topped off with a delicious broth. By far, this was one of our favorite dishes during our time in Thailand.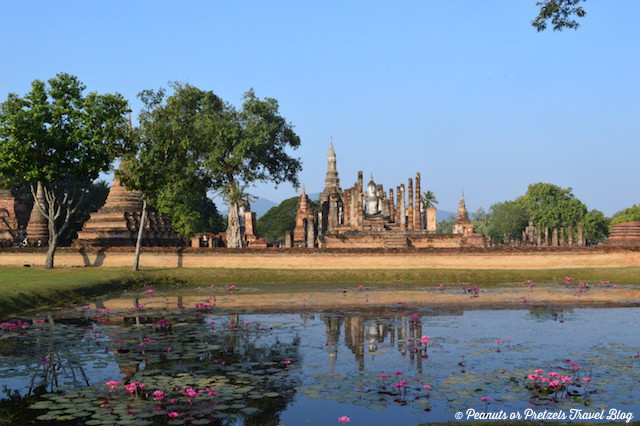 So if you ever find yourself traveling in Thailand, do not skip over Sukhothai. It really is a hidden gem and we would highly recommend it to anyone. We loved our visit so much and can't wait to return for another bowl of tasty Sukhothai noodles, and to find the remaining Geocaches hidden among the ancient temples.
Josh & Liz are Mountainsmith ambassadors and regular contributors to the Mountainsmith blog. Follow their world travels on their blog Peanuts or Pretzels. Josh relies on the Tour FX  and Spectrum camera packs to keep his equipment safe and at-the-ready. Liz is most often found toting her Rift Messenger bag to exotic destinations.