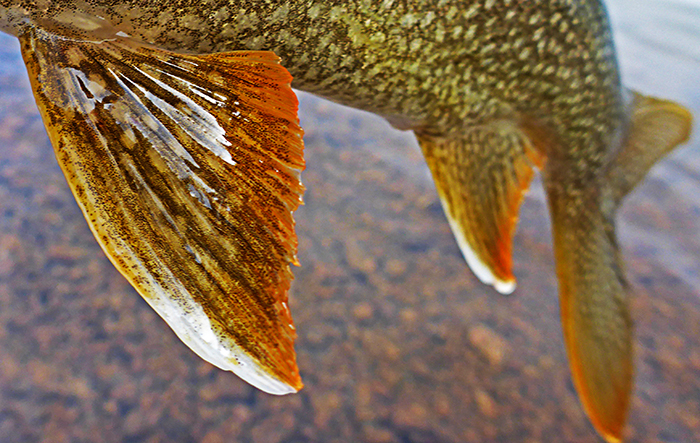 Here in Colorado we are extremely lucky, we get to fish every day of the year. Although some of the water is frozen in the winter, and some roads that lead to amazing fisheries are closed for the winter, but you can fish open water whenever you feel the urge. Pikes Peak Highway is one of the roads that is closed during the winter months. Last weekend it opened for the season so myself, Tom, Shawn and Tim headed out to one of the reservoirs.
Shawn and Tim hiked their float tubes in, while Tom and I planned on wading around the lake. We hiked a mile or so up the reservoir and then went down to the lake and started fishing. With my fly fishing and camera gear packed into my Mountainsmith Mayhem 35, it was easy to hike around the edge of the lake with everything I needed for the day packed into the Mayhem.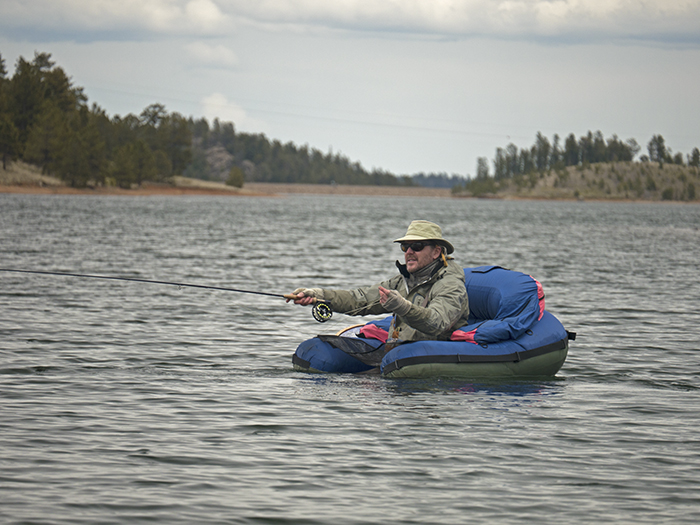 The reservoir is very deep, 130 feet at its deepest. The shoreline that Tom and I were wading was shallow enough to walk around, with about a foot and a half before it dropped off into the abyss. With snow on the steep banks, and not a lot of room to walk, we had to be careful when hiking around. We stopped at one point and decided to fish an area that had a nice 5 foot shelf coming off the bank before it headed down deep into the lake. With the bank right behind me, roll casting was the only way to get my streamer out into the lake. Before long I had my first fish of the day on the line and I didn't realize it was a lake trout until it was in my net. This just happened to be the first lake trout that I have ever caught. After releasing the fish, I roll casted back out into the water, waited for my line to sink deep and bam, fish on again. And again it was a nice lake trout on the line.
As Tom and I were skirting the edge of the lake, Shawn and Tim were kicking and fishing their way up to the inlet. After a couple of hours all four of us met up and hung out near a cove and fished that and a nice peninsula that jutted out into the lake – all of us catching a nice amount of fish for the rest of the afternoon.
The Pikes Peak Highway was opened from 9-4 that day, so around 3:30 we started our hike back to the car. With a little bit of hiking, and a lot of fish caught by everyone, it was a great opening weekend for all of us.
Jonathan Hill is a regular contributor to the blog and a Mountainsmith ambassador. Find more of his fishing adventures at jonathanfhill.com.