One of many things we love about Geocaching is you can't find one by sitting at home in front of the TV.  We use geocaching as a way to explore a city, for thrills, and to help us stay healthy.  Since discovering geocaching we have found ourselves on trails and exploring parks all around the world.  We love that our hobby gets us outside to explore new surroundings.  You will find that most caches can be found on trails and in parks.  Geocaching always gives us something to do.  There is never a boring day at home when there are over 2 million caches out there in the world to be found.
Liz and I love packing up our Adventure Bag and hitting trails around our state.  Our Georgia State Parks has a wonderful Geo-Tour that keeps us busy and active all around the state.  It has been a wonderful way for us to get out and explore the state through geocaching with 40 plus state parks and Historic Sites to explore.
Geocaching around the world helps keep our mind sharp while traveling.  You will have to use your mind to do a little code breaking to either locate the final cache or another stage that will lead you to the final stage.  Cachers are getting more and more clever theses days in the way they hide caches or the complex puzzles they create for you to break.  Its a fun way to give you mind a workout along with giving your body a workout.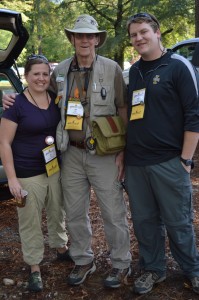 While we travel around caching over the years we have seen an increase in the number of retirees picking up the hobby of being active.  At a recent Geocaching event we were partnered up with an old gentleman named Jim.  Jim was a 74 year old retiree from Florida who recently moved to North Georgia mountains.  He got into Geocaching to stay active.  He is a former fire chief that needed to find something to keep him active, he discovered geocaching.
When we met Jim he was a beginner that asked us a million questions about geocaching.  Jim recently had two hip replacements and a few other complications, that would keep most down.  Jim was determined to understand geocaching.  We asked Jim why he wanted to get into geocaching and we loved his response and always think about when we decide to stay in or go out.  He answered with, "Well I got into this to stay active.  I could die sitting at home watching TV or I could die hiking on a trail hunting a Geocache, doing what I love."
If you were wondering we ended up having to keep up with our friend Jim at that event.  He is still out there discovering geocaches and staying active.  Geocaching will take you to some wonderful places around the world.  So whenever you are sitting at home wondering what to do for the day, grab your GPS or smart phone and head out in search of your adventure.
Get Up, Get Outside and Discover Adventure Through Geocaching  #AdventureCaching
For more about Geocaching, visit our blog Peanuts or Pretzels.