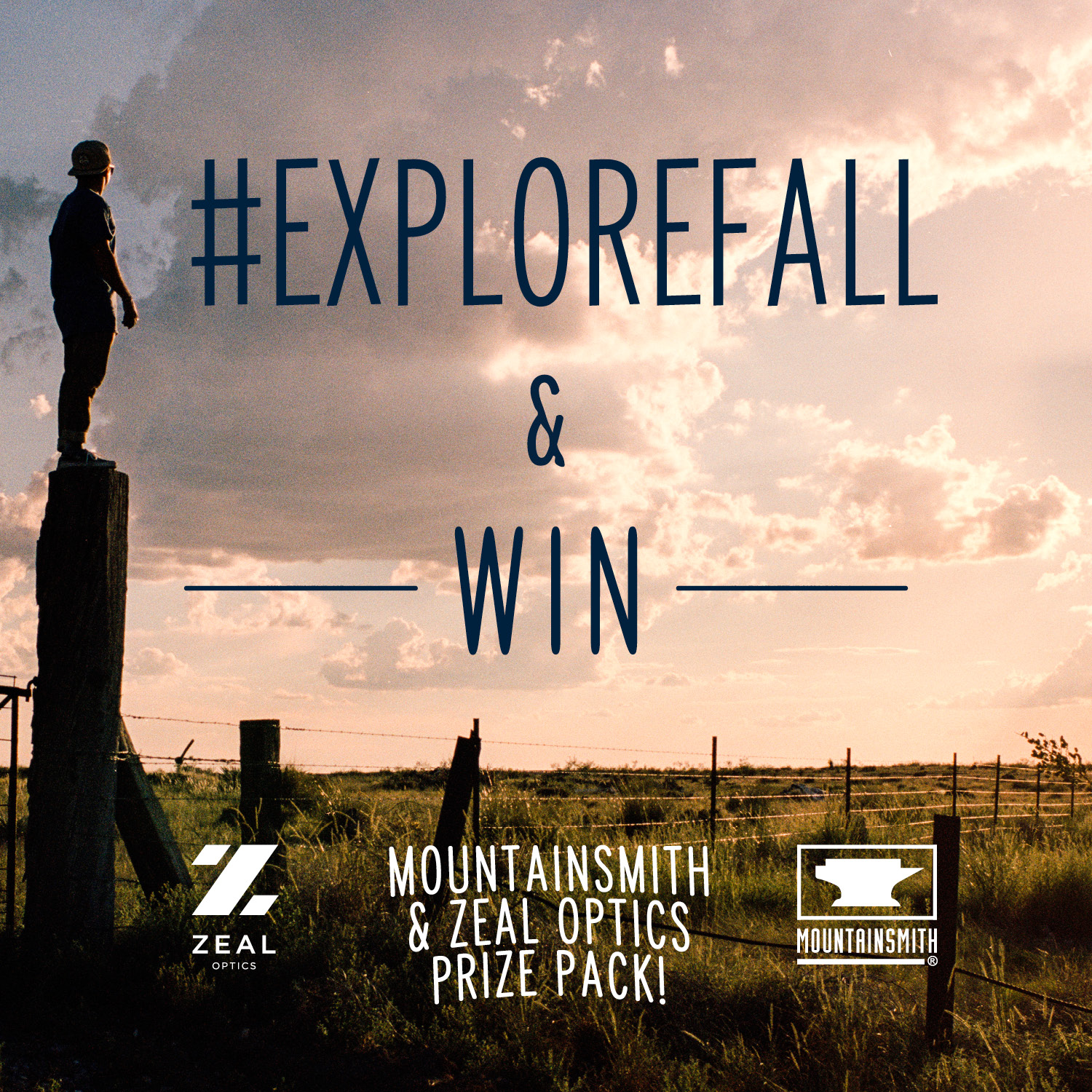 Enter to win a Mountainsmith backpack and sungalsses from ZEAL Optics, just for posting to your instagram account!
Submit your best photo of you exploring this Fall, tag @mountainsmith and @zealoptics, and use #ExploreFall. Most excellent photo will win.
All entries must be submitted on Friday October 17th, Saturday October 18th, or Sunday October 19th.
Good luck to all!
Rules – or click for Official(long-winded) Rules
1. All entries must be made on Instagram during the period of 10/17/2014 at 12:01AM MST to 10/19/2014 at 11:59 PM MST. Winners will be announced on Monday, 10/20/2014.
2. Entries must be tagged with @mountainsmith, @zealoptics, and use the hashtag #ExploreFall.
3. Submissions will be judged on quality, creativity, and overall enjoyment experienced by Mountainsmith and ZEAL employees during viewing of your image.
4. Posts to Instagram are public and may be shared by Mountainsmith or ZEAL without prior written consent.  Your posts will show up below if you have properly tagged them.
5. All time spent creating Instagram posts for this contest are at the contestant's own risk.  Mountainsmith and Zeal are not responsible for any injuries incurred while creating their post.  Wear a helmet!
6. Enter as many times as you wish. Good luck.
7. The grand prize will be a Mountainsmith Cavern Backpack and a pair of Zeal sunglasses of your choice(excluding the Crafted line).
Wondering if you tagged your entry properly?  Check below for yours!
[alpine-phototile-for-instagram user="mountainsmith" src="global_tag" tag="ExploreFall" imgl="instagram" style="cascade" col="2″ size="L" num="30″ shadow="1″ highlight="1″ align="center" max="100″]