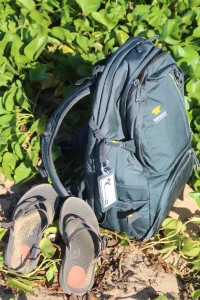 I've carried the new Mountainsmith Borealis on 6 flights, through the desert, beach, jungle, scuba trip and a tradeshow. The contents, lots of contents, never got wet or dirty. The outside of the pack still looks good. No dust or water got into the pack!
The photo section easily carries 2 large bodies and 3-4 lenses. The rest of the components carry a large (mine is 17") laptop, lenses, accessories, jacket, and anything else you will need. If easily fits in the overhead on airplanes.
The outside pockets easily hold water bottles or tripods. There were great pockets for backpacking items or camera filters. All easily accessible and fully protected. After the first day I sort of quit worrying when the pack would drop or get knocked off a table.
You'll spend an hour determining how to set up the camera inserts for your gear, then realize you have so much room, you can do it a dozen different ways successfully. I'm working on my fourth configuration.
The one major stand out with this pack is, it is a pack. It rode comfortably while hiking through the desert or the terminal. After a long day it still felt good on my back. Mountainsmith has always made great packs, that carry loads comfortably all day long. They did not forget that heritage when they made the 2014 Borealis.
-Jim Moss
The Borealis is available now, exclusively from REI this holiday season.