A 10th Mountain Tradition
For almost a century, the 10th Mountain Division of the United States Army has built, maintained, and more recently rented rustic huts in the mountains of North America.   Many of these huts were originally built for the purposes of training soldiers that would become adept at traveling across the sometimes snowy mountain ranges of Colorado and the Northeast.  As these soldiers retired from service and took residence in America's ski communities, the huts remained in use as the former soldiers used them for recreational ski trips, and the network of huts grew in popularity.  By the 1980s, a non-profit organization sharing the name "10th Mountain" was created to maintain the huts and rent them to the public.  Today, the 10th Mountain rents out owns and books over 30 huts in the Colorado Rocky Mountains, along with many other privately owned huts. To reserve, check here. [Source: huts.org]
Booking A Trip
Due to the popularity of the 10th Mountain hut system, many more cabins have been added to our Rocky Mountain landscape, offering reclusive escapes and creating a Colorado winter tradition. The hut system has become so popular that reserving a spot can be difficult, so it is important to try for a reservation on the date they become available(Winter reservations open June 1 or the next business day), full details can be found here. PRO HACK: Check the Hut Space Buy/Sell Message Board for last minute cancellations and people who are trying to sell their reservation, often for less than they paid.  Another good spot to book a trip would be the 10th Mountain's list of huts not booked by the club.  These range from the ultra-plush(see Jay's post on Vagabond Ranch, complete with hot tub) to the extremely rustic.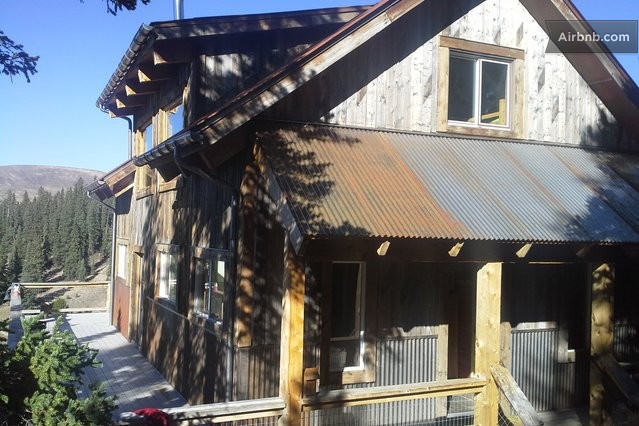 Our Gem: Anna's Cabin
As this is only my second winter here in Colorado, I was behind the eight ball on booking a 10th Mountain hut for myself this winter.  Fortunately, our designer Luke had a trip planned and had someone cancel at the last minute. With three days to prepare, I put on my best sales pitch to my girlfriend to join me on the trip(withholding certain details like the composting toilet). Thankfully, she agreed to make the journey with me. The reservation made by a friend of Luke is a hut that is newly available to rent called Anna's Cabin. It is not included anywhere on huts.org, but can be found on airbnb here.  It is a fully furnished cabin with a wood stove and composting toilet, yet no running water or electricity.
The Approach Up Fremont Pass
With little time to plan, neither my girlfriend or I were able to leave work early to make an afternoon approach to the cabin. Fortunately, it was mid-March and the Sun remained in the sky until late in the day. We arrived at the trail head as the sun was setting, and were pleasantly surprised with the fact that it was a nearly full moon and I was able to complete most of the two mile skin trek without the use of a headlamp.  Combining the efficiency of my Icelantic Gemini split-board and a Lariat 65 backpack, I made no hesitation in bringing plenty of food for the weekend(2 pounds of bacon, three pounds of potatoes, two dozen eggs, cheese, coffee, six pack of IPA ).  Since Anna's cabin was furnished with pots and pans, I took this as an opportunity to make sure everyone was well-fed for our turn to cook breakfast. With the help of my girlfriend carrying her Mayhem 35 pack, we even included a Goal Zero Rock Out Portable Speaker.
The Reward: All Day Untracked Powder
Just out the door of the cabin, strap on your snowshoes or put your preferred equipment in skinning mode and you are off into pristine untracked powder. The terrain is mellow just around the cabin, with more challenging terrain nearby on Chalk Mountain and Buckeye Peak. The most incredible aspect of this back country hut trip is the chance to get away from the crowds of the Colorado ski resorts. It is easy to imagine skiing here in the early years of the 20th century, without a soul in sight. Not far off the trail head, my cell phone lost service; a refreshing feeling that is so easy to forget in 2014. When we took breaks from skiing, all there was to do was read a book, play some cards, or take a nap in the warmth of the wood-burning stove.  I was without ability to check an e-mail on a Saturday, just how weekends ought to be.