When my wife and I were invited to a wedding in Vermont last October with a camping option I jumped at the chance to cheap out on a hotel room and try the Mountainsmith Genesee 4 tent.
The trick now was to sell it to (…my highly intelligent and beautiful) wife as "Glamping." Thankfully, she bought in.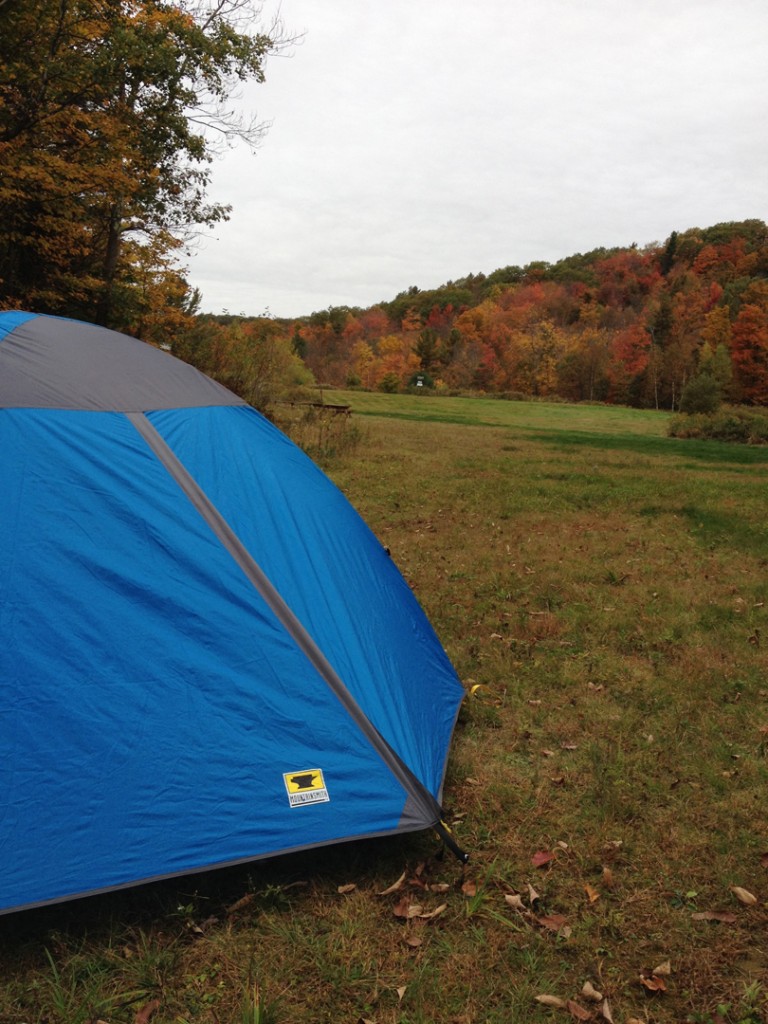 I originally as a spacious, easy solution for family camping the Genesee 4 perfect for jamming in all the oversized camping mattresses, extra pillows, doubled sleeping bags and assorted comfort items to make this wedding a luxurious, glamptastic experience.
My imagination ran wild with the idea of waking up with the girl of my dreams in a sea of pillows and blankets in a lush meadow on the side of a mountain in the midst of peak foliage season. We'd be sipping coffee beneath a canopy of orange and red and yellow leaves, on a cool, crisp, misty morning. There'd be big smiles on our faces. If we smoked cigarettes, we'd surely be sharing one.
Of course, that was what I imagined. We showed up later for the wedding than I'd expected… at least we showed up too late to set up camp before the wedding started. I was off to a bad start.
wedding was amazing.  We toasted the bride and groom many times and I even attempted to swing dance with my wife. She was an enthusiastic partner as I swung her around the dance floor.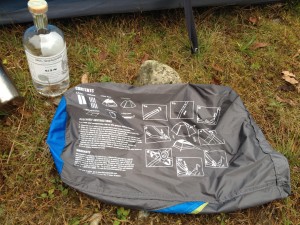 At some unknown hour we figured I should go set up the camp. Even in my dizzied state(we were swing dancing, after all) the Genesee 4 went up like a dream. The two poles are color coded, and there are instructions on the stuff sack, so, no matter how many cocktails one might soak in, it was STILL a breeze to set up. The interior of the Genessee 4 is gargantuan.  We would have had room for all the bridesmaids in there with us, if we had chosen to do something like that(I decided not to ask). We packed the tent with two XL Thermarests, and four sleeping bags, so no matter how much we tossed and turned we'd still have plenty of cushioning. Glamping at its finest.
I imagine my wife ended the night smiling and thinking really nice thoughts about her creative and romantic husband as she drifted off to sleep, completely satisfied with her life and our relationship.  Perhaps lying back in that sea of pillows beneath a panoply of stars, wondering how she ever found herself in such a great place, with such a great guy.
Again, that's what I imagined. I'll really never truly know.  She snuck away from the post-wedding campfire at least three hours before me.
When I finally left the campfire, it only took a few minutes to find the tent. It really helped that the guylines were reflective, and I managed to not stumble into them or wake my wife up. By the time I crept into bed she was sound asleep. She'd found all kinds of gear pockets to store all her lady-things in, so she must have been happy. I think she was smiling. Maybe she was happy, maybe she was feigning asleep?
The next morning we woke to the very misty meadow I'd hoped for. Birds chirping. Foliage glowing orange and red. Of course, we were on opposite sides of the tent, with two sleeping bags and about four feet between us. I gently leaned (okay, rolled three times) over to ask if I could do anything for her, she smiled, looked deep into my eyes, and gently whispered in my ear… "please brush your teeth."