Having a dependable bag that can handle any situation is essential for international and local travel, but especially if you plan to do some geocaching.  We love our Mountainsmith Tour TLS; we even call it our Geocaching Adventure Bag.  For those of you who are unfamiliar, geocaching is an international treasure-hunt type of game where you use GPS coordinates to navigate to a hidden "cache."  Click here to learn more about how this game works.
The versatility of our Mountainsmith bag is impressive.  It's perfect for strapping onto your luggage while traveling abroad, and it easily detaches for day trips while having plenty of room for your necessities.  Below are our top 5 Geocaching must haves that fit perfectly in our Mountainsmith Tour bag.
 1.  GPS Unit or Smart Phone with the Geo-caching Application
First and foremost, you must have either a GPS unit or make sure you have the Geocaching app downloaded to your phone.  We actually use both.  Primarily, we decided to get our GPS unit for international caching because roaming charges can rack up across the world.  However, you can still geocache with your smart phone off-network by "borrowing" wifi at your nearest hotel or restaurant.
GPS units are essential if you plan to do more advanced geocaching in remote areas.  Our GPS unit came in handy in Cambodia at Angkor Wat (Full story on Peanuts or Pretzels).  Knowing there wasn't going to be any wifi close by, we downloaded the coordinates and off we went.
2.  Notebook & Writing Instrument
Its' always good to carry some type of notebook and something to write with in your bag.  Beyond writing directions when you are traveling or jotting down a brilliant idea, it's also helpful when you are hunting for multi-caches.  Some multi-caches will require you to solve puzzles to obtain coordinates to the next location.  So you will want something to keep track of those notes so that you can find the final geocache.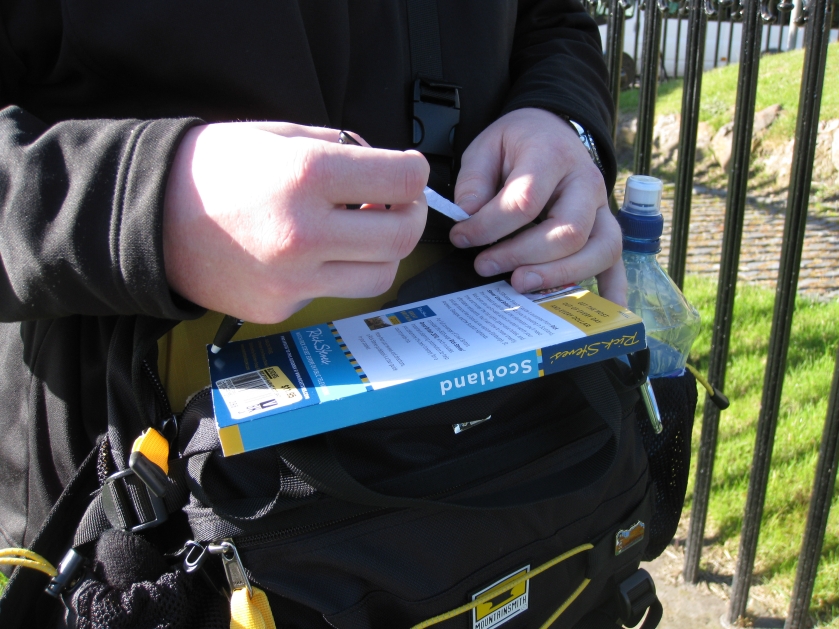 3.  Bring your sprays
While we have geocached primarily in the beautiful state of Georgia, we've also cached all over the world.  And the two things that we can never seem to escape are the bugs and the sun; so it's important to be prepared and pack your sprays.  Bug spray is valuable for both hiking in the mountains and by the ocean.  As far as sunblock goes, we've learned our lesson with some rough burns in the past.  So now we always carry it with us, and the spray version is the most convenient for reapplying.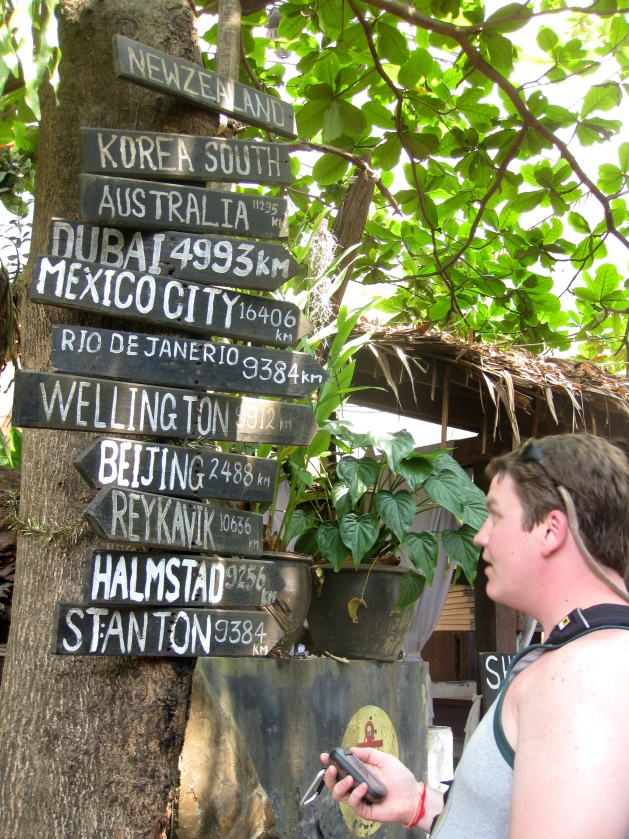 4.  Hiking Sticks
Our Mountainsmith bag has a versitile design which we take full advantage of while out geocaching.  We are able to easily strap our hiking sticks(available from Mountainsmith) to our bag at the bottom.  Besides helping us with our footing along the way, it's important to have something to poke at geocaches in the woods before you put your hand down to grab it!
5. Water and Snacks
When you hit the hiking trail in search of that geocache, you have to make sure you bring enough water and snacks for the hike.  Speaking of water, our bag has two pouches on the side that makes it easy to carry two bottles of water or more in the pack.   The pouches hold the water securely, while maintaining the balance of the bag.
Our geocaching adventure bag is also great to bring along while doing a little sightseeing.  Yes you can do a little geocaching while sightseeing. Easy carrying ability of our Mountainsmith Day bag makes it easy to adjust to all surroundings.  The over the shoulder strap adjusts to all situations on the road, and the strap around the waist increases stability of the bag and takes the pressure off your shoulders and back. This low lumbar support makes it easy to carry weight for long distances.  The technology centers your weight, making it easier and safer for you to hike up and over boulders to find those hard to reach geocaches!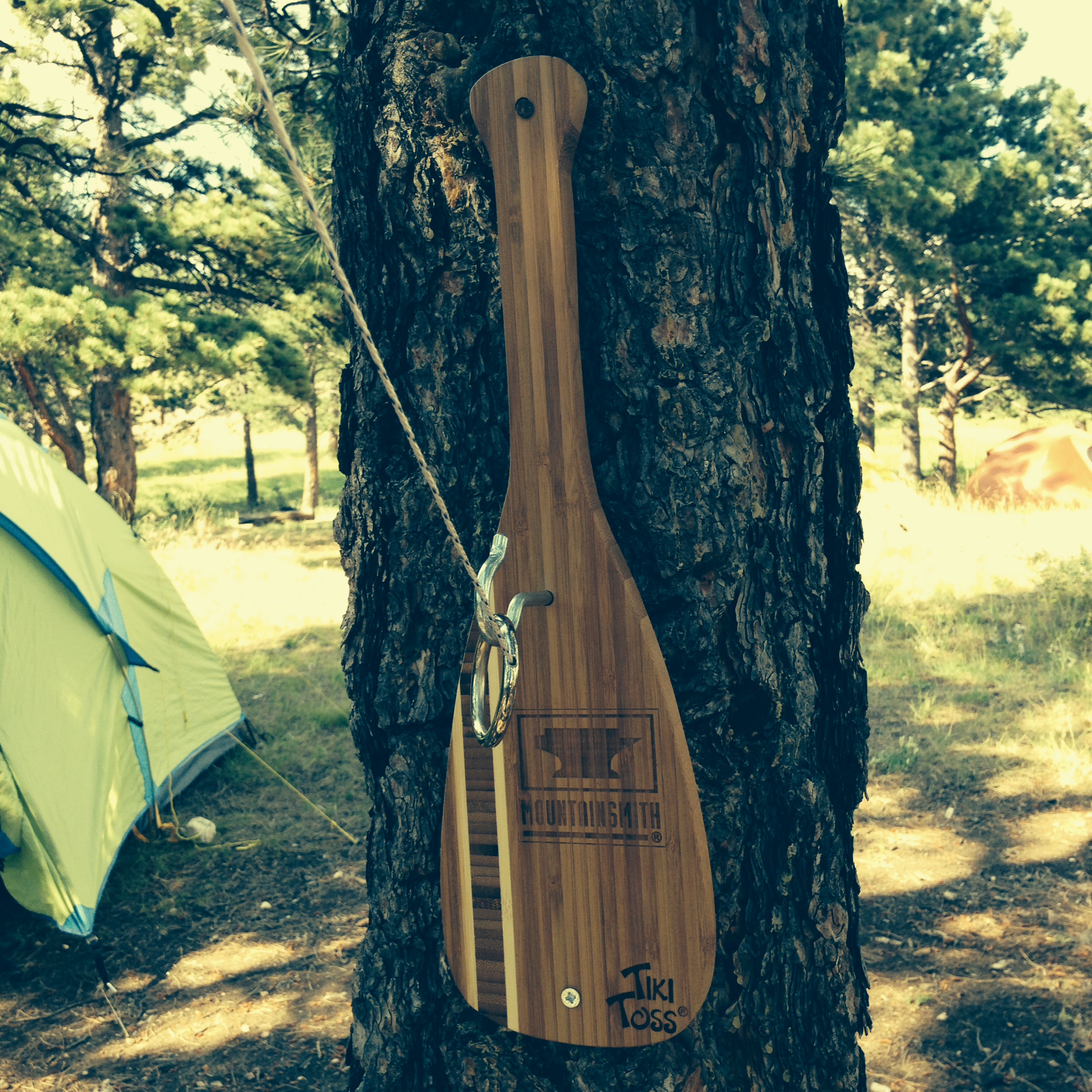 The versatility of our bag is great whether we are exploring China Town, or hiking on nature trails.  We can strap on shopping bags, or strap up extra clothing or a rain jacket if the weather changes.   We love our Mountainsmith Geocaching Adventure Bag.  It has traveled thousands and thousands of miles with us, and we look forward to the many more miles we will put on it.
For more info on Geocaching, visit Josh and Liz's blog: Peanuts or Pretzels