Having a great secondary travel bag is essential for all types of travelers. But this is especially
true when you are adventurous travelers who are on the go, and use various modes of
transportation. You need to have a bag that works for traveling on planes, trains, buses, tuktuks,
and even elephants (yes we've traveled on elephant!).
A Camera Bag That Carries More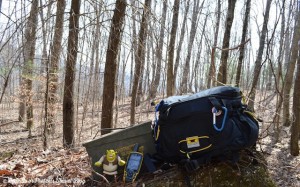 For many years I used my Mountainsmith Tour TLS to hold all of my equipment, but after
evolving into travel bloggers, we needed something larger that would accommodate our growing
assortment of camera gear. This secondary travel bag also needed to enable quick access to
our camera equipment in order to capture those unexpected moments. Luckily I found a
modified version of my beloved Tour TLS, the Mountainsmith Tour FX Camera Bag.
A Great Travel Bag is Both Functional & Comfortable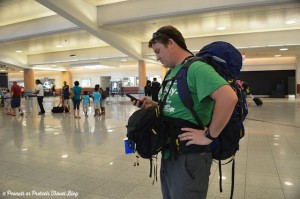 During our travels we have seen many people using a smaller backpack as a secondary travel
bag. They carry their main backpack on their back, and their secondary bag on their front. For
me this was not an option because it looks like an uncomfortable way to travel. The front
backpack often sits just below their face, and it seems to inhibit their movement. And when you
travel like we do, you don't want to inhibit your movement; you never know when may need to
climb over people to jump on a moving train! Plus, having a second backpack on the front puts a lot of strain on your body.
I wanted a secondary travel bag that would be more comfortable to wear during travel, while
also having quick access to my camera equipment. I also needed something that wouldn't put
too much strain on my back. After researching a number of bags out on the market, I realized
what I really wanted was my Mountainsmith Tour TLS. It was always such a great bag to travel
with, but I just needed a larger version that would fit my camera. Luckily, I discovered that
makes a modified version of the Tour TLS specifically for camera equipment, and it's called
Mountainsmith Tour FX.
On The Go Photography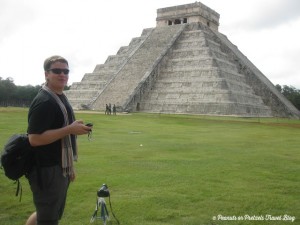 Soon after receiving my Tour FX, I knew that this was the perfect bag for me and my style of
travel and photography. The bag is a perfect blend of functionality and comfort, everything I
need for our on the go travels. The pack holds all my camera equipment securely and protects
it with padding, while the overall design of the bag makes it easy to get into. Besides having the
cross-body strap, I really love having the ability to strap the Tour FX around my waist, which
really helps to take the weight off my back because it rests on my hips.
I also have the option to to wear my Tour FX on the front of my body, while wearing my main
pack on my back. Not only is this a better option to wearing a large backpack on your front
because it minimizes strain on your back, but the Tour FX sits lower on your front so it's not up
in your face or inhibiting your arm and body movement. The bag is also designed in a way that
makes it easy for me to kneel or sit without the bag getting in the way.
Organize Your Accessories With the Mountainsmith Tour FX
One of the other features that I really enjoy about my Tour FX are the options I have to store
and organize all my accessories. The bag has a number of loops on where I can hook a
carabiner and attach more items to the pack as needed. We have used this functionality while
shopping in various markets around the world to hold our shopping bags. I also like that the bag
has straps on the bottom that allow you to cinch them tight to hold other items. A perfect
example is when we attach our hiking sticks, or even our tripod. They sit nicely under the
bottom of the bag, out of the way. We've actually used this feature a lot while traveling
Camera equipment tends to come along with a lot of attachments and related gear. So it's
important to keep everything organized, which is also why I love the Tour FX. The padding
inside the bag can be adjusted to fit lenses, cameras (our DSLR & our GoPro), as well as
having tons of smaller secure pockets to keep spare batteries, cords and SD cards. As if that
wasn't enough, there is an extendable zipper that allows you to increase the size of the main
compartment, which gives me extra space to store my iPad too! Having a solid structure of the
bag, secure closures and all that extra padding, I feel comfortable knowing that our precious
equipment is well protected.
Thank You For My Perfect Secondary Travel Bag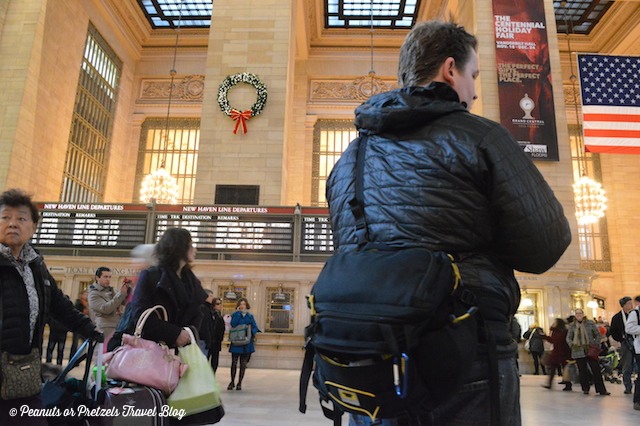 Overall, the Mountainsmith Tour FX has been everything I wanted and more in a secondary
travel bag. It is perfect for our busy and adventurous travel lifestyle, or for any photographer on
the go. The bag has plenty of room for equipment, it keeps it well protected, and doesn't inhibit
mobility. I look forward to taking the Tour FX all around the world, and capturing special
moments with my camera for years to come.