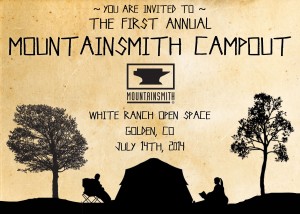 Here at Mountainsmith, we are always looking to do things a little differently. We hold our meetings on mountaintops, assemble our own trade show booth, and when it comes to holding PR events we look to create an authentic experience with our products. This year, for our annual writer's preview of our 2015 product line, we set off backpacking at our closest open space park in Jefferson County, Colorado.
The Crew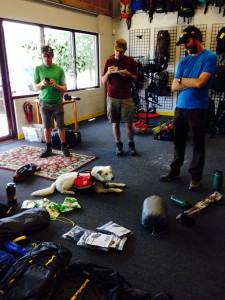 For the first year of this event, which we have dubbed The Mountainsmith Campout, we invited some of the outdoor industry elite that live right here on the Front Range.  Our friends from GearJunkie, Backpacker, Active Junky, Climbing, and SNEWS arrived to the Mountainsmith headquarters to the latest 2015 Mountainsmith gear and smorgasbord of sandwiches from D'Deli(Okay, so that sounds like a random plug for this deli, but consider it our gift to you. If you are in Golden, visit D'Deli!).
We were thrilled to have these folks join us in our own office and see where the Mountainsmith story starts. We are a small group of outdoor enthusiasts that build outdoor products that we ourselves find to be useful. Bringing these writers in to see our muddy hiking boots and mountain bikes sitting next to our desks gave them the realization that we are outdoor junkies just like our customers. With dogs running between our legs, we packed up and got ready for an overnight backpacking trip.
Hitting the Trail at White Ranch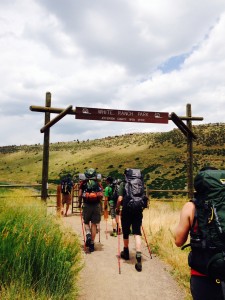 The wonderful folks at Jefferson County Open Space graciously reserved space for us to stay at the Sawmill Hiker Campground at White Ranch Park. Cherished by mountain bikers and horseback riders for its challenging rocky trails, we find that White Ranch is under-utilized for an evening camp out. The park boasts 20 well-maintained camp sites that are available at the low low cost of, free! Not to mention, the firewood is provided for… yup, free.  If you live on the front range of the Rockies, don't miss this opportunity to get out for a night under the stars in less than hour from Denver.
We decided to hike up from the bottom parking lot of the park, which is just 2 miles up the road from Mountainsmith headquarters. Our crew of 8 hikers and 2 dogs made the trek up the hill with the latest All-Terrain, Mountainlight, and K9 products. Led by our fearless PR representative Dax from Groundswell PR, the short hike had us arriving at the Sawmill campground in around 2 hours, which gave our guests a chance to test our backpacking equipment.
An Authentic Product Experience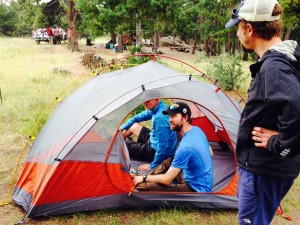 As we arrived, we made a priority of testing one of Mountainsmith's most exciting new products for 2015, the Cooler Tube.  Hitting shelves in January, this cylindrical cooler fits six beer cans stacked on top of each other. We used this hike as product testing to make sure that the cooler would keep six cans of beer cold for the duration of the hike.  Everyone will attest, the beverage was cold, and hit the spot!
With everyone's thirst quenched, Mountainsmith's lead designer Luke Boldman led the crew in a discussion about his new 2015 tent and sleeping bag designs, accepting feedback from the industry's most knowledgeable gear testers. "It is tough to be beat feedback from the same people who will be reviewing your products in a couple of months," remarked Boldman.
Forging New Relationships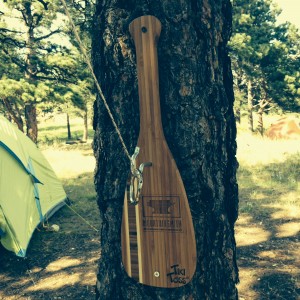 We feel that the biggest takeaway from this experience was the new relationships we have formed with our outdoor industry colleagues. For the most part, we have all met before. We know each other's names and we know our roles within the industry; an industry where we all are aiming to achieve the same goal of helping those outside of our industry access the outdoors and enjoy the same things we love. Even though we all share this passion it is easy to forget that, when we only interact inside of a convention hall under fluorescent lighting.
There is a lot to be said for a group of people hanging out in the woods and sleeping in tents just for the hell of it. Almost all of us were within 30 miles of our beds, yet we were sitting around a campfire, taking shelter under rain flies, drinking beers and playing "mountain bocce." We all do this on our own, being outside for the sake of being outside, but rarely get the chance to do it together to share ideas and experiences. Let us take every opportunity to come together to enjoy the great outdoors, and the industry will be better for it.
With a successful first annual Mountainsmith Campout, we anticipate making the second annual event in 2015 even better. We can't say enough for the value of the ideas passed around the camp fire, and the stronger relationships we have made with our industry friends.