By RJ Griffis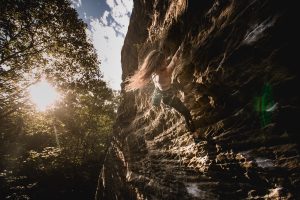 Photos by Kris Ugarriza
We've all been there. That crippling, breathless feeling of imminent mortality, definite injury, and probably something involving blood. Then self-doubt begins to sneak in and says "I can't." "I can't" becomes our mantra and ultimately, our reality. Fear: the driving force in our daily choices. The devil on your left shoulder. The red light on your potential. But what if we approached that feeling differently? What if we allow fear to be a choreographer, or a teacher, instead of holding us back? Perhaps we should let it drive us forward.
I used to try to be brave or what I thought was brave. I thought being brave meant ignoring fear altogether, by stifling that inherent feeling entirely. I've since realized that ignoring or, worse, avoiding fear altogether doesn't make me brave. Ignoring my instinctive feelings brings me farther from my truth and keeps me from moving forward.
You see, a few years back, I was dropped. Not from a relationship, not from a phone call, but from about twenty feet off the ground. During a rock climbing accident, I fell climbing above the first bolt and decked (hit the ground hard) onto a boulder on my side. My ribs and pelvis took the blunt of the fall, and it felt like what I can only explain with intense faces. Words can't describe the physical aspect of the fall.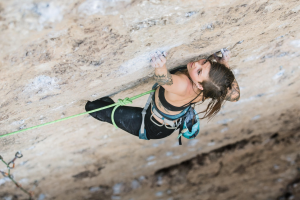 As I was lying on the ground, staring up at the striations on the gorgeous grey and white sandstone, I had so many thoughts racing through my mind. Apart from the obvious questions of what had just transpired and how, I began to panic internally.
Skipping ahead seven hours, a few x-rays and MRIs, and many blood drawings later, I forced myself to walk out of the hospital. I had a few bruised ribs, my pelvis felt shattered, and I had tons of scrapes and cuts, but I hobbled out on my own two legs. I could waste energy trying to pick apart what happened, but I focused my energy on my newfound fear for what I love: rock climbing.
After a bad accident, it's a no-brainer that someone would suffer from anxiety. It can hinder future experiences and ultimately hold you back from your own personal growth and potential. By allowing that fear (*see also terror) to make decisions for you, you may never know how it feels to fall in love or to ski down some gnarly slope, to surf with the dolphins, run that marathon, hike the PCT, or even meet people who will love and appreciate you and help you grow as a person.
I went back to that rock climb for two years and never touched it. I was too scared of what could happen, of the uncertainty. It was the breathless, shaky, heart-pounding kind of scared that held me back, and I wouldn't even look at the climb.
I tried to ignore my fear. I tried to walk away instead of facing it head on and harnessing that energy into something to move me forward. For two years, I struggled with rock climbing. My head space was too scared to climb. I made excuses as to why I couldn't go on a climbing trip, why I couldn't do a certain move, why I wasn't able to do something in general. But the real truth was that I was scared and I was allowing that feeling to take over so much that it would hold me back from even trying.
I wanted to show myself that I was bigger than that feeling. I wanted to prove to myself that I was capable of beating my fear. That I could achieve anything I wanted, if I just took the first step. If I just used that fierce energy and placed it into something great, something magical that I wanted to do.
And what I really wanted was to rock climb. I wanted to dance a personally choreographed dance up that gorgeous rock face just waiting to dance with me. I wanted to be in control of my movement, my deep delicious breaths, my delicate foot to hand placement, my entire focus. I wanted to dance with that devil on my right shoulder, to take that risk. I wanted to run that stoplight hindering my potential.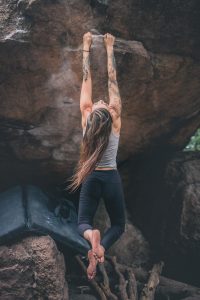 So I did.
I utilized that energy, the energy of my fear, when began to learn from it.  Why was I afraid? Was there something I could do to move forward?  Was I just afraid of failure? And if so, isn't failure a part of the process?
When I decided to learn from my fears, I learned that fear may have a poker face, but I've got the ten through the ace of spades. If I threw my hands up and gave into "I can't" before attempting anything, I would never know what it feels like achieve my potential.
Fear will prevent you from knowing what it feels like to fall deeply in love or to run a marathon. If you listen to that devil on your shoulder spouting nonsense about how you can't achieve something, you never will. You won't grow to your potential. You won't mountain bike downhill through the dirt, backpack through the backcountry, and you won't clip the chains of a rock climb that previously tried to kill you.
Sometimes, being uncertain of the outcome is the best thing for you to grow and test yourself.  Sometimes you have to take the risk and keep yourself open to opportunity. Sometimes, you have to just take that first step forward and do the things that scare you most.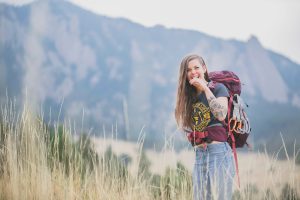 They say not to dance with the devil, but honey, he's got the best footwork in town. Once you're done dancing, make sure to let him know who's boss. So, dive headfirst into the wavy deliciousness that is fear. Use it to teach you. Use it to become your strongest, best self. Dance with it, hold its hand, harness it, and move. Ask why you are afraid, and then understand you are bigger. Sometimes you just need to be uncertain.
RJ Griffis is a friend of Mountainsmith and Forged for Life contributor.