Guest blog post by Gossamer Gear founder and Chairman Glen Van Peski, about his trip with Mountainsmith's Jonathan McFarland in the John Muir Wilderness.
The group of three backpackers labored up the granite-chiseled steps alongside the north fork of Bishop Creek, on their way to 11,400 ft. Piute Pass and Humphrey's Basin beyond.  They were grunting under their towering packs as I asked them excitedly how long they were going in for.  They replied that they had a three-day trip ahead of them.  I said brightly, "Oh, same as we're just finishing!"  They stared at my Mountainsmith Day lumbar pack, and I could tell that their oxygen-starved brains were simply unable to compute, and too tired to inquire further.
It had always been a dream of mine to head into the backcountry for a 3-day trip with only a lumbar pack. My typical base pack weight (everything except for worn or carried items) for such a trip is generally under 5 pounds.  But while my pack is on the small side, I enjoy being able to carry my down sleeping bag uncompressed, which tends to make the overall load less compact.  I've just always thought it would be cool to be out in the backcountry, miles from anywhere, carrying everything I need in just a lumbar pack.  I've even fooled around with a couple of homemade designs over the years, but there's apparently more to making a good lumbar pack than meets the eye, at least MY eyes, and none of my attempts actually made it onto the trail.
Fast forward to Outdoor Retailer 2014 in Salt Lake City.  I attend O.R. to meet with suppliers and renew industry acquaintances from all over the world.  As I was roaming the floor one morning, probably in pursuit of espresso, I chanced upon the Mountainsmith booth, and met Jonathan.  We had some common acquaintances from his time at Golite, and I ended up confiding my longtime dream of backpacking with a lumbar pack.  Since Mountainsmith has a well-deserved reputation for their excellent lumbar packs, Jonathan said if I wanted to make it happen, he would contribute the pack, if I would do a write up of the trip.  I took a look at the models displayed, and guessed that the Day would fit the bill.
In 2015 we started emailing, with the result that I eventually talked Jonathan into joining me on the trip to witness the effort firsthand.  Normally I wouldn't venture into the Sierra in June, but it had been such a low snow year, I felt that a June date was doable and got permits.  I maintain a list of people who I've met over the years at talks I give who I judge to be 1) good company on the trail, 2) reasonably fit and 3) have their personal gear squared away.  Joining us for this trip besides Jonathan was Alejandro, who I have now been on several trips with, after meeting him at an Adventure 16 clinic, my wife Francie, on her second trip in as many months, also being her second trip in 33 years of marriage, her friend Kristi from work, and Duncan Cheung, a Gossamer Gear trail ambassador from the bay area who was able to take advantage of a last-minute opportunity.
Packing for this trip presented some new challenges for me.  I am very comfortable with my regular kit for this type of trip, which is pretty light.  But to fit everything for a 3-day trip into a lumbar pack, I had to focus more on volume than on weight.  This resulted in some of the following choices:
Where I might normally have thrown in my 'heavy' 22 oz. sleeping bag, since I was stuffing it into a super small stuff sack, I went with my standard 30-degree, 18 oz. sleeping bag.  With modest nighttime temperatures, this turned out to be fine.

With a significant chance of rain, I might normally have gone with the Gossamer Gear Q-Twinn, but I stuck with the cuben Wedge because it was more compact.  As a result, I actually went through my first significant rain under the Wedge, but was able to make a sheltered setup that worked great.

I like hot food, but without the space to take my usual beer-can pot setup, I took the Gossamer Gear Crotch Pot™ prototype.

My typical first aid kit is pretty light, but due to limited space, I went through it with a fine tooth comb and took out a lot of items.  Even though my first aid kit was already somewhat limited, I realized that I still very rarely used any of it, and when I did, it was typically for others in the group.

I had limited space for real rain gear.  I typically carry a ZPacks cuben fiber jacket, but took a chance on using just the Mountain Hardware Ghost Whisperer wind shirt.  I've had it out before in some pretty good showers and it performed well.  My backup plan in case of real rain was to use my shelter as a cape.

For hydration I like to have one bottle (which I can use to mix an electrolyte in), and a hydration reservoir with drinking tube (which means I stay more hydrated by having ready access).  Due to space requirements, I went with a couple of 1-liter Smart water bottles.  Since there was plenty of water along the planned route, this worked fine.
I laid out all my gear, and everything fit in the Day, although it was definitely a tight fit.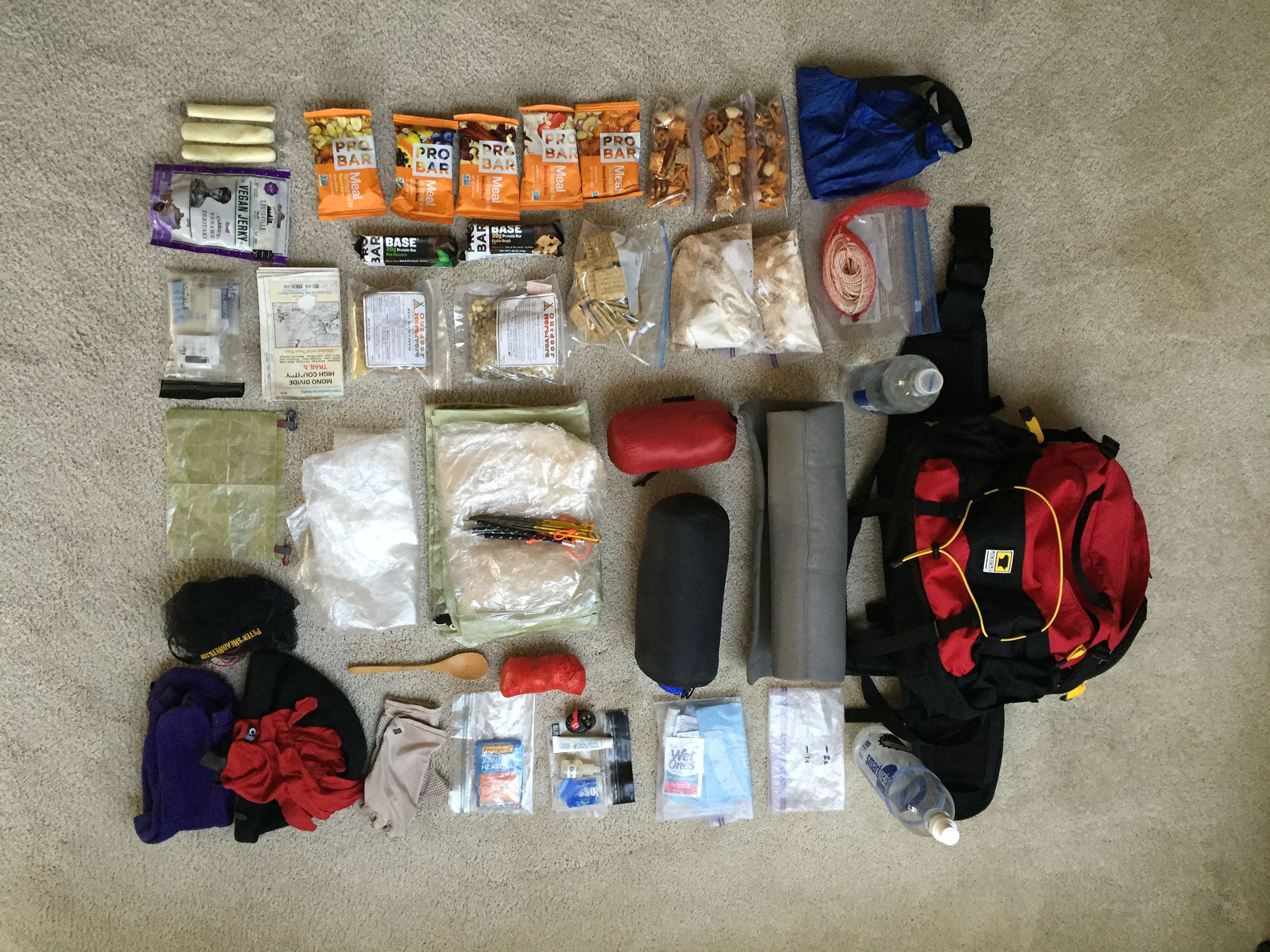 I had wanted to see if I could use the Day without the strappettes that went over my shoulders, but an early test determined it was just a little too floppy when fully loaded.  Jonathan flew out to San Diego and took the train up to Carlsbad.  I picked him up at the train station after work, we headed home, changed, and started the drive up to Bishop with Alejandro.  Francie and Kristi had gotten off work earlier and headed up in the afternoon, and Duncan was driving down from the Bay area.  We were headed for the North Lake trailhead.  It's one of my favorite haunts for a quick trip, because you can drive up the night before, and sleep at elevation 9,200, which helps the body acclimatize, especially helpful when you live at sea level.  We arrived shortly after midnight, set up shelters since it had just rained, and lay down to grab some shuteye.  The next morning we did a round of introductions, and shuttled the cars to the trailhead parking, and started up the trail alongside the North Fork of Bishop Creek.  Even starting at 9,200 feet, it's a steady climb up to Piute Pass at 11,400 feet.  As we came down the other side, instead of picking up the Sierra High Route and heading north over Piute Pass, we figured with the ladies being somewhat tired from the climb, it would be better to head down Piute Canyon and then up French Canyon, and do Puppet Pass heading up from Puppet Lake the next day when we were fresh(er).  Snow was definitely not a problem, but the early melt-off meant that the stream crossings were exciting.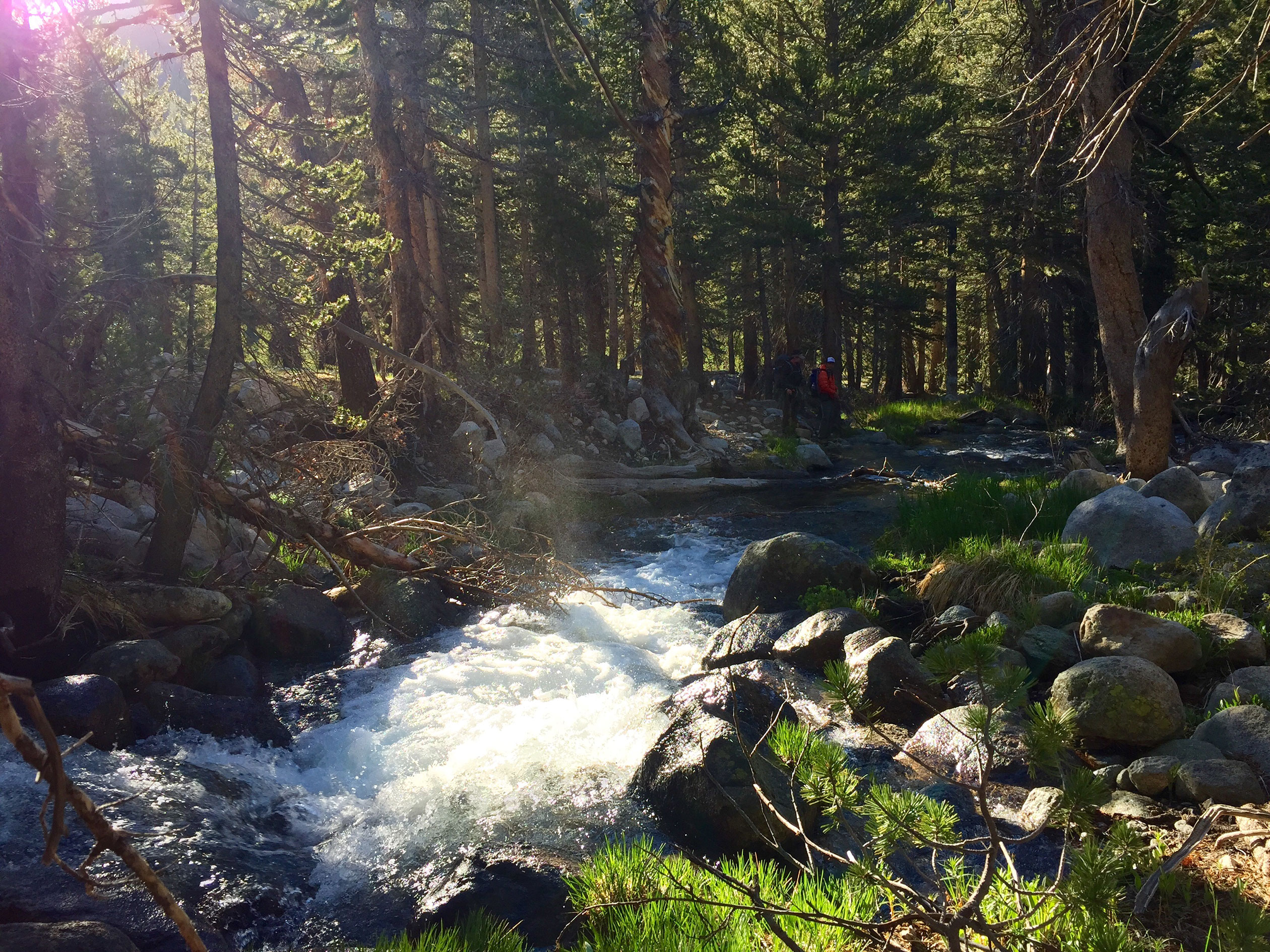 We hiked a short ways up French Canyon and found a place to set up camp as dusk settled in.  Since we were in an area that did not require bear canisters (which would have scuttled my entire lumbar pack plan), we amused ourselves by doing a bear hang for the food bags.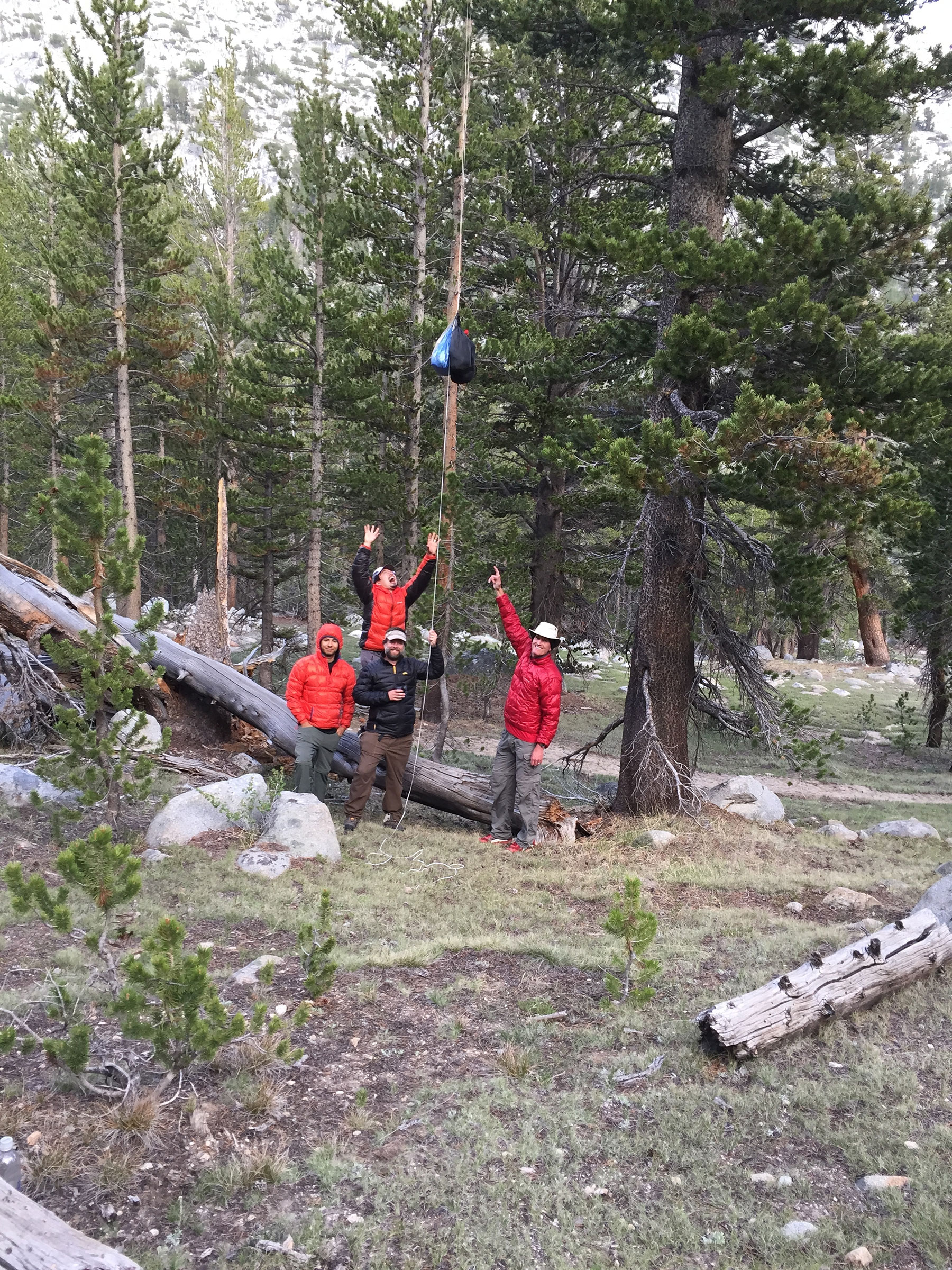 Jonathan distinguished himself by nailing a high arc on the first throw, and we ended up with a textbook PCT Method bear hang.
It had been threatening rain off and on all day, but the next morning dawned clear.  We continued up French Canyon, then detoured east at the Sierra High Route and climbed past Lake Elba, for a lunch overlooking Puppet Lake.  Francie and Kristi were having a tough time on the climb, so at one point I strapped the Day onto Francie's pack and hoisted that, then carried Kristi's pack on my front.  Such are the advantages of everyone packing ultralight – there's not too many trips that you can easily carry three people's packs!  After lunch, we headed up over Puppet Pass, some nice Class 3 scrambling.  Francie and Kristi thought there was no way they would make it, but as they got closer, they could see that there were ways up, and they ended up surprised at how quickly we were able to gain elevation.  The view from the top of Puppet Pass is one of the 'top of the world' experiences.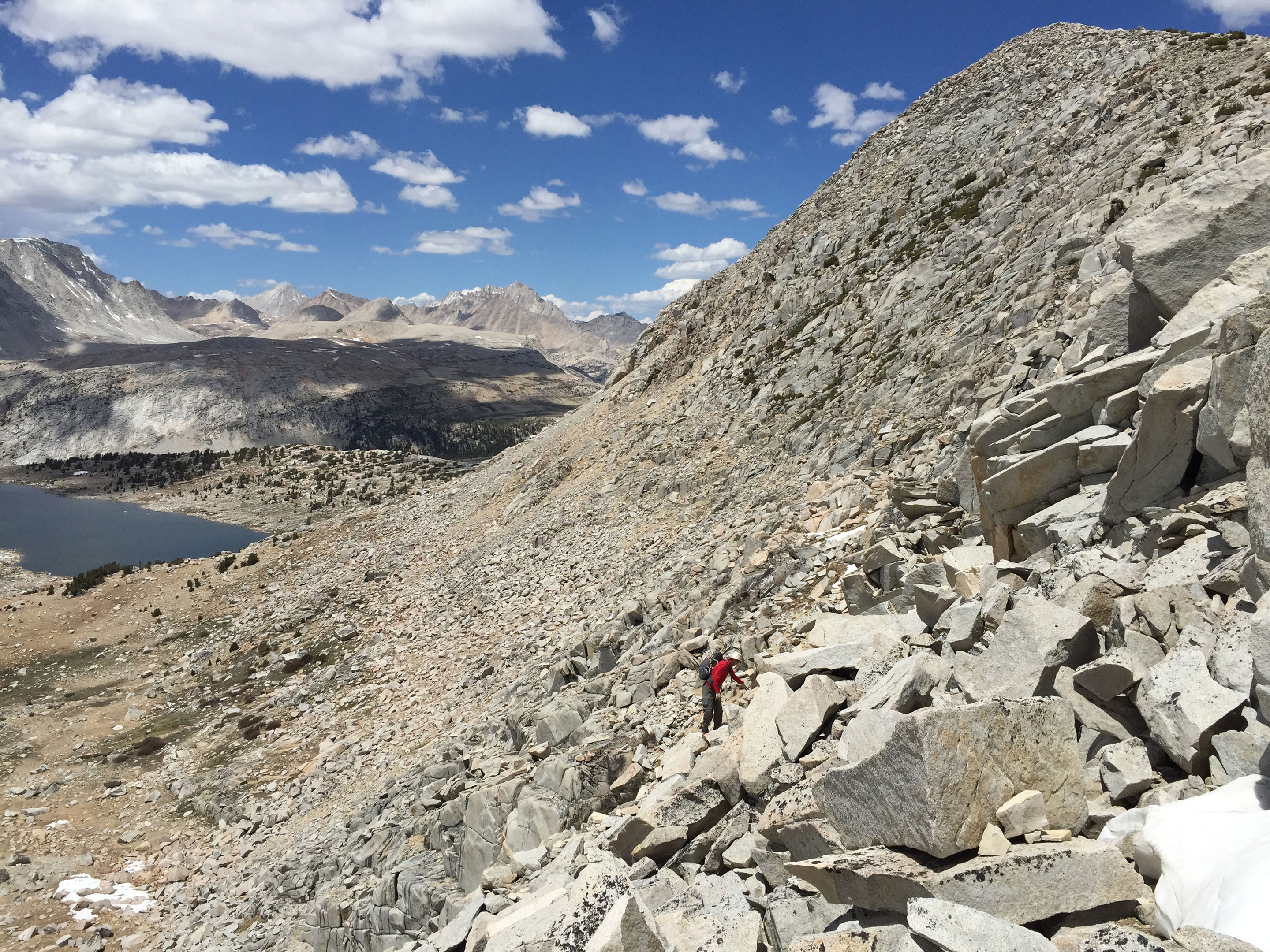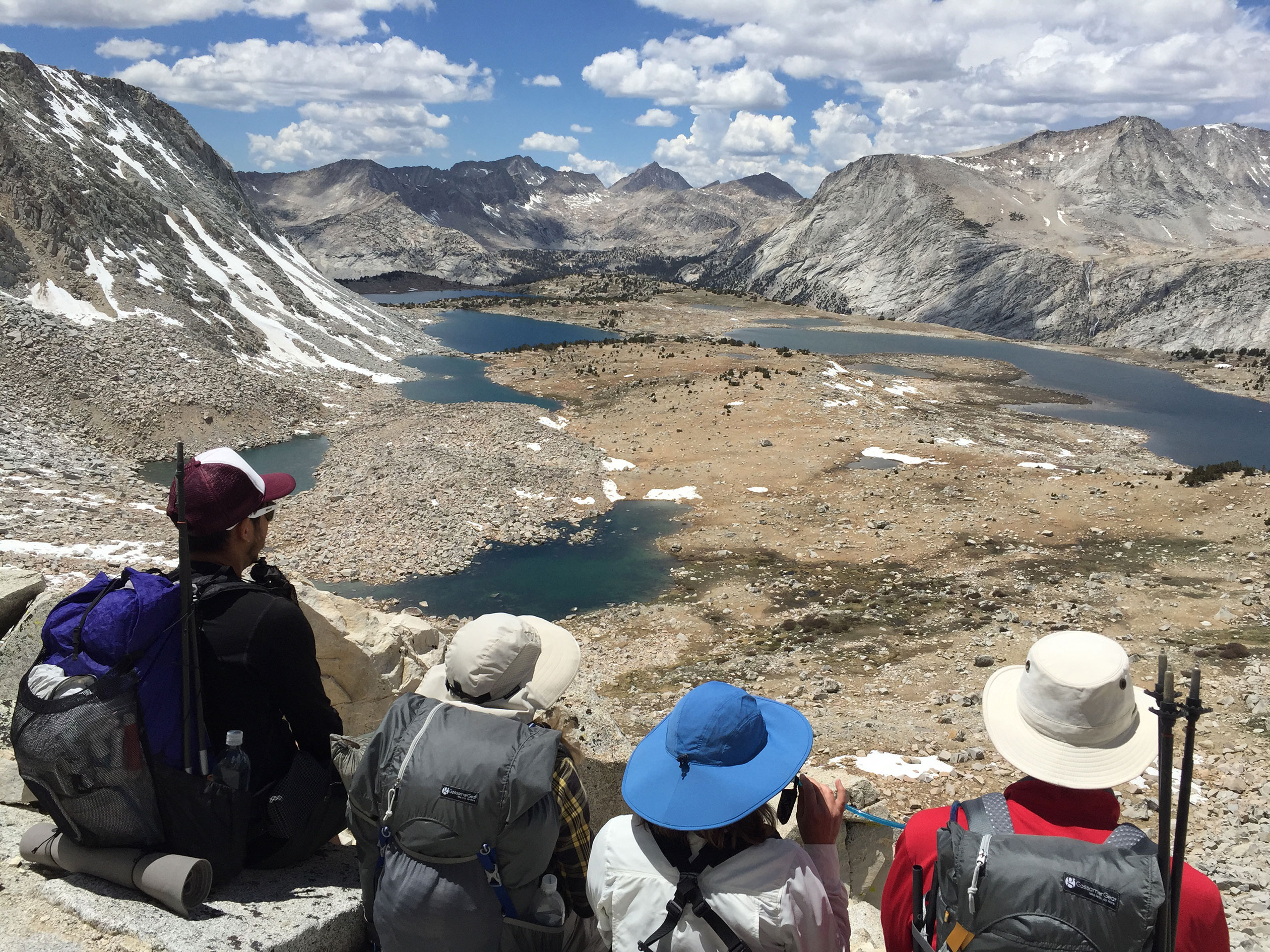 From the top of Puppet Pass, the massing clouds to the south started rumbling with thunder.  We were concerned because there wasn't a tree to be seen, and it looked like the trajectory of the lightening would intersect our route.  We considered hunkering down and waiting it out, but decided that it didn't seem to be the typical monsoonal pattern, and we went for it.  Stream crossings continued to be a challenge, but we ended up sprinting the last bit to some minimal cover down from Summit Lake, and barely set up shelters before the rain started.  We cooked dinner between breaks in the showers.  I was lucky, since the Wedge is "the perfect shelter to take when you don't expect rain", and found a protected area up against some trees that blocked the wind and some of the rain, and stayed nice and dry ensconced in my minimal tarp.There was a great rainbow as we bedded down for the night.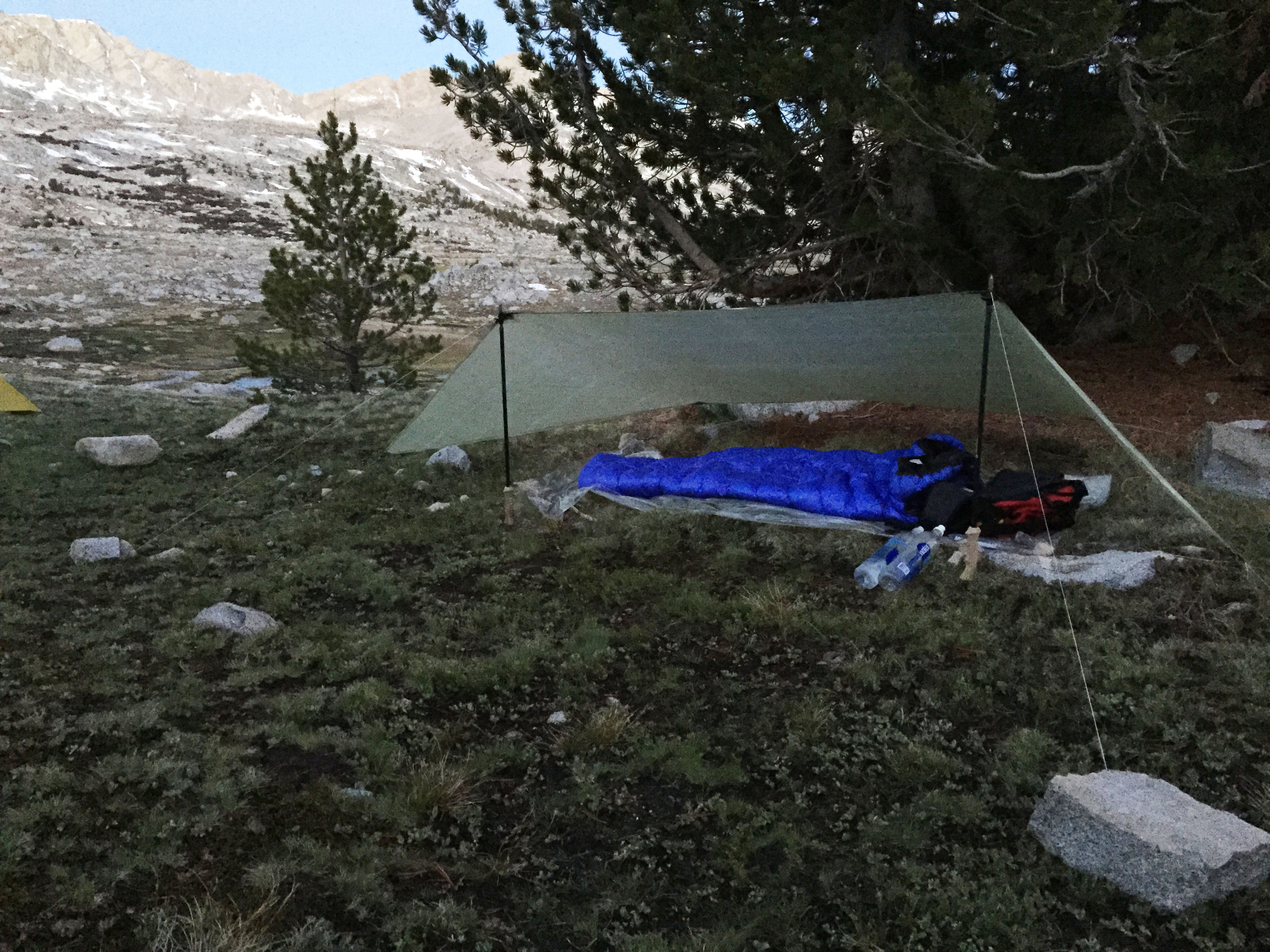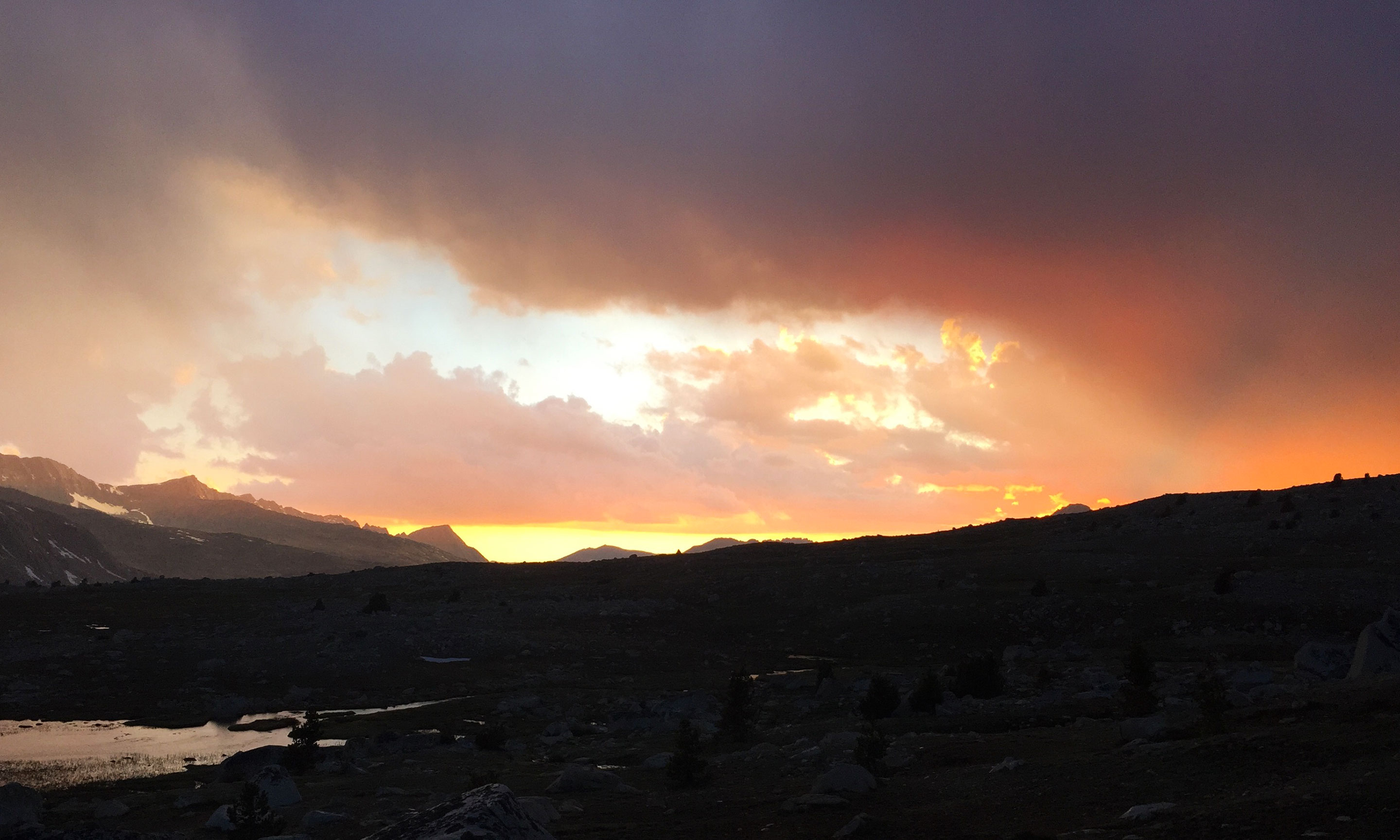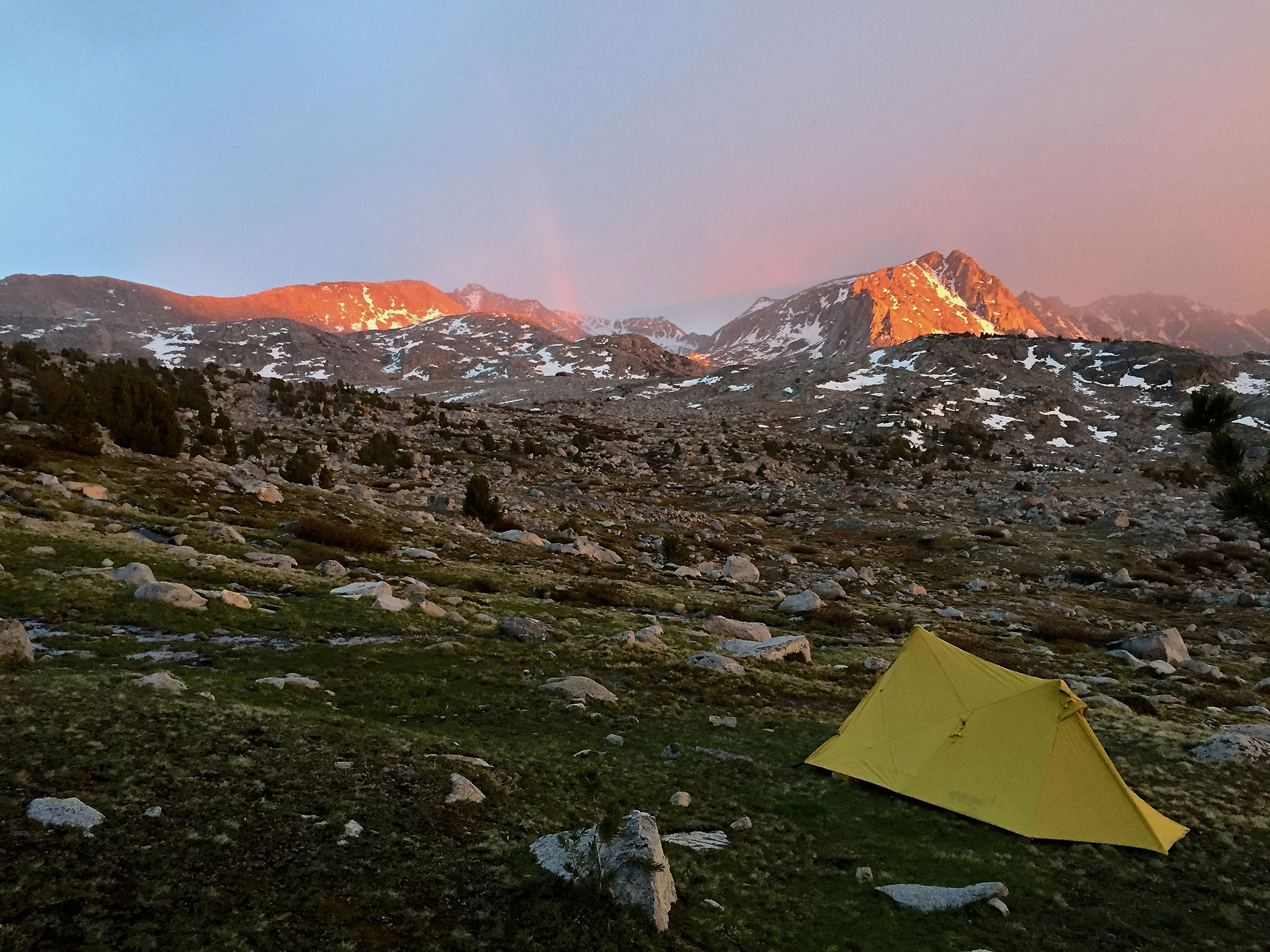 The next morning, spurred by visions of breakfast in Bishop, we broke camp early, and headed up and over Piute Pass.  On the 5 miles back down the campground, we met a number of people heading into the wilderness for trips, including the group of three carrying heavy packs headed in for a 3-day adventure.  We made it back to the cars around noon, but we were determined to have breakfast, so we headed into Bishop for a big breakfast at Jack's before heading back home.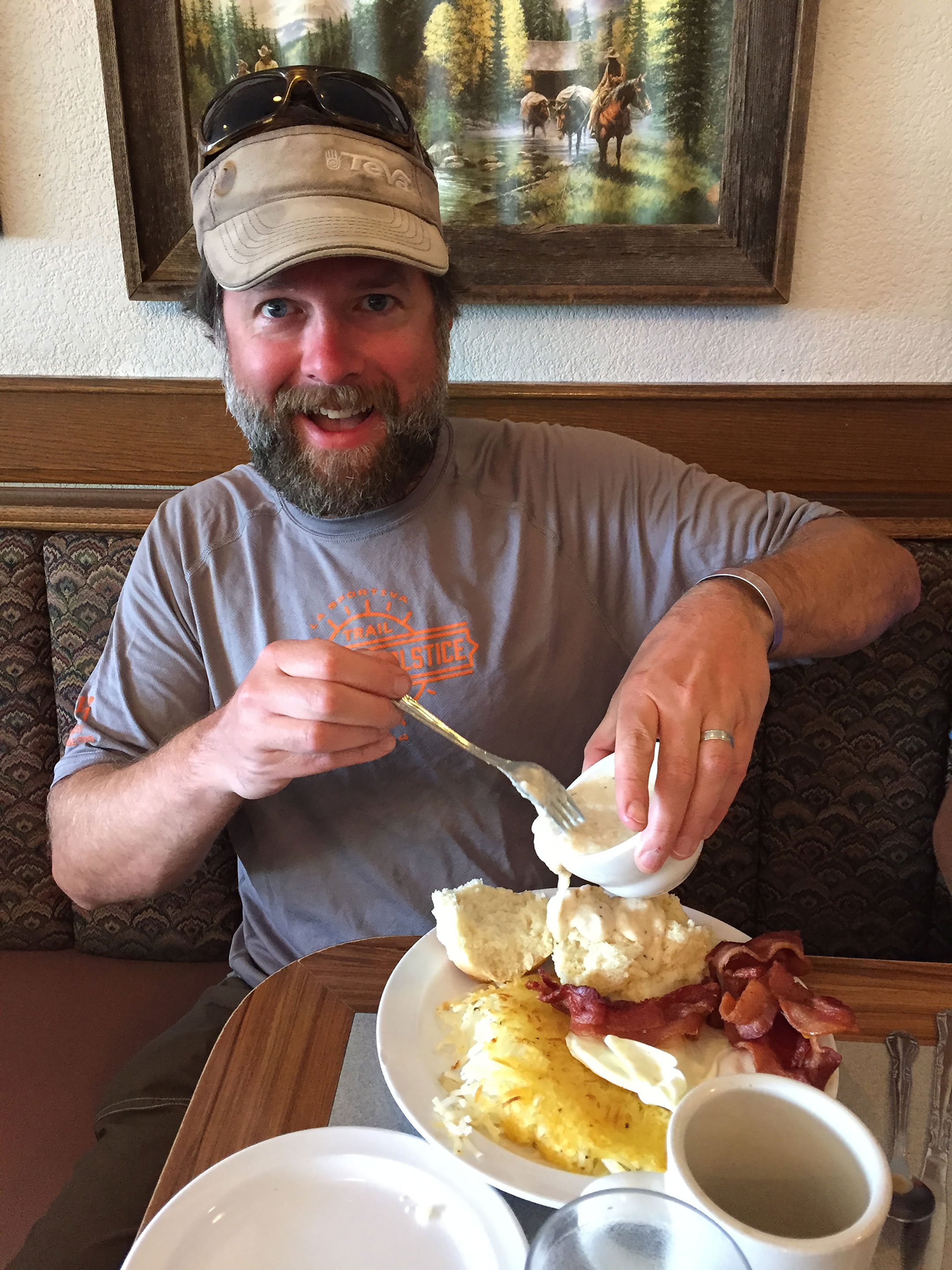 So what were the take-aways for me?  Well, it was a good exercise in trimming down my normal kit.  Probably the reduction in my first aid kit will stick – I'll leave out the stuff I removed for this trip, and see how it goes.  Having very limited space definitely focused my thinking, and moved me into slightly riskier gear choices than I would have otherwise made.  This was a good reminder about areas where I've gotten used to 'playing it safe', or adding extra margin.  It's an extreme case, of course, but 'just in case' gear choices (based on fear) are a major reason for the heavy overall packs of many people.  I will make some different gear choices on my next trip because of this experiment, and my pack will be lighter because of it!