Via ferrata. In my mind I've always assumed it translated as the "free way," I based on no more linguistic foundation beyond that it sounded good and kinda romanticized its origin: rungs, cables, and pegs through steep alpine terrain, allowing for access through inaccessible places long before the days of modern climbing gear. Free and uninhibited travel through steep mountain faces, a key to unlocking safe passage through borders defined by fortitude.
Though it seems they predate WWI, ferratas are most associated with the high-altitude conflict between Austria and Italy in the Dolomites. A vertical battlefield that might look something like this:
The tunneling has been ongoing for days in subzero temperatures, and our men have no proper clothing to stay warm. Each day we see more Alpini, Italian mountain soldiers, arriving at Karfreit, and each day we dig, clawing at snow and ice with hands as red as alpenglow and as if trying to access a grave – a grave we pray it is not our own. We are not men of the sword, but men of the mountains, our small volunteer contingents called Freiwillige Schützen deployed into battle for our fluency in alpine terrain, sparse in uniform and training. Most are armed with personal hunting rifles, family relics that have never been turned upon another human.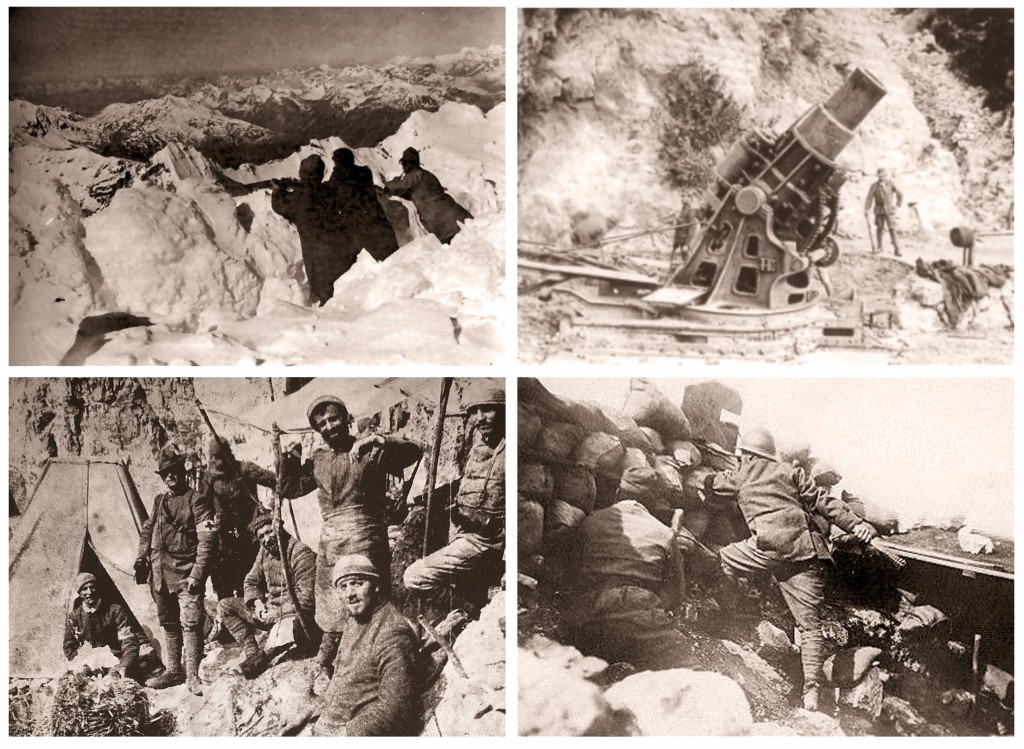 Supplies come slow, it's been weeks since the last rations arrived. We are down to half-portions, 200g unknown beef and 100 grams of zwieback, but thank god there's still enough coffee to go around. At night we huddle wooden bodies to stay warm, waking to advance through terrain so steep it takes an engineer's mind to create a latticework of rope and iron, a spider's web on the precipice of death.
It turns out via ferrata means "iron way," referring to the iron rungs drilled into the steep limestone and granite faces. Ferrata meaning Ferrite – which as anyone who's seen the American cinema classic Armageddon knows is iron. Or the hard sh*t that kept Bruce Willis, Steve Buscemi, and their merry band of misfits from drilling into the big scary space rock's core.
______________________________________________________________________________________
In Bavaria a via ferrata is known as a klettersteig. Doesn't roll off the tongue quite as languidly as its Italian counterpart, but way fun to shout out in your best Schwarzenegger baritone. Go on, you know you want to, clench your fist, scrunch up those eyebrows and fire off a "kleettershhhteeeeeg!" Feels good, don't it? Alas, my first via ferrata, by virtue of geography, would be a klettersteig.
As is often the case when you live a life of margins, I found myself with a scant window between a family wedding in Sicily (*never, ever, go to an Italian family wedding*) and a shooting assignment across Germany/Austria. I say never, ever, go to an Italian family wedding because, dear reader, I depend on you to read my blog and I'd sooner have you take your chances with a winter K2 expedition. By hour 8 I was disoriented, borderline hyperglycemic, and clawing my way through clouds of cigarette smoke. By hour 10 my soul was stained with 15 courses of purulent decadence, and my brain awash in a cacaphonic mix of bad 70s American music as interpreted by a drunk wedding band heavily armed with a Moog synthesizer, that I couldn't form words with more than 3 letters.
The day after the wedding I managed to drag myself out of bed and onto a plane bound for Vienna,  and a new way of getting in over my head in a foreign land.
Klettersteige (pl) aren't the easiest things to get beta on stateside, at least in English, but thankfully for Google translate I was able to piece together some potential objectives, and, having never experienced a klettersteig before, decided it was only proper to go, solo, after the biggest vertical drop in all of Austria.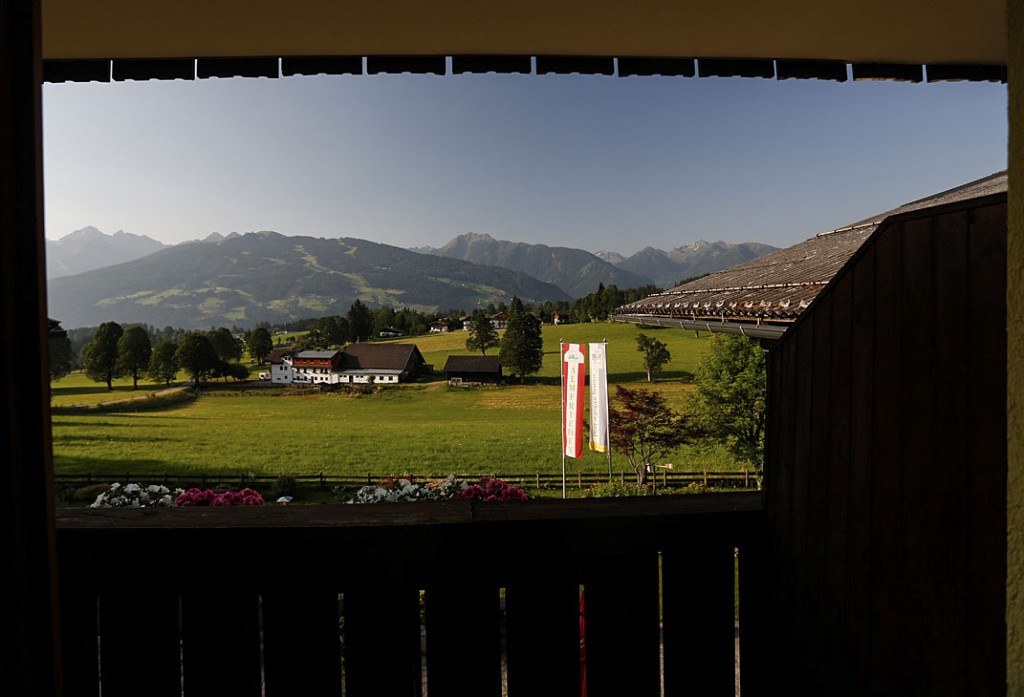 With less than 24 hours before I had to report in Vienna, I rented a car and pointed it towards the Dachstein massif: four hours to the west and topping out at 2559m in an alpine playground punctuated by glaciers, valleys, and limestone horizons.
Just on the heels of an aforementioned injury that kept me from climbing, I was desperate for some real vertical under my fingers. To be honest, if climbing were an option I'd probably have still opted for the klettersteig. A rich alpine history, a new way of climbing through the mountains, and the attraction of going ropeless and not having to risk immediate death should I punt from 1500m – how could I not?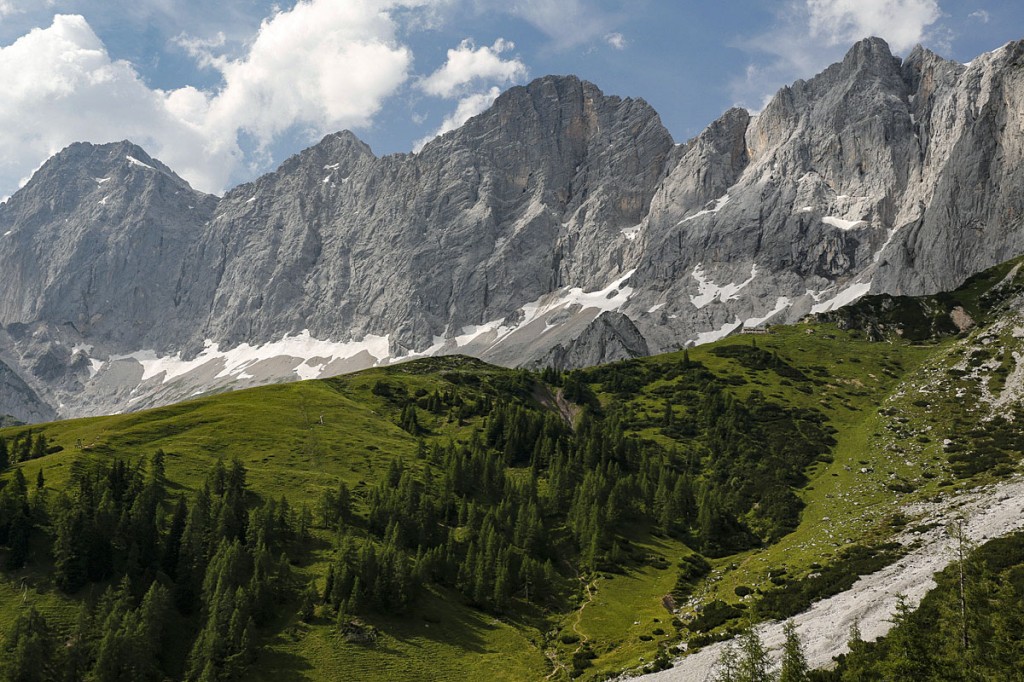 I arrived around 11pm, or 23 o'clock to the wacky Europeans, loaded up my Mountainsmith Scream, and set an alarm for 6am, which I had hoped was enough time for me to figure out how to get to the base of the route. In the bag: 1.5L water, rain shell, headlamp, food, 1 trekking pole for the approach, lightweight crampons and a mountaineering axe, harness and some extra slings/cord, and an ample supply of Mannerschnitten, which I'm pretty sure is German for "hazelnut delicacy with addiction levels equal to that of top-grade heroin."
It was a bit of an unwieldy load, especially for vertical terrain, but turns out the Scream was the right choice for the climb. Super minimalist, the pack weighs under a pound yet stood up beautifully to the rough limestone route. Also, at times free soloing over 3000 feet from the ground, I couldn't have weight shifting on my back when climbing. With a little rigging it handled the ice axe perfectly, and it's fumble-free design was perfect for easy access to my hazelnut/heroin treats. One design feature I absolutely love is how the Scream packs into itself like a down jacket – super-light with a small profile there's no excuse not to take this thing with you when traveling, whether as a daypack, trekking bag, or extra piece of hand luggage.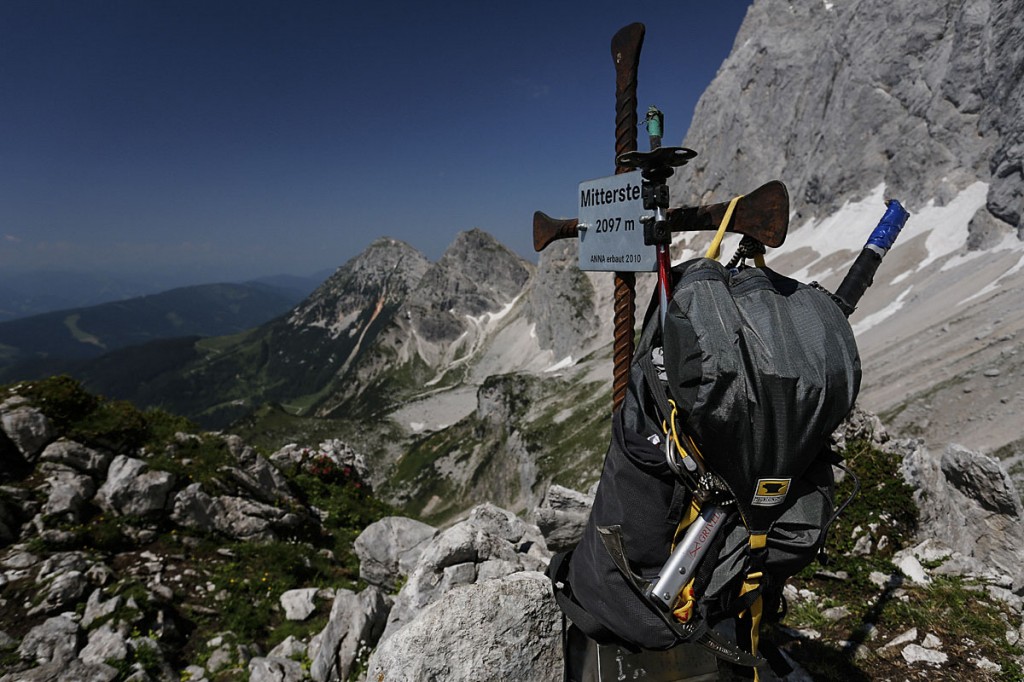 Right from the trailhead it's clear that the Euros do things differently than here in the US. Trails are clearly marked, and the hour hike to the base was fairly straightforward. Once there, the start of the route was marked with a plaque, as are various points along the klettersteig.
The route I'd chosen would take a direct line up the sudwand (south face) of Hoher Dachstein, cut into two parts, Anna and Johann. Klettersteige are given difficulty ratings from A (easiest, flat ground) to F/G (extreme overhanging and sustained terrain); beginning with Anna and a D rating I'd get a good sense of what the difficulty meant to a traditional rock climber, and if I was up for the second half, Johann, rated E/F and nearly twice as long as Anna.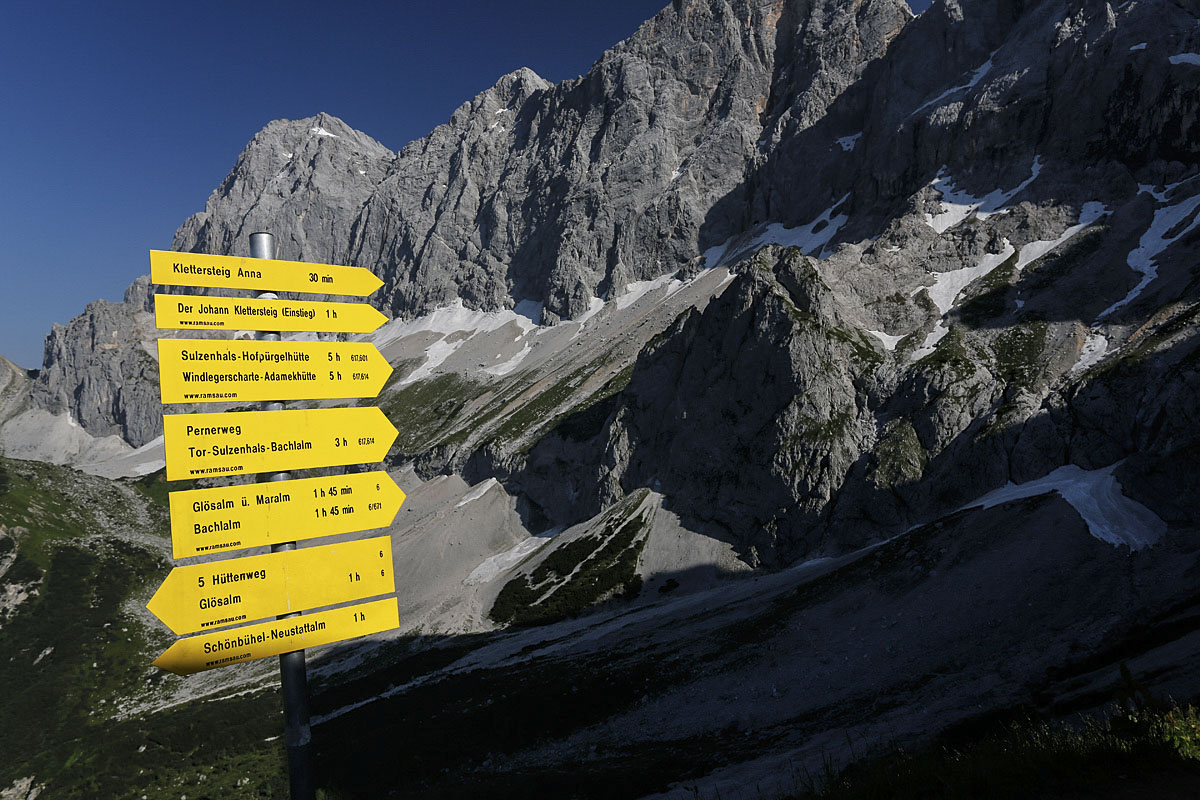 A large Czech party had started up the route, which I quickly passed by free soloing to the side and then jumping on the cables. It's a strange mix of technical climbing moves combined with cable hauling on smeared feet – technique pays off for sure but it became clear endurance would be the real breadwinner here.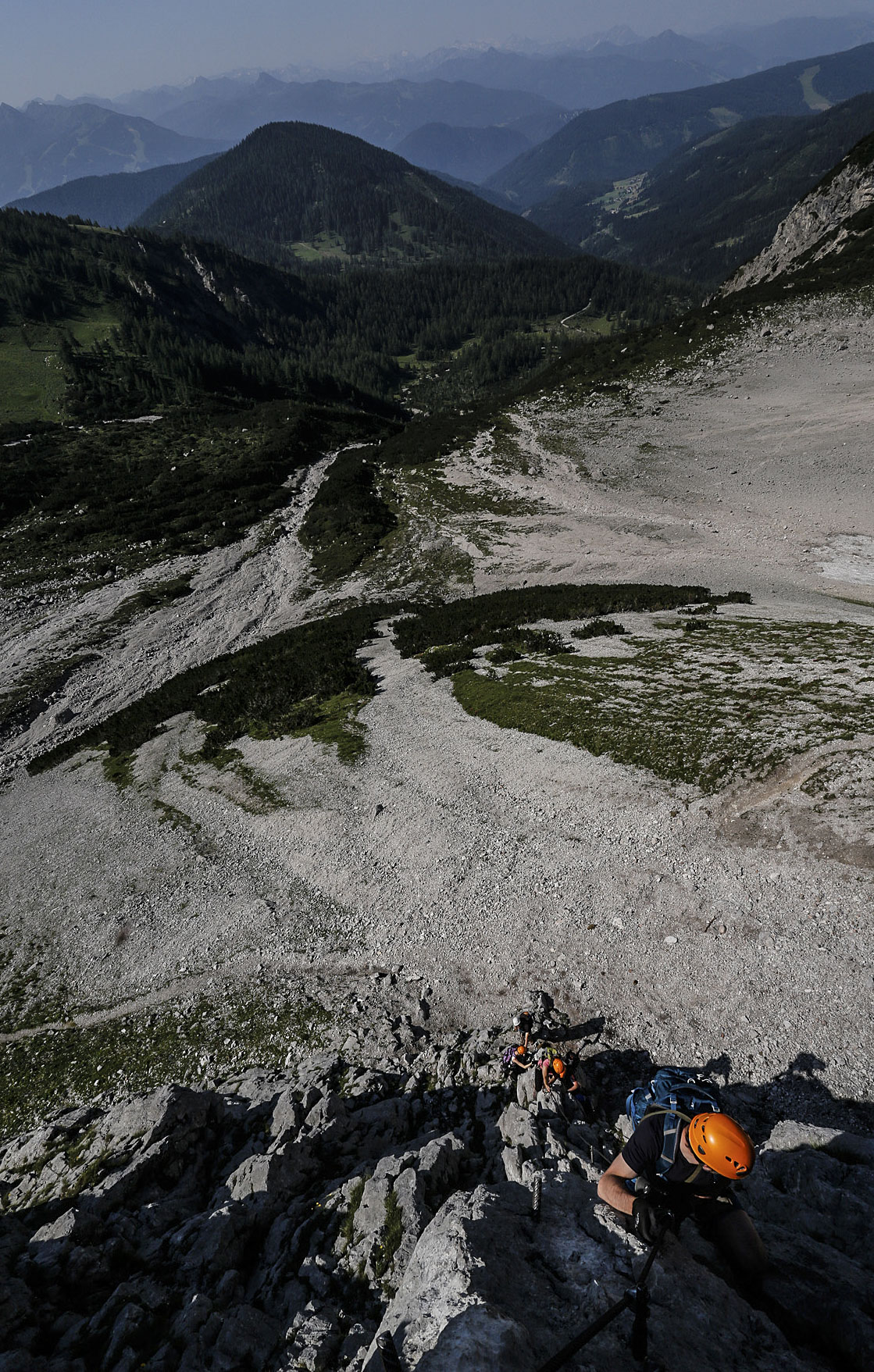 In lieu of a rope, climbers are protected by a Y-shaped tether with two shockload-able arms attached to the harness, clipped directly to the cable. Attachment points come every 10 to 30 feet, meaning a fall could be as far as 35 feet onto a static tether generating a fall factor of up to 6 – hence the specific tether system. Before learning this I was content to go with a simple climbing sling setup – which would have easily blown out in the event of a fall.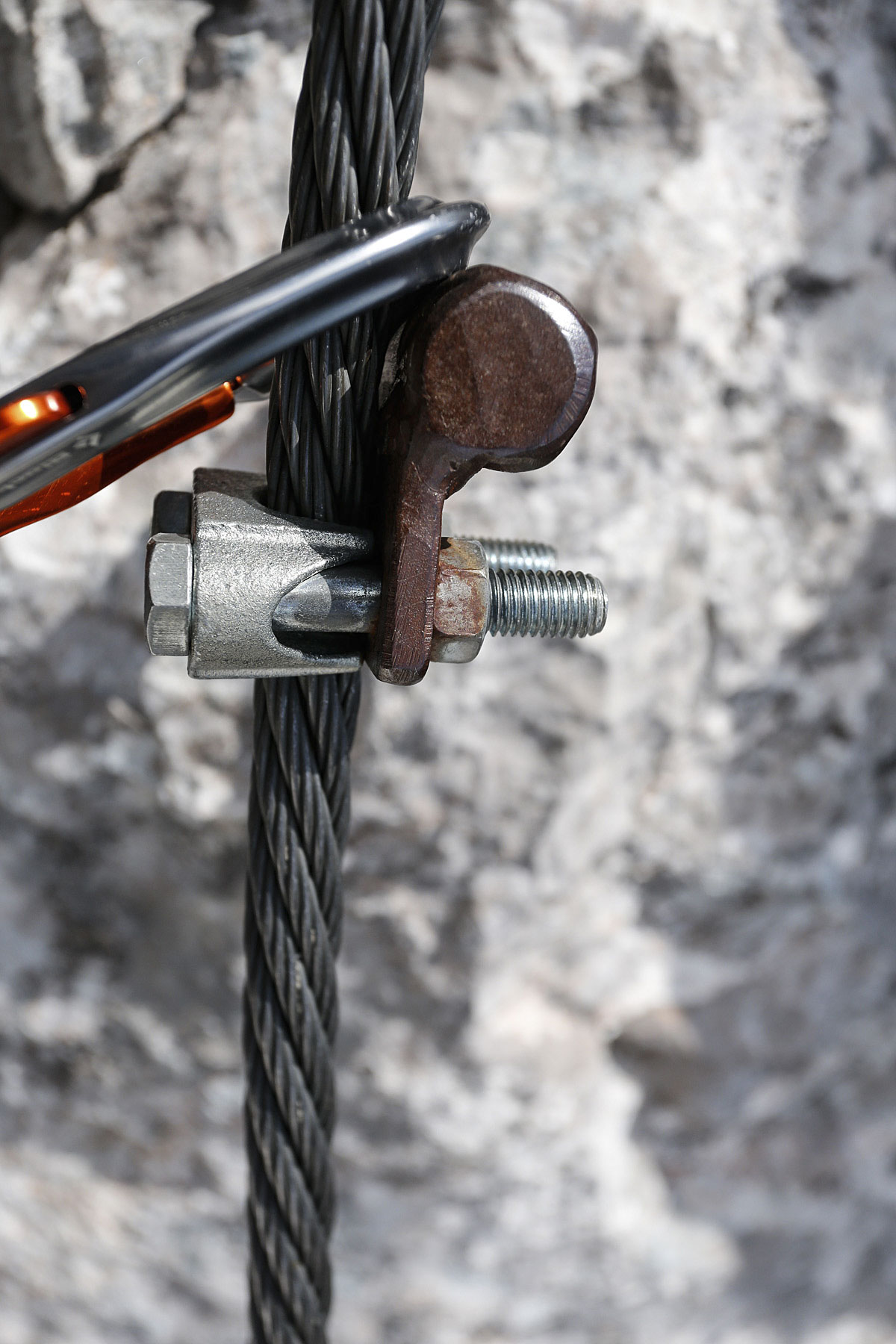 The 300m Anna went quickly over varied terrain, the most interesting of which was zigzag traversing across the featured limestone, reaching the Mitterstein at 2097m a little less than an hour after starting up the face. At Anna's top I felt confident enough to take on Johann, although altitude was beginning to take hold after a week on Italy's coast. Combined with the abnormal heat and a lack of sleep, I made sure to keep myself in check when soloing.
After a brief break, I started the uphill grind to the base of Johann, which was mostly moraine with a bit of glacier crossing. Snow conditions were firm and packed, with very little ice. I left the crampons and axe in the Scream, but was thankful I had the trekking pole.
Johann begins with the crux of the route, an overhanging E-rated section right off the deck. I caught up with a Polish party contemplating the moves who offered to let me pass, and thanks to some heel-hooking climbing technique I was able to pass through the crux easily. Above the crux Johann grew steep and exposed, with a ladder of hammered pins stretching hundreds of feet high. It was the only time on the route I felt serious exposure, and the only time I used both of my tethers to stay constantly 100% connected to the wall.
I kept reminding myself this exposure was why I came so far, the awesome heights over alpine glaciers and huge valleys, but the steepness pushed me to move a bit faster until the terrain eased off. As with climbing, it's easy to forget how privileged it is to be in these places, to earn these views. Especially when you return to reality, realize you are finger-hanging from some random chunk of stone the earth vomited up, and your redlining sympathetic nervous system kicks you in the balls to get moving.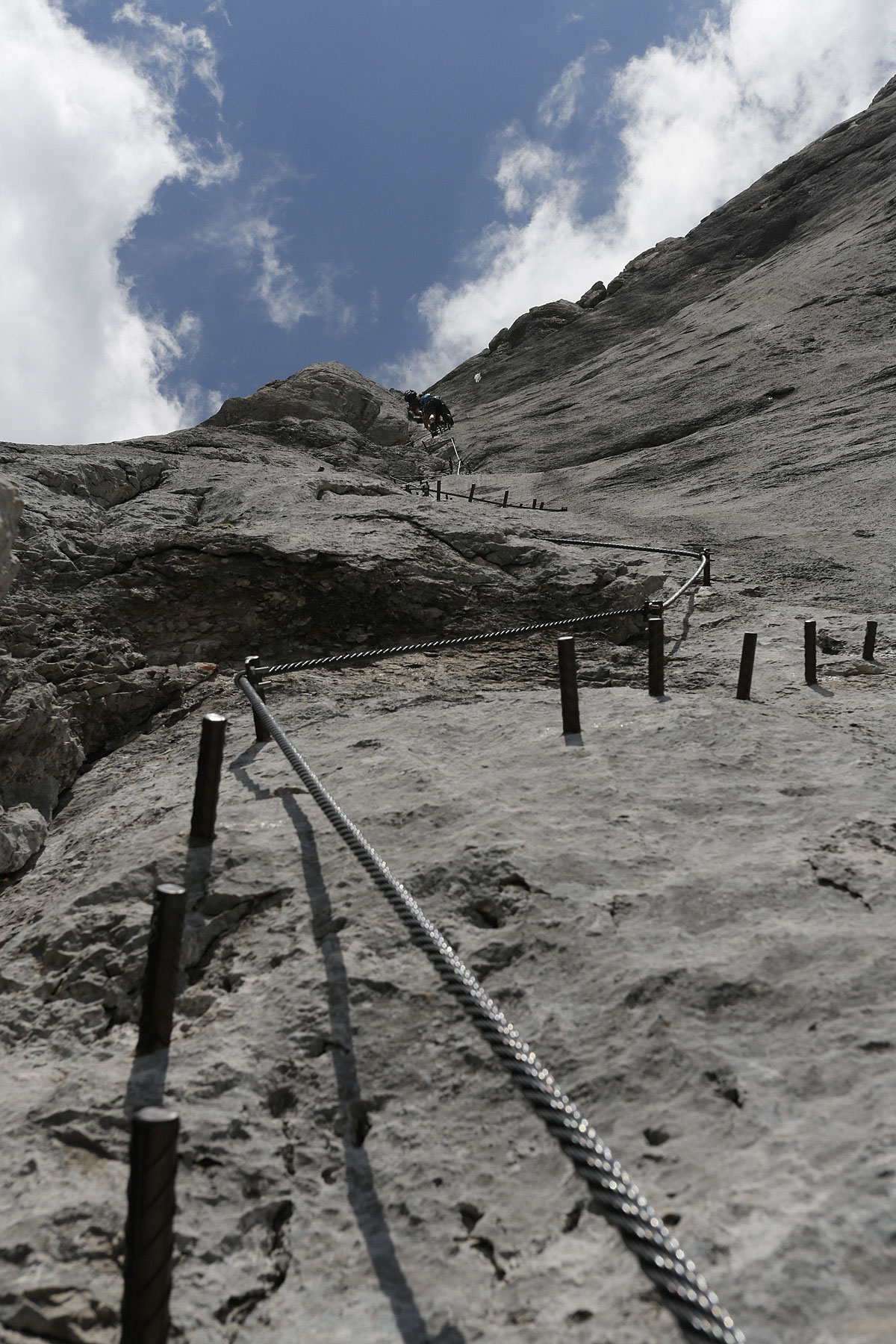 Johann's climbing was varied enough to stay interesting for the 1800 vertical feet, with the cables leading from one crack or corner system to another by way of traverses or directissimas up the exposed face.
Six hours from when I left my alpine hut, I unclipped my screamer-like daisy for the last time, and pulled onto the top. And into the camera lenses of a hundred tourists who took the tram up for a glacier hike or just to enjoy a warm lunch at the full-service summit hut.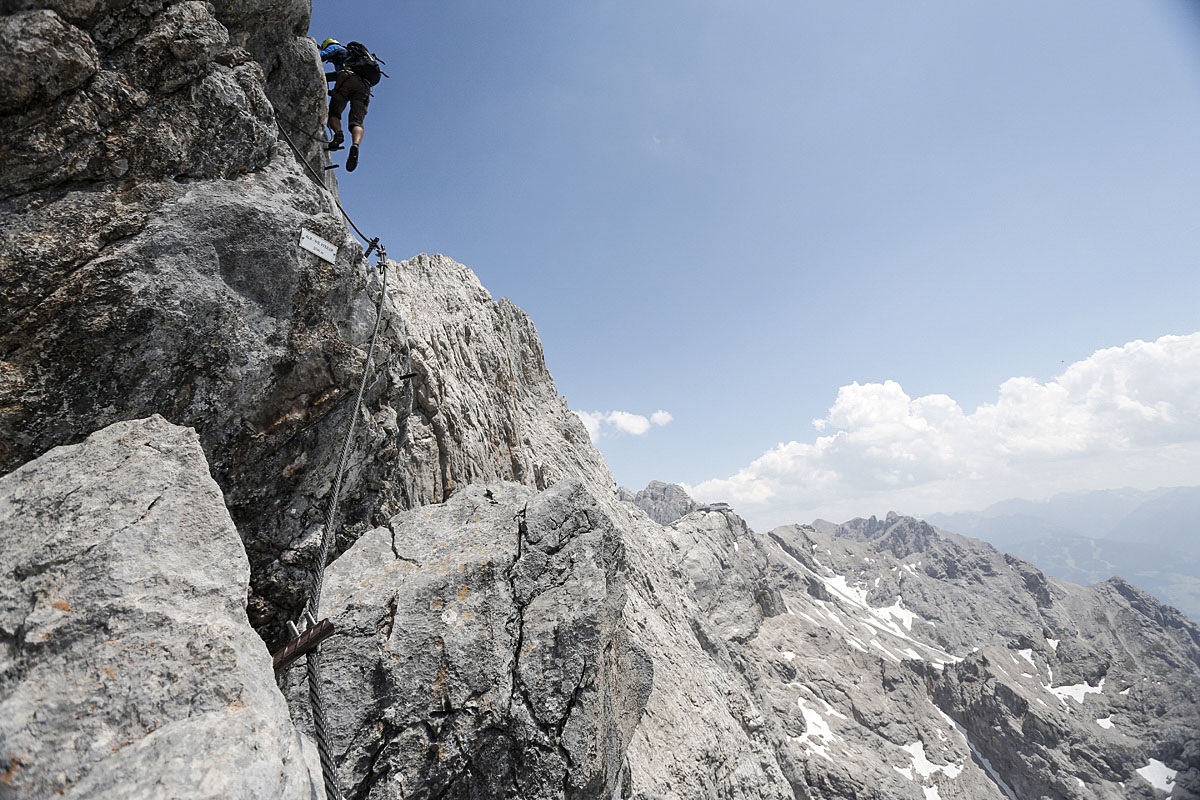 ______________________________________________________________________________________
At nearly 10,000 feet Hoher Dachstein is an international destination; the cold months offer steep lines for pow junkies, and classic ski mountaineering. The warmer months are a well-kept secret of world-class hiking, caving, and climbing. There is even a year-round lift-accessed snow terrain park.
And atop its summit shoulder sits a refugio, serving the single most crisp and perfect heffeweizen to top off nearly 2800 feet of pure vertical climbing. And I tipped my glass in memory of those soldiers fallen in the mountains, and hoped that perhaps the mountains gave them peace in their last moments.
Chris Vultaggio is a Mountainsmith Ambassador and a regular contributor to the Mountainsmith blog.
Follow Chris