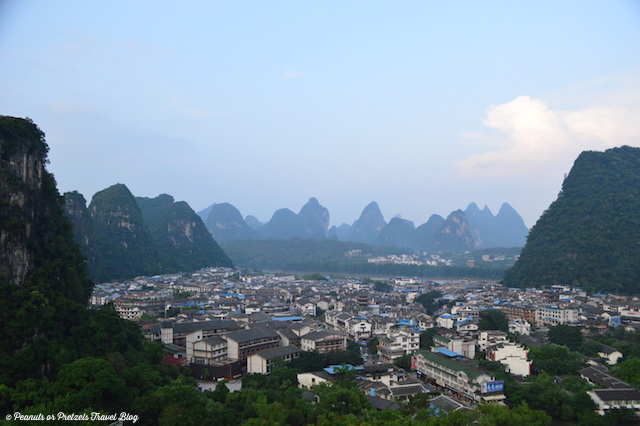 When planning a trip to China, be sure your bucket list of amazing places to see includes Yangshuo. Although many travelers don't recognize the name, or know where it is on a map, chances are they have seen it in a National Geographic Magazine (or floating around on Pinterest Bucket List boards…and even on the Bing search engine today). Without a doubt, the scenery in Yangshuo easily ranks at the top of any list of places to see and experience in China.
Why Yangshuo Should Be at the Top of Your China Bucket List
Yangshuo is known for its picturesque karst mountains, with the Li River winding through the countryside. The area is so beautiful that, in fact, the scenery near the village of Xing Ping (just up river from Yangshuo) is pictured on the local Chinese currency, 20 Yuan.
While the area has become a tourist mecca in China, it's not difficult to get out of town and find yourself all alone on a hiking or biking trail. Getting outdoors and experiencing the natural beauty of this place is what it's all about. Photographers will especially fall in love with the never-ending opportunities for amazing photos. It is no secret that one of the Nat Geo cover shots came from this region of China. One particularly famous scene is watching the local cormorant fisherman on their wooden boats setting off on the river before sunrise. This is an iconic scene you won't want to miss.
Outdoor Activities in Yangshuo, China Being nestled in the heart of the Chinese countryside, Yangshuo is loaded with outdoor activities. There are many hiking trails all over town and beyond, many of which go up the side of the majestic mountains for supreme views, or wind along the Li River.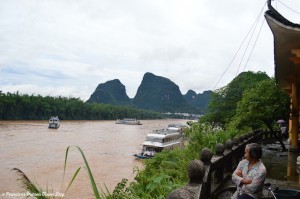 Bicycle riding is also hugely popular, and there are miles and miles of nicely maintained bike paths throughout the area taking riders through fields, old villages, and along the river. You could spend days biking here and just enjoying your surroundings.
If time is an issue, then consider renting a motorbike in Yangshuo. After surviving Thailand on our motorbike, we were excited to get of town and cruise the endless back roads. It was a great way to cover more area, and feel the wind in our face.
We loved turning off the main roads into the little villages. Stopping along the way for pictures and the unique scenery. Many of the villagers smiled and waved at us as we scooted on by. It was really cool to be able to see villagers living normal everyday life in China. Away from the markets and tourists is where we like to be. But be prepared with a GPS and a good map (if that even exists…) because you will likely get a bit lost — which adds to the fun of it! Luckily we were able to find our way back before sunset.
Other activities include rock climbing, exploring caves, and mud baths. But another popular adventure in Yangshuo is bamboo rafting or kayak the Li River. Depending on the season, it can be a thrilling experience. But beware, during the rainy season (April / May) the river can massively flood (as it did when we were there), making it too dangerous to float and even flooding some much of Yangshuo town. Kayak down main street?
When Should you visit Yangshuo?
The late summer and early fall are really the best times to visit Yangshuo. As with traveling anywhere in China, avoid all Chinese public holidays, especially the Spring Festival (Chinese New Year) and National Day(s). We cannot stress this enough. This massive migration makes it impossible to get train or bus tickets anywhere, but especially Yangshuo.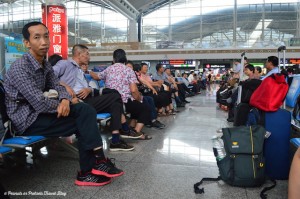 Also, the height of the rainy season is not the best time either due to the flooding and heavy rains. While the misty rain can provide some cool shots, you will likely spend most of your time huddling for cover and not able to see much of anything.
Where is Yangshuo & How to Get There?
Yangshuo is located in the south of China, near the city of Guilin. Flying into Guilin is easy, but buses and trains are also quite popular. In fact, the high speed train from Guangzhou (near Hong Kong) only takes a little over two hours — and it's a beautiful ride! While Guilin is a cool city with loads of history, most visitors are simply there as a jumping off point to the countryside around Yangshuo.
Yangshuo is actually a couple hours by bus from Guilin, and there are many buses each day.
But depending on where you are staying in Guilin, some hotels will offer shuttle service for a
reasonable price (especially if there are multiple people splitting the cost).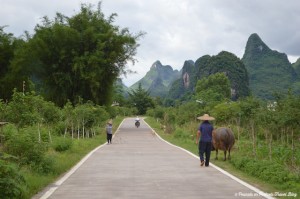 There are also boat rides from Guilin to Yangshuo; however, these are mostly popular with Chinese tourists. The ride is quite long (a good 4 hours) and we've read that the facilities on the boats are less than ideal. If you have the time, then you might enjoy the scenery on the boat ride; however, it's only spectacular as you near Yangshuo.
When in China, Don't Miss Yangshuo!
Yangshuo really is an adventure traveler's and photographer's dream. Between the outdoor
activities, magnificent photo opportunities, and rich Chinese history, it's an ideal travel
destination in China. There are so many great adventures to be had in this area, that you could
easily spend more than a week. So if you are planning a trip to explore China, make sure you
add Yangshuo to the top of you list.
Josh & Liz are Mountainsmith ambassadors and regular contributors to the Mountainsmith blog. Follow their world travels on their blog Peanuts or Pretzels. Josh relies on the Tour FX  and Spectrum camera packs to keep his equipment safe and at-the-ready. Liz is most often found toting her Rift Messenger bag to exotic destinations.