I am beyond excited to announce that my world record trip to promote youth/diversity involvement in all 400+ National Park units has received its first sponsor!
After over 15 months of contacting more than 500 companies, individuals and organizations, Mountainsmith was the first to say, "We get it. We believe in you. We want to be part of this journey."
From day one–sending a cold-call email to their CEO–they have been nothing but excited, kind, responsive and flexible as this Nebraska boy, who isn't a celebrity, doesn't yet have a massive social media following, and isn't promoted by National Geographic, tries to change his/the world by doing something extraordinary.
But I shouldn't be surprised by the quality of people at Mountainsmith. After all, I've had one of their products since I was 14.
It was early in my 9th grade year and the amount of textbooks I was bringing home each night was so profuse that I couldn't fit them all in my JanSport backpack. So I went to "The Moose's Tooth Outdoor Company" in Lincoln and got the biggest backpack I could find that didn't look like I was hiking into the Grand Canyon on my walk to school.
After four years of being stretched to the max by more textbooks than was fair, one of the zippers stopped connecting so I sent it in to be repaired courtesy of its "Lifetime Warranty."
Perhaps sensing the strain my bag had been under, rather than just fix the zipper, Mountainsmith sent me a brand new backpack of the same model. No deductible. No hassle. Just a brand new backpack. It was the first time I'd heard of such magical customer service until I encountered Cheryl Strayed's miracle acquisition of new REI shoes in her Wild famous hike of the Pacific Crest Trail.
So I opened up the box and got my new Mountainsmith "Guide" backpack just before embarking on my 18th year and adulthood.
Only a year later, at age 19, my initiation into adulthood came rapidly when my 58-year-old father passed away from esophageal cancer. As I had already planned my first independent road trip for what ended up being only days after his funeral, that means this backpack has been with me for every trip since that healing road trip made traveling essential to my life.
And I mean literally every trip.
This bag was with me on that inaugural road trip and on the 10+ annual road trips I've since taken to honor the life changing experience. It moved to Memphis with me. To Montreal. To summers working in Maine, Wisconsin, Switzerland and China. It accompanied my first international trip, to London, and afterward, to nearly every European nation from Serbia to Sweden. It was with me when I lobbied Congress using the "Pocket Constitution" that has sat in its inner compartment since I received it in 11th grade civics class. And it was with me for my 260 day, 16,400 mile 2011-2012 "Dream Road Trip"; carrying my most important possessions and staying on my back or by my side every inch of the way so I didn't lose them.
To this day, it still serves as my go-to carry-on/computer/weekender backpack for any trip away from home, whether taking the Metro into the city or flying to Peru to hike the Inca Trail.
This bag has walked with me through every stage of life. Like an imaginary friend that's actually real and is always ready to hand you a piece of gum it's been holding in its pocket–just waiting for you to need it.
It's such a part of my travel-being that I don't know how to let it go. Like a champion horse that should be put out to pasture, it's served me so well that it doesn't deserve to be taken out back and turned into glue. It's my Woody from Toy Story. Old and tattered, but loved and appreciated.
So when my new Mountainsmith gear arrives, ready to undertake this journey that is the most adventurous I've ever pursued, I want to do something special with my Guide backpack.
Something special for my trusty friend.
Now, my yoga-teaching sister would tell me that material items are fleeting and change is constant and the only way to really live life is to do so in the moment.
So I ask for your help with this moment. With my trip now less than 60 days from launch, I ask for your ideas of what to do with my Mountainsmith Guide. Do I keep it? Donate it? Give it to a donor in my future Kickstarter campaign?
Whatever I do, I will look forward to when I have to depart from the forthcoming Mountainsmith products that will accompany my National Parks journey. Confident in the knowledge that it's not any material item that makes a trip extraordinary, but great material items that help make extraordinary experiences possible.
Follow Mikah's National Park journey via his blog Travel Beyond Convention or on Facebook, Twitter, and Instagram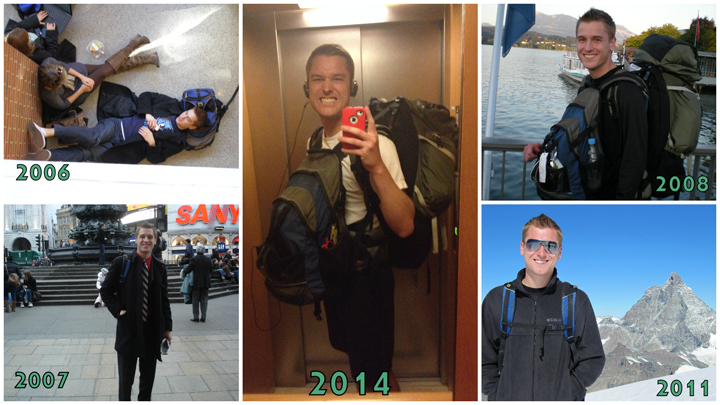 Comment with ideas for my backpack!