Mountainsmith hosts guest blogger Patrick Bairamian this week to share his experience carrying the Mountainsmith Wraith 25, a fully-featured day pack from the Mountainlight collection…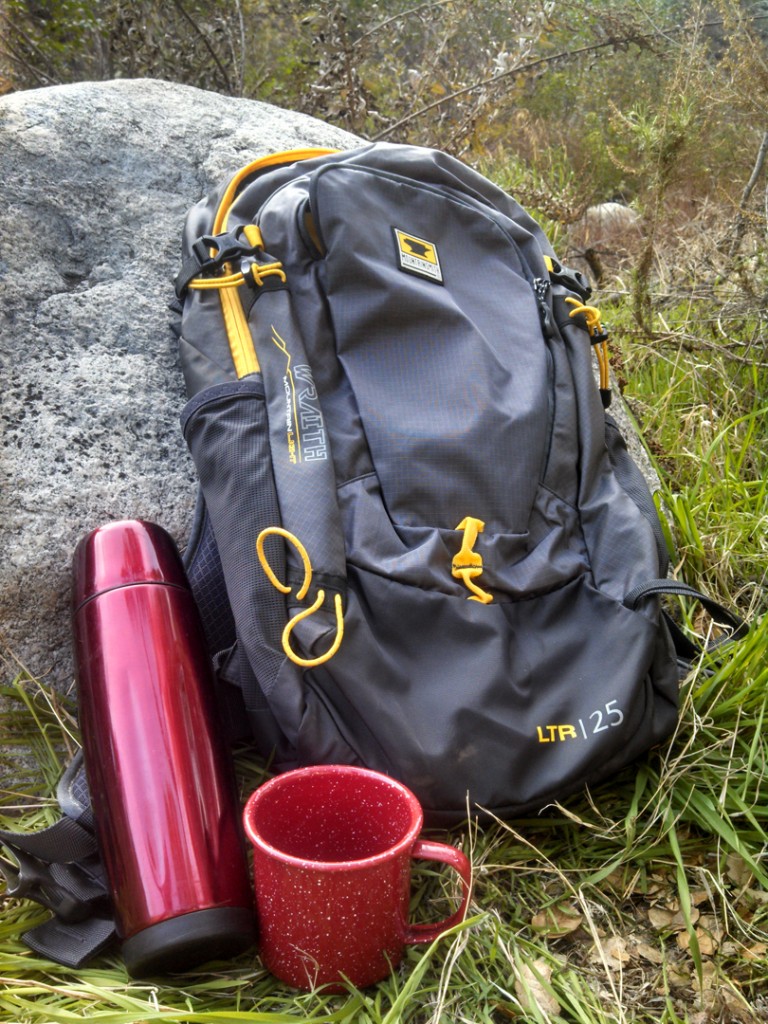 OK. You wake up; it's 7:00 am and it's a Sunday. You check your phone to see what the weather is like and it's sunny, clear and in your favor. You take a look outside just to be sure there isn't a cloud in sight – there isn't. Before your girlfriend calls to tell you she's outside your apartment and ready to get in the car and drive up to the trail head, you remember that you'll be hiking up a solid three miles of incline before you hit a break in the trail and are rewarded with a view where you can sit down, spread out a light lunch and enjoy it all with the coffee you have packed. But then, this feeling of frustration hits you. All the food, and water, and the coffee tumbler have been set aside and are ready – but what pack do you put them all in?
Can't haul up the framed-pack – what the heck for? You're packing for only your girlfriend and yourself, the hike is three miles one way uphill, and honestly…6 miles round trip for you is like taking English 101 when you already have a Master's in Poetry. So, what do you do? Framed would be bulky heavy and unnecessarily large for a daytime hike. With everything swinging around loosely, why bother? You'll have the support but it's just too much for too little. Or, perhaps you should choose something that has little to no support but fits everything nice and snug? Why can't you have both? Because you don't have Mountainsmith Wraith 25 daypack.
The scenario for me last month was much the same as the one above. My girlfriend waited outside as I struggled to decide what pack to take on our short four-mile hike. I had once decided to take another "daypack" backpack thinking it wouldn't be so bad on day hikes – yeah, don't do that. That thing was smacking my lower-back like a wrecking ball that seemed to have Miley Cyrus hanging off the side. The pack had no support and it seemed to just be a canvas blanket with zippers and two straps. Something needed to change. I already had a Mountainsmith pack for my dog that she loved to wear (no nagging or chewing on it out of discomfort) so I thought: if they can do something for my 60 lb APBT, they can do something for this 6'4 biped. The people at Mountainsmith were gracious enough to send me a Wraith 25 –no strings attached. If I didn't like it, I'd say so. If I did, I'd say so. Here is my hike – you be the judge.
I won't start with some long and boring text about every little detail – nature as most things that are found in the outdoors cannot be explained with any amount of poetic words that would do the beauty one explores justice. But – we'll get a bit technical here. Supplies!
·         20 oz capacity coffee tumbler (1.7 lbs)
·         2 aluminum camping cups
·         2 – 16 oz bottles of water
·         1 tuperware of Armenian cucumbers
·         2 Clif bars
·         2 fleece sweaters  (hers and mine)
Again, nothing complicated, but the regular snacks, water, and clothes you would take on a 2-4 mile hike. And we were off! Off to the Angeles National Forest where we can find some very beautiful disconnected and natural settings just 10 miles from Downtown Los Angeles.
We started our hike from the parking lot, which took us to a slightly inclined road that lead up to the mouth of a canyon that leads through the Arroyo Seco. It's beautiful this time of year as everything is wet and slightly green (more so under overcast-weather, which for that day's hike it was not). After about a mile into the canyon, the real trek began, and the wide trail that is a mishmash of asphalt road and dirt comes to a halt as the canopy of trees enshrouds the trail in a great stroke of shade. Then the hike becomes a hike.
Through boulders large and small, the rough patches of hardened dirt, and sloppy sludge of the sun-deprived muddy puddles, my girlfriend and I trekked along the path aiming to get to a better spot along the hike to stop and get a better view of the surrounding shrubbery. Along the way, we stopped at an inlet that had access to the small stream we were next to, and so we got our fill of sun. I took the pack off which hadn't burdened me yet.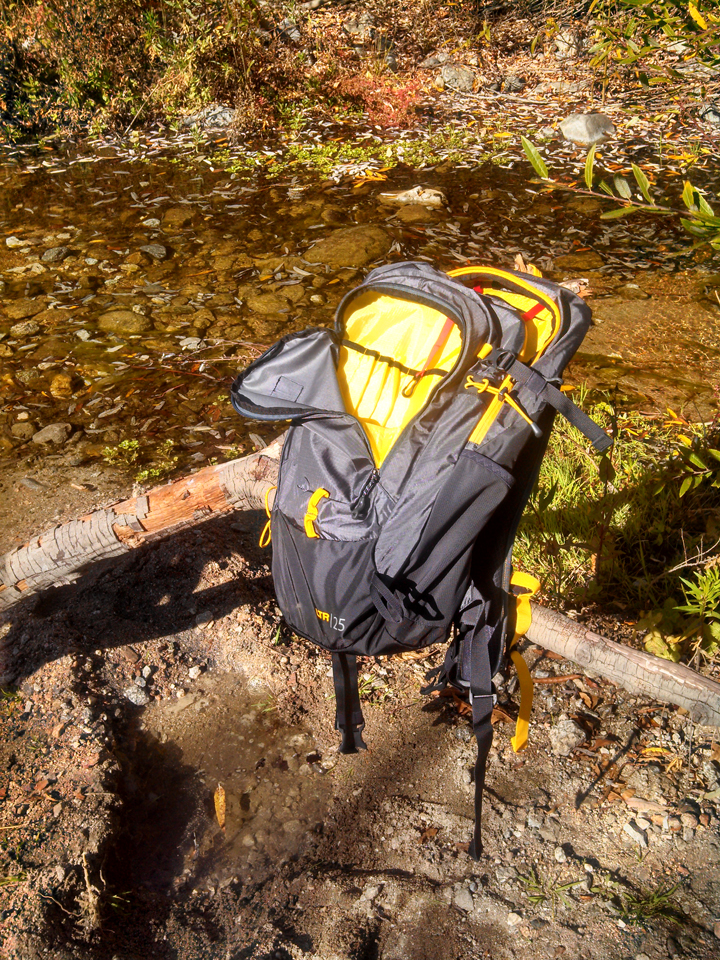 As we continued up the trail, I noticed that there were straps that hung from my sides swinging to and fro. As these are usually meant to stabilize the backpack, and secure it tighter around a person, I attached them even as the play of the backpack wasn't great enough for me to initially strap it in tighter. The dangling stopped and I noticed how the straps and tightness allowed for more of a distribution of weight across my back. Sure, the weight wasn't too much, but it's still an unnatural weight put onto the body – and if anyone has even put a heavy jacket on themselves, you notice that your body needs a bit of time to adjust to this unaccounted for weight/'thing.'
After we stopped for another view of the stream which had become a river at this point in the hike, my girlfriend wanted to try out the pack. Again, the weight wasn't great, but she too commented on the springiness of the pack as we walked up the remainder of the trail.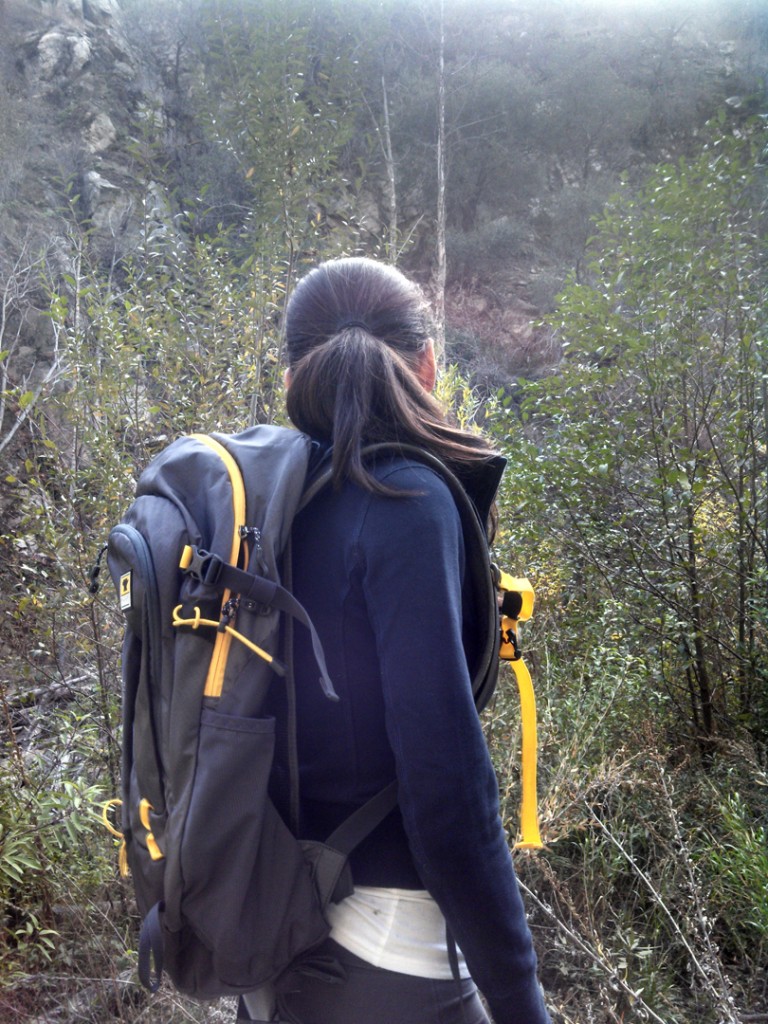 Now, I'm not sure how many of you sweat out there, but you'll know that if there is one problem with backpacking heavy loads, or just a load that is constantly in contact with your back , you sweat a lot. With the lack of proper air circulation throughout the sweating process, your t-shirt or backpack might become drenched with moisture – never good as you might find yourself wrapped up in winds that may whisk away your body heat and leave you to the cold – little risk of this in Southern California –but it's always good to be cautious. Good thing the Wraith 25 allows for an insulation layer that floats the pack and straps away from the curvature of your lower back, allowing for better circulation. It was a great feature, as it acted to help circulation, and the distribution of weight through the exoskeleton that the suspension straps provided.
Finally, when we reached our own designated destination, we layed down our things and enjoyed the view: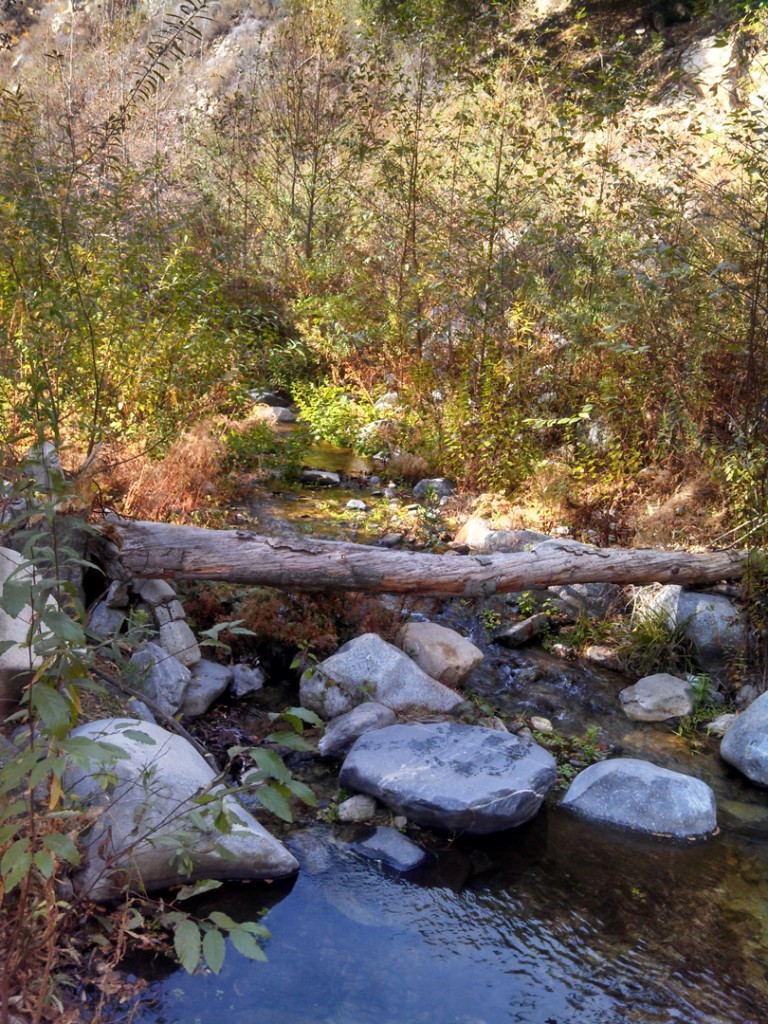 We pulled out the coffee, and snacks and enjoyed them under the quiet nature had provided along with the absolute calm it expressed – allowing for us to sit back and sip on our now afternoon coffee.
Honestly – we didn't notice the backpack all that much throughout the hike – and that's what was so great. We didn't have to constantly adjust it, or unload the content, or shift the items within because they were moving around making everything lopsided. It didn't absorb the sweat from our backs, or slam our lower-back with its lack of being tightly secured. Just like the river flowing near our feet that day, the bag simply existed, and it did its job well enough for us not even to take notice. That's the sign of a good bag – when the only time you think about it is before a hike to load it up, and after when you get back.
The pack had some gizmos and specs that Mountainsmith's website covers like YKK zippers, RipStop nylon and an array of high-grade plastics, and pockets all throughout the pack to help accommodate one more water bottle, or cushion a camera lenses – and all that is good. But, if you're looking for a backpack that you can load up on a whim, strap on and just enjoy your hike without having to stop to dry your back, or not needing to rest because the straps are distributing the weight poorly, then this is the pack to buy. It's worth the investment to have one solid piece of hiking equipment that can act as a daypack for a morning or afternoon hike, as well as something that you can load a good amount of gear in and hike down to the beach to enjoy a picnic with. Next trial will be the ultimate test – an overnight hike with this badboy!