Clint and Ashley dropped everything in Colorado to travel the world with their Mountainsmith travel gear, and want to show you that you can do it to. Here is the latest from their time spent in Santiago, Chile…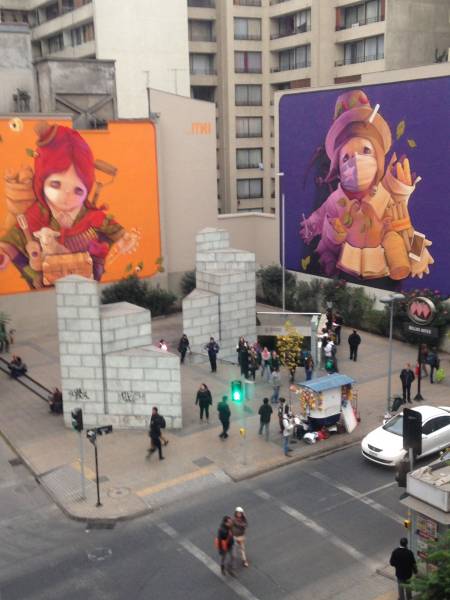 Bags checked all the way to Santiago!  With a stop over in Miami, we finally arrived and made it to our first accommodations in Chile.  Part of our plan for this trip was to not really have a plan so we booked a room at a centrally located hostel for our first two nights and would figure out longer term accommodations for our remaining time once we got into town.  We arrived at our accommodations in the Bellas Artes section of Santiago and after a quick nap to recharge the batteries, we ventured out to familiarize ourselves with the surrounding area.
Exploring our locations and meeting new people are top priorities on this trip and we were not disappointed on our first night in Santiago. Venturing into the Lastarria section of town we wandered into a wonderful wine bar/bistro called BocaNariz.  We ordered a flight of local Chilean wines as the place begins to fill up and soaked in the atmosphere.  The table next to us was having a great time and we struck up a conversation with them – 3 flight attendants from Iceland Air, the husband of one of the attendants along with his business partner who is based in Santiago.  By the end of the evening we're in the planning stages of attending a BBQ at Muppet's house (yes, the gentleman based in Santiago goes by the name Muppet) the following evening.  We said good night with the intention of meeting again for a BBQ the next day.
Through the magic of Airbnb we secured an apartment right around the corner from our hostel for the next few days.  The apartment had everything we needed – a small kitchen with basic utensils so we don't have to eat every meal from a restaurant, a comfortable bed to sleep in and a shower that has hot water.  We realized going into this trip that hot showers should not be expected at every stop along the way, but considering we were arriving in South America in their late fall and this was our first stop on our long adventure, we weren't ready to tough it out just yet.
We were fortunate to have an introduction to a couple of friendly locals through a neighbor of ours back in Denver.  We met for lunch and ended up receiving a wonderful guided walking tour of "our" section of Santiago that afternoon.  Bellas Artes, Lastarria and Bellavista are three neighborhoods we certainly recommend checking out should you find yourself visiting Santiago.  Each with a different character, they are filled with wonderful amenities (restaurants, cafes, museums, shopping) and friendly people.  Even with Spanish that is as broken as ours you can find patient and helpful folks everywhere.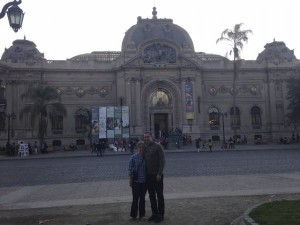 After a wonderful afternoon walking through our surrounding neighborhoods we headed back to our apartment and came across a police van blocking the end of our road for some reason.  As we walked further down the block we discovered that we stumbled onto a parade.  A massive celebration of indigenous culture was about to take place right on our doorstep.  We watched for about 30 minutes as group after group merrily made their way down the street dancing their hearts out to music provided by several different marching bands.  The most colorful and lively one-street parade that either of us have ever been witness to!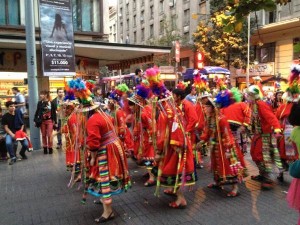 While we opted to walk a lot in Santiago, the public transportation system is quite easy to navigate.  We were staying very close to a subway stop and found it quite useful for longer trips within the city and also for connecting to the transportation hubs such as the bus station and airport.
There are also a couple of great hikes close to our apartment – San Cristobal is the highest point in Santiago and you can access several ways to the top through the Bellavista neighborhood.  Santa Lucia connects Bellas Artes with Lastarria and is a fun, quick hike during the day while it's beautifully illuminated at night.  We were fortunate to have a great view of Santa Lucia from our apartment window!
Santiago has surprised us in many ways and we've very much enjoyed our time exploring this wonderful city.  We highly recommend spending at least a few days in Santiago and look forward to a return visit in the future.
This post continues on to Valparaiso in the next post.