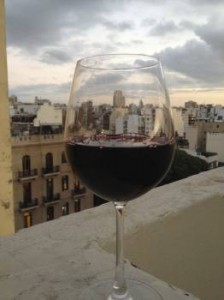 With an entire month of our trip blocked out in Argentina, we decided to create a home base in Buenos Aires and rented an apartment.  Located in the Villa Crespo neighborhood of BA, our apartment helped us settle into "local life" without too much trouble.
Within one block of our apartment we had a large grocery store, a panaderia for freshly made baked goods, multiple produce bodegas, carnecerias for beef/chicken/pork, small restaurants and cafes, etc.  It also happens that Villa Crespo is THE place in Buenos Aires to purchase leather goods and there are dozens of stores that specialize in reasonably priced leather garments (including custom made items).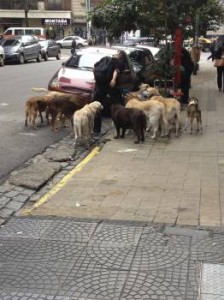 Buenos Aires is a huge city (over 14 million people) that can sometimes be overwhelming.  Each neighborhood in Buenos Aires has a unique identity and thus the city can provide "something for everyone"!  For example, Palermo is known for its nightlife (bars, clubs, restaurants) as well as high end shopping.  Recoleta is the Beverly Hills of Buenos Aires where the rich and famous seem to hang their hats.  The neighborhood is also home to the world famous Recoleta cemetery (certainly a good way to spend a day wandering around and a "must see" on your visit to Buenos Aires).  San Telmo is a bohemian neighborhood where you should plan to visit the Sunday Market for an amazing array of local crafts as well as entertaining street performers, tango dancers and top-notch people watching.  Of course there are many, many other incredible places to see and things to do in Buenos Aires but these three neighborhoods are a few of our personal favorites.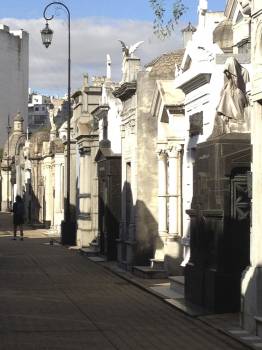 Getting around Buenos Aires can be treacherous if you're not a "city person".  Of course we would recommend NOT renting a car or motorbike as the public transportation system in BA is well established and easily accessible.  Taxis are quite prevalent but rather expensive to use.  We found an app called Como Llego that is free to download and provides you with multiple options for getting from Point A to Point B throughout Buenos Aires.  The app includes buses, the subway, trains as well as walking options to get you wherever you need to go.  If you're planning on spending more than a day or two in BA we highly recommend you download the app and purchase a Subte card (which you would deposit money onto) that will allow you to access most all of the public transportation services in the city.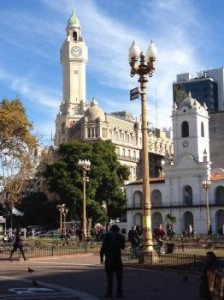 With Buenos Aires being as large of a city as it is, we found it necessary to get some relief from the concrete jungle.  The Reserva Ecologica, located near the Puerto Madero neighborhood, provided us a lovely escape back to nature at least 1-2 times per week.  Whether we were looking for a place to go for a run, perhaps a quiet walk or just to enjoy a wide open space in the great outdoors, the Reserva Ecologica certainly helped us maintain our sanity without having to make a long haul outside of the city.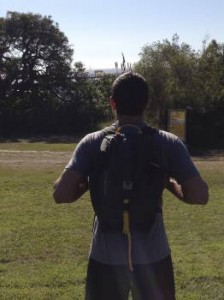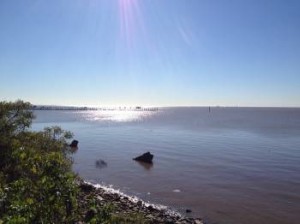 When travelling to Argentina, we recommend that you bring a good amount of US currency with you, preferably in $100 bills.  Although this may sound counterintuitive, the economy in Argentina will handsomely reward you for following this advice.
The unofficial currency exchange market in Argentina is called the Blue Market.  Although not technically legal, the Blue Market exchange rates are published on the front page of the newspaper each morning along side of the official exchange rates.  During our month in Buenos Aires, the official exchange rate was approximately 8 Argentine Pesos per 1 US Dollar.  The Blue Market rate was roughly 11.5 ARG per 1 USD.  As you can see, bringing US Dollars into the country you increase your buying power significantly (if you're using a credit card, which is more difficult in BA than you would expect, your transactions will be converted at the official exchange rate).  Here is what you need to know for navigating the Blue Market in Buenos Aires:
Florida Street in Buenos Aires is home to most of the "cambios" where you would exchange your dollars for pesos.  There are literally hundreds of people shouting "cambio, cambio, cambio" out on the street trying to get you to exchange with them.  My advice – find a local you trust and ask them if they have someone they recommend using.  There is a high risk that you could be passed counterfeit bills or worse (you could get robbed) if you just use someone that approaches you on the street.  Things could go off without a hitch but we were pretty nervous about the whole notion of using the Blue Market exchange.  Fortunately we were introduced to a reliable cambio from some friends that we met while in BA that had been living there for 6 months.  Also, you get a better exchange rate by using $100 bills than any smaller denominations.  As crazy as it sounds, the reason that we were given is that $100's take up less space when stored in mattresses for safe keeping than $20's or $50's (obviously if you're keeping a $1000 USD it would require 10 bills of $100 each rather than 20 $50's or 50 $20's).  I don't know if that is actually THE reason but I did experience first hand being provided with a lower exchange rate on my $20's and $50's than what they gave me for my $100's.
We hope you find this brief guide to Buenos Aires helpful.  We loved our time in the city and hope you too will make a trek down to "The Paris of South America".