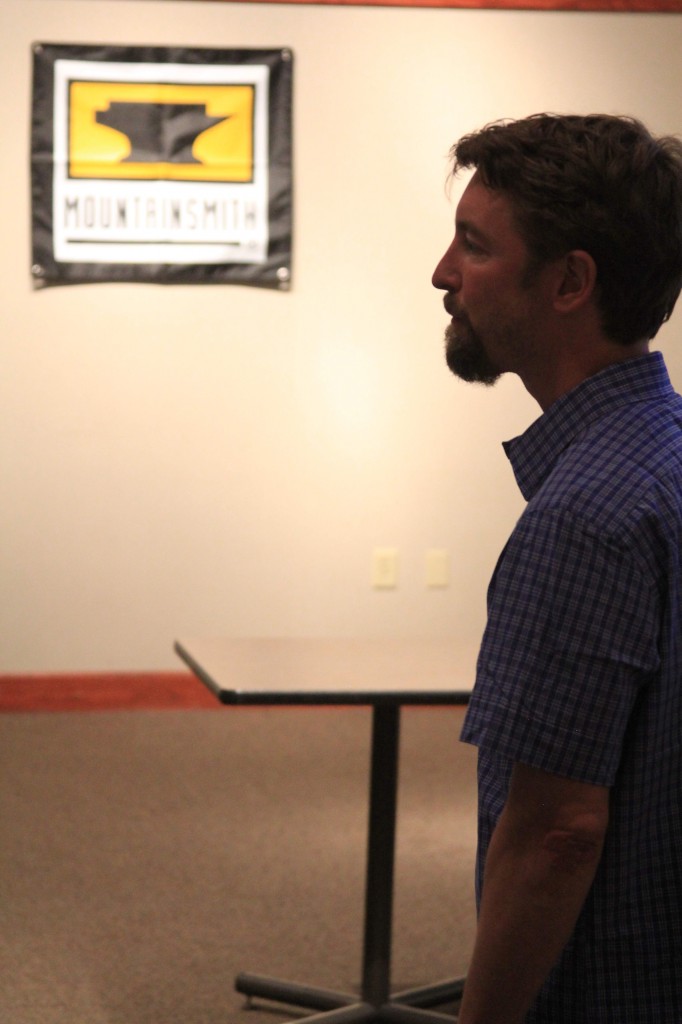 Spring time is time of renewal and new life in the great outdoors, and the same can be said for the Mountainsmith brand.  Each May, the team invites their industry partners to their hometown of Golden, CO to present their vision for the brand.  As in recent years, the event was held at the historic American Mountaineering Center, where many of the brand's non-profit beneficiaries hold their offices.  "With a climbing wall in the entry way, a mountaineering museum, and staff walking the hallways in hiking shorts and Chacos, this is a natural place for our brand to gather and plan the future of our brand," says Jonathan McFarland, Sales Manager.
The most exciting part of this meeting, new product introductions.  Each year, Product Line Manager Luke Boldman delights the crowd with a years worth of thoughtful design and innovation.  This year's presentation fell nothing short of the excitement of past years, as he introduced a new line of camera bags and a new series for Mountainsmith called Front Range.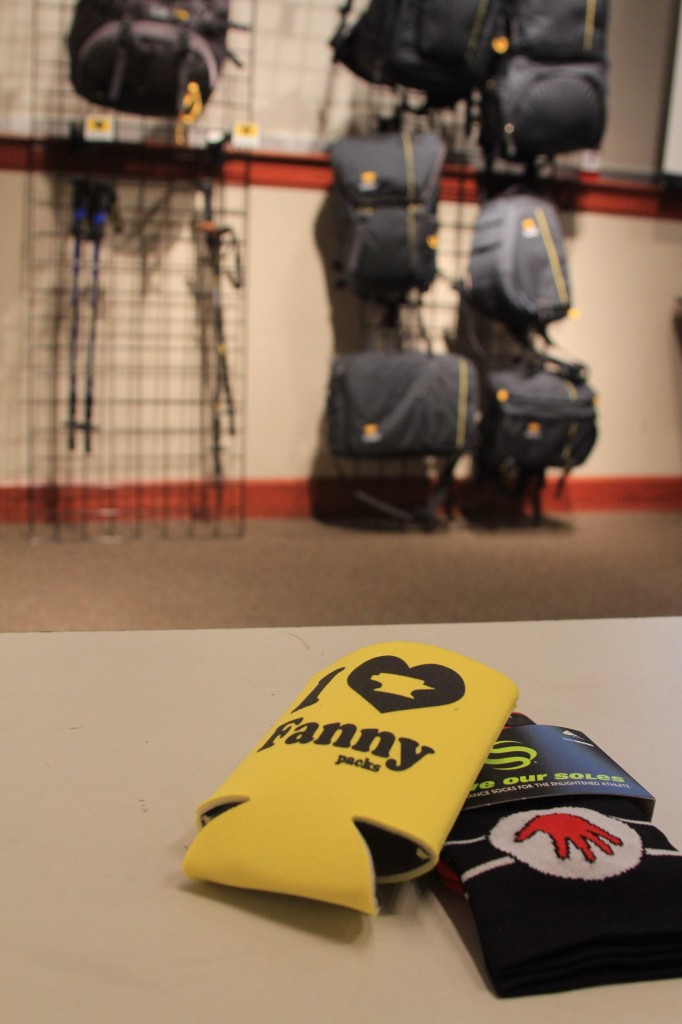 Following up on the current line of camera products that continues to receive media acclaim across the board, Boldman has given the line a face lift while introducing some impressive innovations drawing on inspiration from friends in the professional photography world.  The 2014 line of Mountainsmith camera bags will be co-labeled with renowned photographer Andy Mann, of 3 Strings Productions.  "We know we had a good product already," says Boldman, "but we wanted to take it a step further and design these bags with the off-the-beaten-path photographer in mind."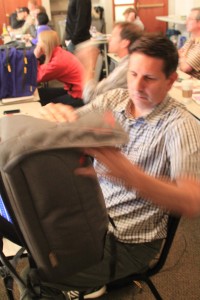 If you are unfamiliar with Andy Mann, treat yourself and take a quick journey on his website.  He is not exactly your conventional photographer.  While you are enjoying that photo of a climber hanging off the side of a wall in a remote canyon, keep in mind that Andy is there too, and he carried pounds of photo equipment to get that shot and bring it to the screen in front of your eyes.  Andy has trusted Mountainsmith packs and camera cases for years now to get his gear safely to his on-location photo shoots, and now he brings years of insights to the 2014 Mountainsmith camera line.
The crowd erupted with applause when Boldman demonstrated the largest backpack, the Parallax. While wearing the backpack, Luke reached around the side of the pack to unzip a pocket and revealed a DSLR camera bag tethered by yellow webbing.  He pulled this around to his chest and clipped it into a buckle just below the sternum strap to create an on-the-go chest mounted camera bag.  "Andy's emphasis has been on quick access to the camera," says Boldman, "and this allows the best of both worlds without forcing the photographer to spend the entire day with a camera bag mounted on their chest."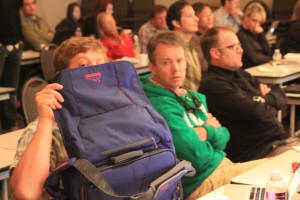 The 2014 line of Mountainsmith/Andy Mann camera bags will be available exclusively at REI starting this Fall.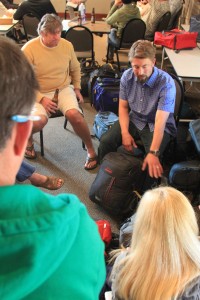 With similar inspiration and aesthetics, Mountainsmith will also introduce the Front Range series of bags made with the office warrior in mind.  "We are just like you," says Jeremy Dodge, Sales & Marketing Coordinator, "we try to fit in an outdoor adventure everyday, and that has to fit around our work schedules."  This new Front Range series of packs will feature urban conveniences like laptop sleeves and office organizers, but will not be a stranger to the trail.  Trademark durability and sturdy construction are not forgotten in Mountainsmith products, even though it is disguised by sleek fabric that will fit into your commute on the light rail or your pedal to the farmer's market.
"All in all it was a great success!" says Jay Getzel, who was recently named President of Mountainsmith.  "There is great energy behind this brand right now and it makes perfect sense, these products fit a realistic lifestyle of an active outdoors person, which is all of us."  Getzel finished the day with the brand mantra stating that, "Our gear, our community, and the relationships we have with our partners are…FORGED FOR LIFE."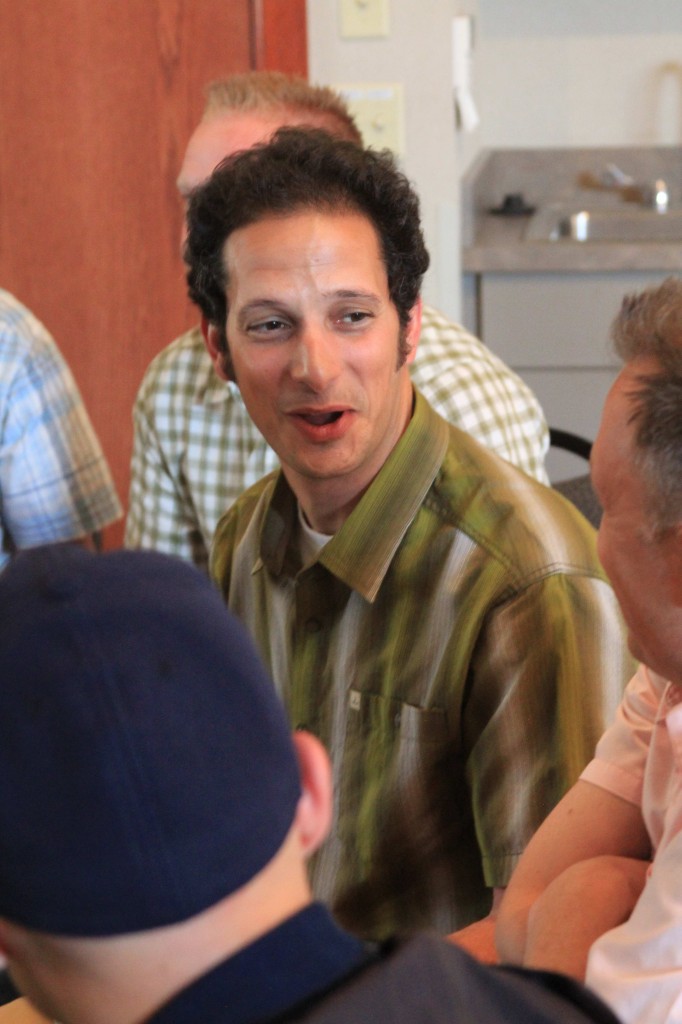 Stay tuned all summer for individual product announcements.
NEXT POST: Sales Meeting Play Day at A Basin