We're now halfway through November. Everyone is drinking their pumpkin spice whatever and thinking about this year as the snow piles up in the mountains. It's this time of year when I tend to reflect on what I've learned over the year and how I can become a better photographer and filmmaker. I like to take a hard critical look at myself. While thinking I thought it would be interesting to ask some of my favorite photographers and Mountainsmith ambassadors what they've learned this year, a sort of crowd sourced learning experience.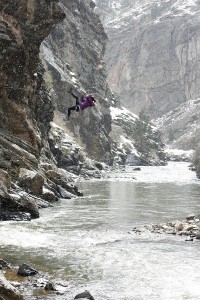 1. Chris Vultaggio
"Bad Weather makes Good Lighting. It's easy to pack it in when the clouds start rolling, but weather can make things really dramatic. Instead of pulling up the covers when the forecast is for storms, grab your gear and a rainshell and go make some awesome images."
The image to the left shows a day that Chris spent in El Dorado Canyon just south of Boulder, Colorado in the Spring of 2015. The weather was (un)cooperative, depending on how you look at it.
2. AJ Marino
"No matter how insanely crazy your goal for life is, you will always have people who stand behind it completely, and others who will laugh at what you're doing. You can tell people until you're blue in the face what you are going to do but it doesn't matter that you impress anyone, as long as you are fulfilling every second of life with something you are passionate about. Move in silence and speak in action. The world is yours, stay true to you're calling."
3. Geore Bruce Wilson
"As a photographer you never stop learning. If you aren't learning you are stagnant and dead."
The following video is his winning video(Best Editing) from the Rise of the Drones Film Festival.
So what have I learned myself? By far the most important thing I've learned is that the world owes you nothing. I've always known this and believed but it seemed to really hit home this year. Want to get big jobs? Work hard. Want to shoot ski films? Stop shooting weddings and get in the mountains.
If you're more worried about parties, what others think of your work, and winning a Facebook argument you'll be stuck in the same rut you started in while the ones who suffer towards their goal, employ you haul their gear.