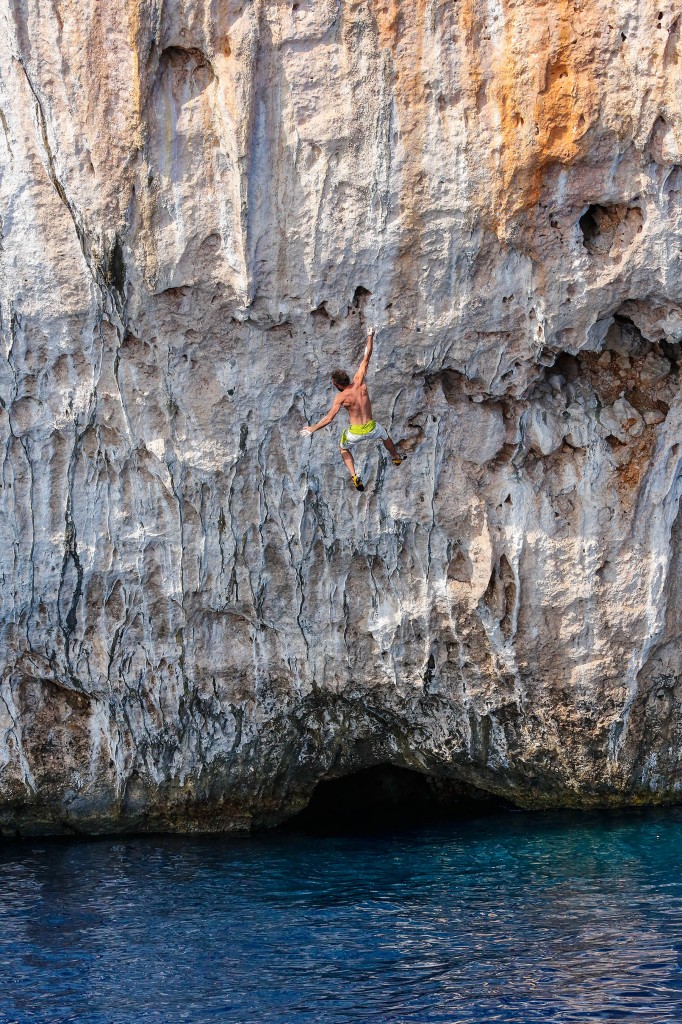 "La mer."
For those unfamiliar with French, it translates as "the sea," and were the words that broke the awed silence as we, a group of international climbers, broke the rise and for the first time saw the cliffs of glistening limestone overhanging the Mediterranean.
It was the final destination in a month-long roadtrip across Eastern Europe, hosted by industry giant Petzl, their semi-annual RocTrip. Traditionally held in adventurous venues such as the Getu Valley in China and Piedra Panda in Argentina, the RocTrip draws ranks of impossibly strong athletes from every corner of the globe, with an equal penchant for all-night raves as they have for climbing hard. About 200 strong (pun intended), the Petzl caravan descended for its finale upon Olympos, a sleepy Turkish village by the sea that is part hedonism oasis and part haven for the global backpacker set.
Roads branch like capillaries until they narrow to the single lane hummocked dirt path that's the only way in and out of town, itself a mile long row of shanty tree-house hostels, brokedown markets hawking everything from knockoff AC/DC shirts to silver-dollar sized buttons of Jesus, Homer Simpson, and Che Guevara. There's no serious attempt at souvenirs here; it's clear local merchants know the town's transients are serious travelers with an agenda favoring inebriation over cheap local trinketry – luxuries like hot showers, television, and potable water are left for the cities.
It's the kind of town where one would fantasize about a sit-down with Jack Kerouac for a drink: dusty, dry, and beat, with clocks few and far between. Dogs and cats roam freely and lazily, there's no authority of which to be seen or heard. Here in Olympos you'd be as hard pressed to find reliable WiFi as you would a stripclub in Kabul, but the coffee is barista-quality and the pomegranate juice flows like wine.
____________________________________________________________________________________________
Climbing in Antalya is relatively new with most development in the past few decades, and with its temperate climate and easy living is just appearing on the map as a winter climbing destination. Gakibayeri, to the North of Olympos, is centered remotely around a few campgrounds/hostels with wood-painted signs and walking access to most cliffs. Unlike Olympos it's strictly climber fare here, and has some stout bolted lines to prove it. The limestone climbs powerful, with big moves in and out of caves and off tufas, huge candlewax drippings in 3D terrain. Fun, photogenic, and intimidating.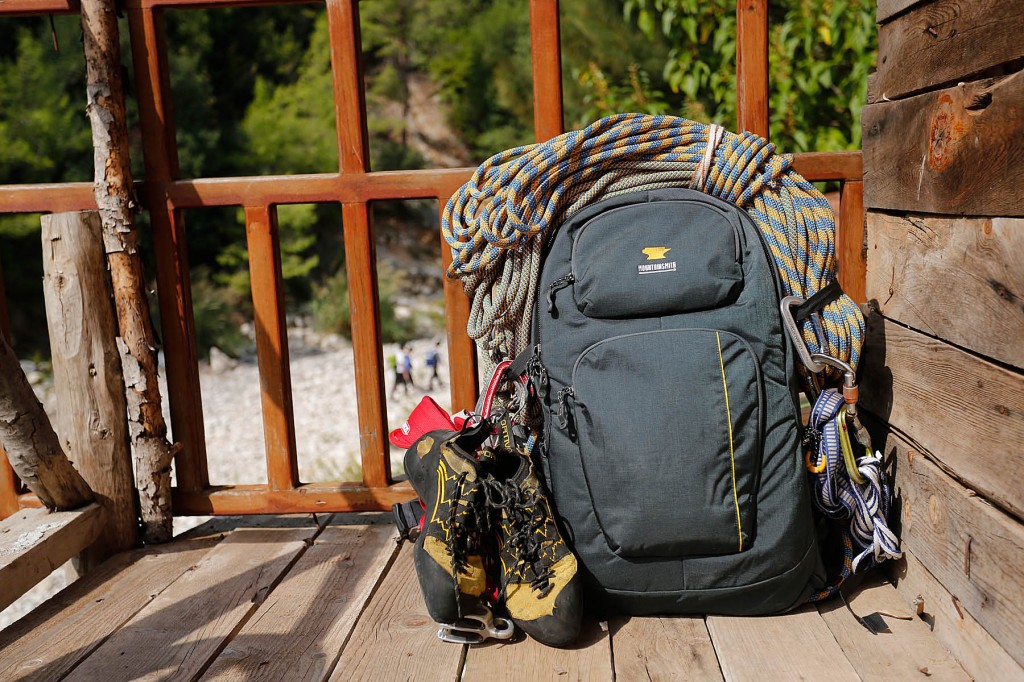 Also in Gakibayeri climbers were treated to some rare time in Citdibii, a national preserve 30 minutes from camp by bus, in which climbing was permitted temporarily as an area for the pros to pull-down in an especially steep arena.
Our host/guide/chef/international liaison/travel director was Petzl pro Mumin Karabas, who along with Ozturk Kayikci is chiefly responsible for developing most of the local areas. A cross section of the Petzl pro team joined Mumin, including Daila Ojeda, Dave Graham, and Ueli Steck, spending days climbing with us at the crags and delivering nightly sideshows and movie presentations. After which bouldering legend Daniel Woods would take his seat behind the turntables, crafting a thumping mass of music spinning the attending climbers into a dervish trance till the small hours of night.
Each morning, from behind miniscule cups of tar-black coffee and well-used waterbottles filled with blood-red pomegranate juice peered blood-shot eyes, scanning the hillsides for vertical terrain to tide them over till the next party. The fresh feta, olives, herbed yogurt, and vegetables for breakfast were shared amongst climbers from every nation, broken English uniting a cast of international characters with native tongues of Iranian, Italian, Dutch, Portugese, Japanese, Polish, Indonesian, English accented from California to Scotland to Australia, German and French.
____________________________________________________________________________________________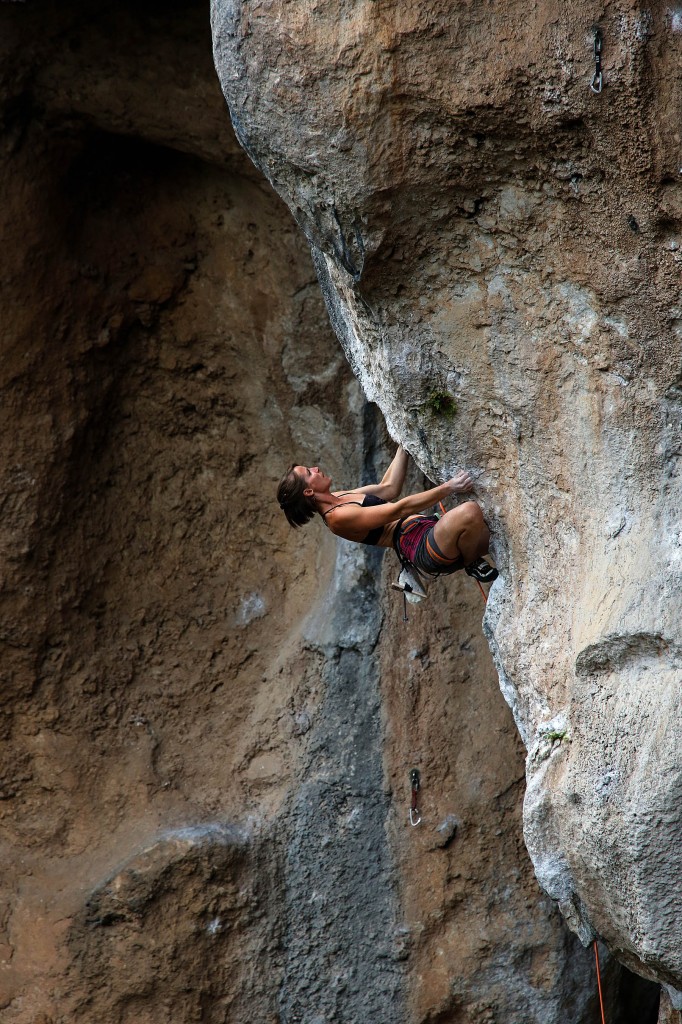 A popular destination in Olympos was Cennet, which translates as "Heaven." A befitting name, the overhung wall rises from above thousand-year old ruins out of the jungle terrain along the beach, and overlooks the sparkling gem of the Mediterranean.
Different than Gakibayiri, Cennet is more vertical and technical terrain, with the warmup routes clocking in around mid 5.10/easy 5.11. Very precise and controlled moves between huecos and razor-crimps set the stage for endurance testpieces, some up to 40m long, on a blue, gray, and pale yellow streaked panorama of limestone. Routes didn't fall easily to most, with puzzling sequences waiting to be unlocked on pumpy overhung terrain.
Along with the local crags peppered within walking distance to town, the surefire beacon to western climbers staring sullenly at their snow-covered crags back home will be the region's deep water soloing. About an hour boat-ride (approx. 35 Turkish Lira – less than $20 US) takes you to an unnamed crag rising a few hundred feet from the tranquil sea. In sections it is as if the cliff was sculpted of ancient alabaster by the masterful hands and kaleidoscopic vision of an antediluvian artist, one who suffered equal parts genius and delirium.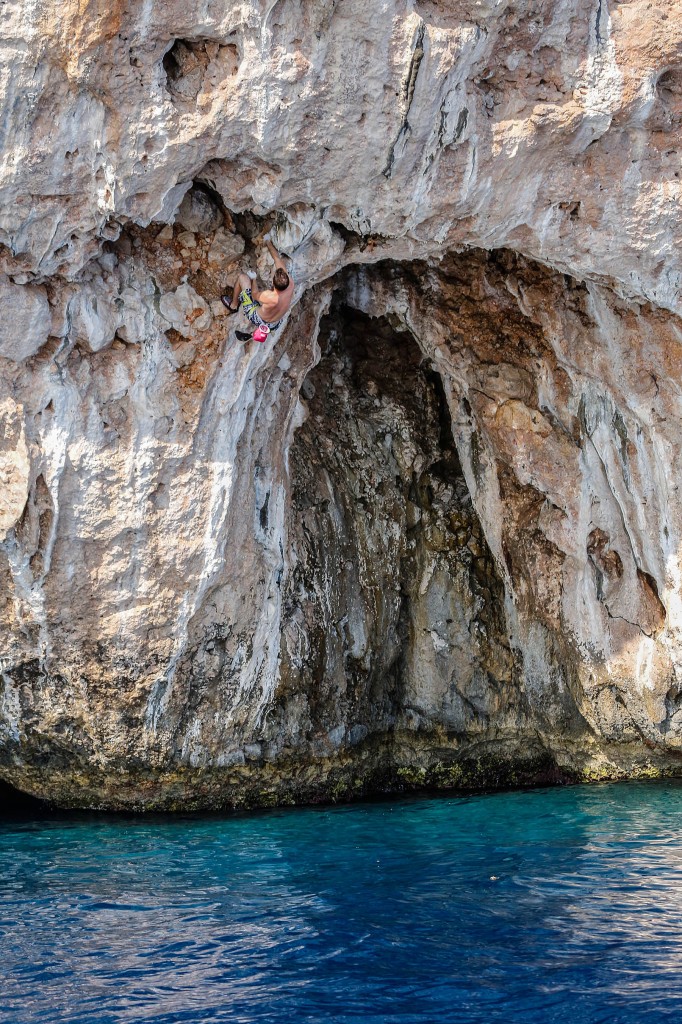 Once moored, small zodiacs ferry climbers to the caved wall, which looms taller and more daunting as you draw near. Shoes are wrenched tight with sweaty hands, final applications of chalk made, and you are left to climb in the purest expression of movement: untethered with nothing but sky above and sea below.
One quickly discovers that the fear doesn't evaporate as easily as the salt spray in the air, rather as you set out to climb it hunts every move. You move tentative and deliberate, aware of the fall, and hopeful that the turquoise safety net below will do Its job.
Forearms begin to pump and burn, and your respiration rate steepens and acutely replaces the silence from just seconds before. You climb higher, desperation climbs higher, and you come to realize there is no summit here.
The steep nature of the climbing ensures you fall back into nothing but air, but until that first plunge from 10, 20, 30, 40 feet high, you are hyperaware, senses redlining. And then silence returns as you fall, weightless and sublime, into freedom. Into la mer.
Chris Vultaggio is a Mountainsmith Ambassador and contributor to the Mountainsmith blog.
Follow Chris
____________________________________________________________________________________________