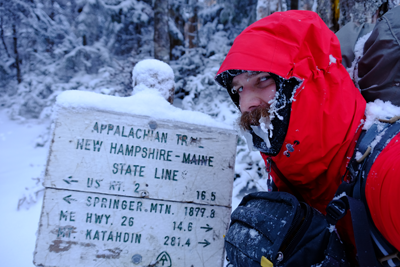 Long Distance Adventure Athlete, Intergalactic Crime Lord/Gangster
Hails from: Gave up the house and car 3 years ago. Currently reside wherever my backpack does.
Hometown: Lewisburg, Pennsylvania
Favorite destination visited? The Wind River Range in Wyoming is definitely up there. As well as the Sierra Nevada Mountains in California. Specifically the Continental Divide Trail and Sierra High Route through those places, respectively. Those mountain ranges will punch you right in your face and you'll never forget it.
Top destination that you have yet to visit? New Zealand
What inspires you? I am inspired by those that find their passions and find a way to make it work in this crazy modern society we live. I think it is a movement and it's one that I enjoy being apart of and contributing to. People need to know that we are all capable of exploring ourselves and this world beyond the routines of society. I get inspiration from seeing others do it. I get inspiration from hearing or reading stories from other people who were inspired by seeing someone else do it and then got out and did it themselves. Not long ago, I had absolutely no connection to the life that I live and love now. If you would have told me in January of 2013 that I would be doing what I do now and listed off all the miles and travels…I'd be in disbelief.
The freedom in what I do and the life that I live is what keeps me out there. I believe it is the closest thing to a pure form of living with freedom that you can find in the world today. Or at least in our modern American world.
Favorite Mountainsmith product: I have utilized many Mountainsmith products during my treks and expeditions. The one that has seen the most miles with me is the Swift FX Camera Pack. While it is a lumbar pack and I have utilized it as such, most recently I had it modified to work as a chest pack to four-point clip into my backpack's shoulder straps.
If you had a superpower, what would it be? I just think Superman can get a lot done and I respect him as a person.
Favorite backcountry meal? A bag of potato chips. Preferably a Weekender bag of Middleswarth Bar-B-Q and/or Hawaiian Sweet Maui Onion Kettle Style Potato Chips. Truly I just gravitate to whatever cravings I'm having at the time. Sometimes that could be a Family Size Double Stuff Oreo Pack. Who knows?
What is playing on your iPod/iPhone right now? Busta Rhymes – Put Your Hands Where My Eyes Could See
What item do you bring on your trips that others would find extraneous, but you consider it to be absolutely essential? My camera. A Fujifilm X-T1 with FUJINON XF18-135mm F3.5-5.6 LM OIS WR Lens. She is my baby. And if I can help it, I don't leave home without her. Which goes against every "Ultralight" fiber of my being. But, sacrifices MUST BE MADE!!
Other sponsors: Gossamer Gear, Altra Footwear, Fujifilm, Point6 Socks, and Vargo Titanium to name a few. I have many brands that I work with in varying degrees. I am fortunate and thankful for all of them and value each relationship greatly. I wouldn't be able to do what I do without them.
Latest Expeditions: Most recently completed a challenging southbound winter thru-hike of the Appalachian Trail from December 2015 – April 2016. I had literally ZERO winter backpacking experience prior to starting.
Follow The Real Hiking Viking: