Occupation: 
– Hydrologic Engineering Specialist at Arcadis Inc.
Description of occupation or project:
– Employment won't start until September!  In the meantime the Mongol Rally!
– The rally is a drive from London to Ulaanbaatar that takes place in July. We will be departing London on July 20th and the finish line is in Mongolia. Our route is through Turkey, Georgia, Russia, Kazakhstan, Turkmenistan, Uzbekistan, Tajikistan, Kyrgyzstan, back into Kazakhstan, Russia, and finally Mongolia. The official site of the event is http://www.theadventurists.com/mongol-rally/
Map of *planned* route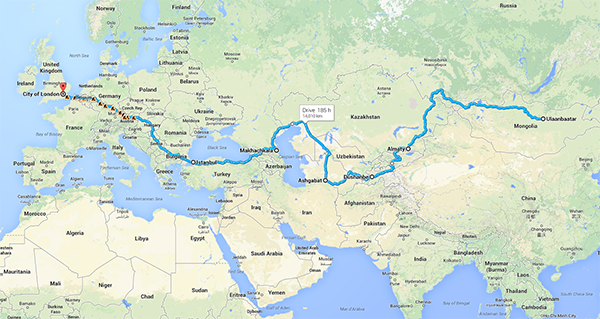 Hometown:
– Miami, FL
Birthday:
– October 9th, 1988
What inspires you?
– My family, friends, and the realization that there is so much I have left to explore!
What is your go to Mountainsmith product?
– Oasis hydration pack (small pack that carries the essentials for a day hike!)
What activities do you participate in?
– Trail running, climbing, wakeboarding, water skiing, hiking, and camping.
Do you own a dog?
– No, but I have 5 at home with my family!
Favorite adventure?
– Two awesome camping trips to Moab, Utah but the Mongol Rally will be the newest one!
Go to destination?
– Lima, Peru
Follow Spontaneous Khanbustion: