Last month I got an email about shooting a 24 hour time lapse at the 24 hour ultra running track event, Desert Solstice, in Phoenix, Arizona. I was planning to be down there backpacking the Arizona Trail and winter in Phoenix is great so of course I said I'd do it.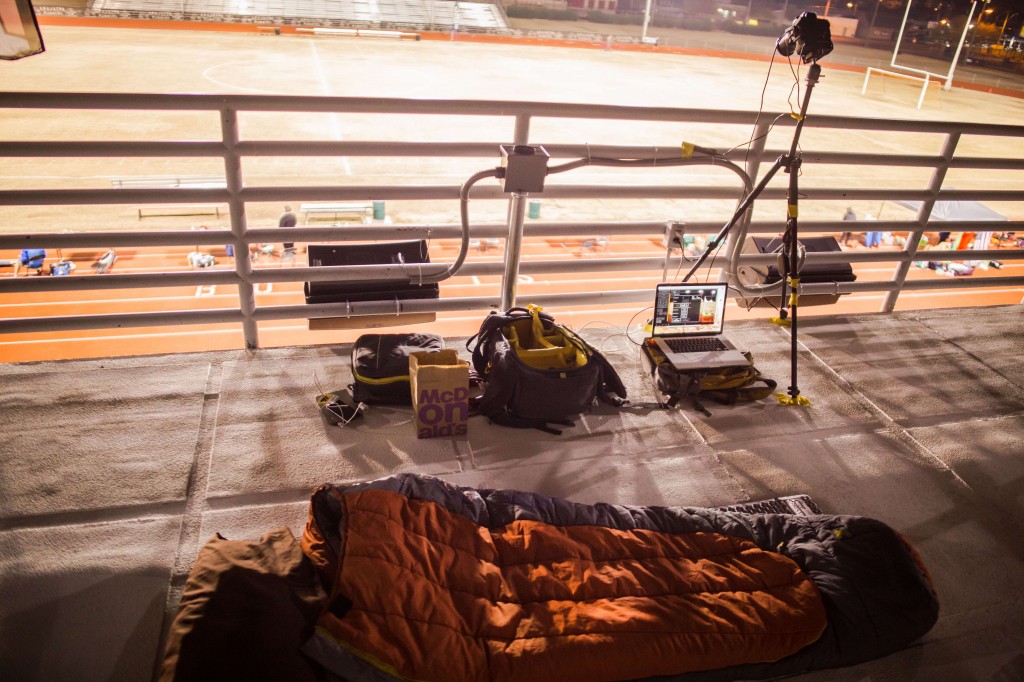 Desert Solstice is not your typical ultra running event. Most ultras are on trails or in mountains. Desert Solstice takes place at a high school track in downtown Phoenix. Essentially you run laps around the track shooting to get as many miles as you can in your time limit or run laps to break a distance record. Definitely a mental challenge to spend so much time on an oval like that.
Anyways, my 24 hour shot started at 8am Saturday morning and went to 8 am Sunday morning when the event concluded meaning I would have to do a morning to daylight transition followed by a day to night and then a night to day transition to wrap it up. A true holy grail time lapse.
I set my DSLR up on a stable tripod, locked it down, plugged in the camera to an AC wall outlet for power, and then connected my camera to my macbook which ran a special program to help trigger the camera and handle the light transitions. Being paranoid as I am I also set up camp near my camera just in case something happened which caused the camera to stop firing.
Honestly, I had very little problems. I made sure to put yellow tape on the tripod to avoid the chance that I bump the tripod or someone else and basically monitored the set up for the day. Luckily, the school had wifi.
At 8am Sunday I pulled down my set up, dumped my cards, and began the post processing work on this massive shot. I took 2500 RAW images which equaled to about 75 GBs of photos for this one shot.
And guess what? The shot turned out amazing! Follow me on Instagram to get updates about the film this shot will be in.