This story is continued from the previous post
Day 6
Mt. Rose campground to Watson Lake: 28 miles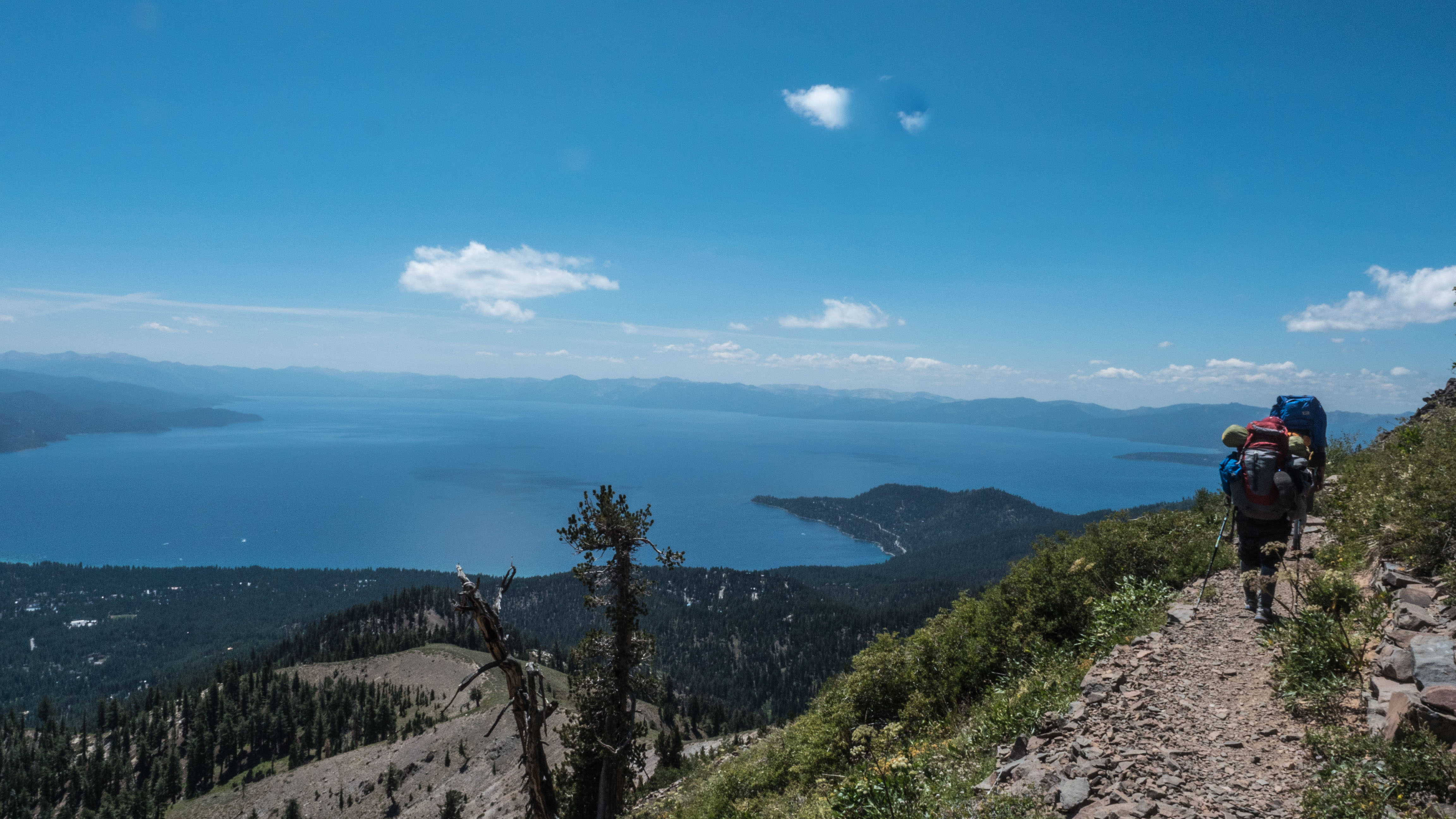 Our friend Joe joined up with us to hike the next two days. Today would be the biggest day of the trip. We ate breakfast overlooking the biggest little city, then packed up and crossed Mt Rose highway, to begin our day. I had never really been in that region of the basin before. Mt. Rose wilderness was absolutely gorgeous. We hiked through some amazing meadows, then headed up to the highest point on the Rim Trail at 10,335ft on Relay peak. At that point,  the downhill started to take it's toll. The section from the boundary of Mt. Rose wilderness to Brockway Summit, was the absolute longest and most delirious section. 6 days of pure exhaustion really started to take its toll on us. We made it to Brockway summit at 7pm. With only an hour and a half of sunlight left, we put on headlights and accepted the fact that we were still 7 miles and 3 hours from Watson Lake.  Darkness descended and pants came off. 20 miles of hiking left, Alec extremely chafed, hiking in his boxers, to survive the rest of the hike. I was too tired to laugh, but it was quite the sight. After 28 miles of hiking we made it to Watson Lake. Absolutely exhausted, we picked the first camp spot we saw, and bush wacked to the lake. Through our exhausted eyes, at first sight, Watson Lake looked completely empty, as though we had to walk through some deep mud to be able to get water from the lake to drink and cook. Too depleted of energy; we didn't bother getting water.  At 12 at night and no water, we went to bed, but got no sleep. The extreme dehydration got to me.
Day 7
Watson Lake to Tahoe City: 12.5 Miles
I was awake all night, dreaming about water. We got out of the tent and in the daylight, saw Watson Lake for the first time, full of water! It even came complete with a campground across the lake that we passed in the darkness on the previous day. We were thirsty, hungry, and starting to lose our minds. The "short" 12 mile hike to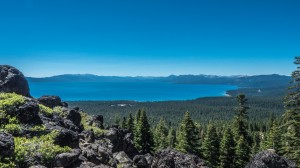 Tahoe city sounded like the easiest thing in the world; less than half of what we hiked yesterday. We were absolutely delirious, the first 4 miles were pretty mellow. We reached a sign that told us Tahoe City was 8 miles, and felt confident that we would be in Tahoe City in no time. These last 8 miles would send us into a downhill spiral of doubts and anger. Alec and I were getting so fed up with hiking. Stepping over the littlest, sharpest rocks the entire time. We started to breakdown, and within the last 3 miles to Tahoe City we considered quitting. We met up with Sue at the Tahoe City trailhead for a food drop . We both sat in the car and said we're going home. We couldn't do it anymore. The thought of getting up the next morning and hiking a 25 mile day made me cringe. We both didn't want to sleep in a tent, eat freeze dried food, or walk anymore. We sat at the Tahoe City beach and contemplated our decision. After talking about being home I was pretty hell bent on going home. I think Alec was too, we turned around the car and headed towards home. We Quit.
Day 8
Couch to refrigerator: 10ft
I woke up in the comfort of my bed, made a bowl of cereal and re thought my decision of quitting. I was a little satisfied that we hiked 115 miles to Tahoe City.  Deep down I was really bummed out we didn't do it in one shot. As I read some more blogs about other trips; I realized  almost everyone took a rest day. I found that maybe this was a necessary part of our trip. I hung out on my porch for a while, and ended up seeing a mama bear and 4 cubs walk through my backyard. Ironic that I spent 7 days in the backcountry and didn't see anything, then my first day back home I see 5 bears. I got a text from Alec at 7pm, it read "you want to do this?" I replied "not really, you?" so after some intense convincing, I found myself packing up and getting to bed early for a 5:00 am pick up.
Day 9
Tahoe City to Richardson Lake 27 miles
We arrived back in Tahoe City at 6am. With my second pair of shoes nice and tight, and fresh stories from Alec; we hiked up through the backside of Alpine Meadows and met up with the PCT. After that,  things started to get really good; we were feeling fresh and rejuvenated. We made it through Granite Chief Wilderness, then up to Barker Pass. From there we added 7 more miles to the already 20 mile day. Richardson Lake would be home for the night. Alec decided to pack light so he brought a one person tent that he convinced me was a two person, I was pretty mad when we started to set it up. It was a tight squeeze that night. We were moving so fast on the last two days I really didn't get the time to pull out my camera and take photos.
Day 10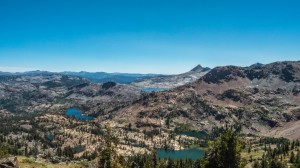 The alarm was originally set for 5:00am after hitting snooze a few times we woke up around 7. Pretty stoked that the last day was finally here. We couldn't take it for granted though, we knew we had a really long and tough day ahead of us. Richardson Lake is located about 3 miles outside of Desolation Wilderness, so we planned to hike from one end of the wilderness to other in one day. Which seemed like a badass accomplishment in its self.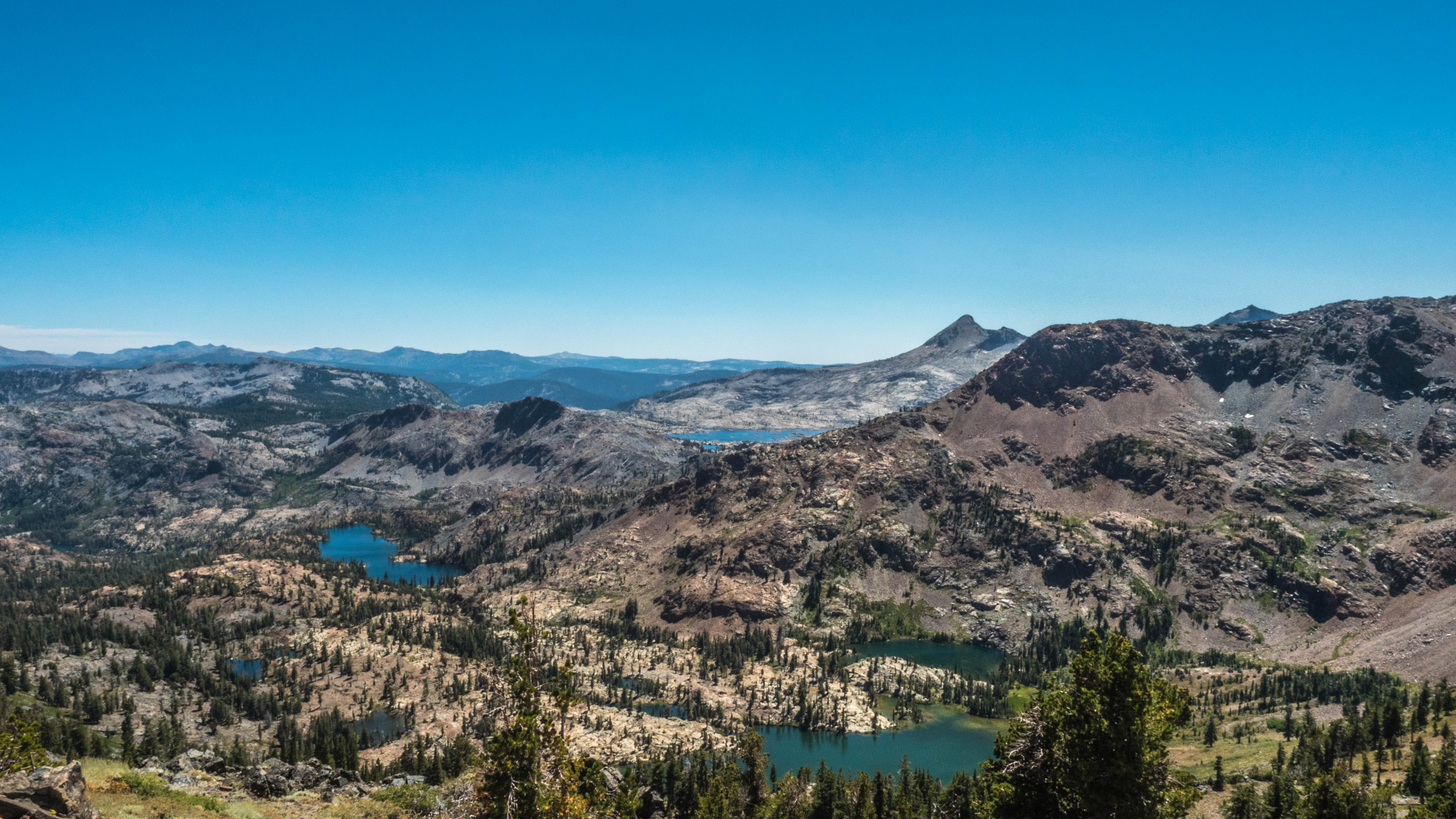 Once we got to the Velma Lakes area the forest opened up and we really started to get into Desolation Wilderness. No trees, big alpine lakes, granite everywhere, and big peaks. We still had Dicks Pass ahead and it was a bitch. Switchback after switchback we made it to the top in the baking sun. Originally our plan for the last 2 days, was to hike from Tahoe City to Gilmore Lake because earlier in the summer we hiked from Echo Lakes to Gilmore Lake. Feeling we wouldn't have enough time to make the 2 day 50 mile hike to Echo; sitting at the top of Dicks Pass eating lunch;  we decided that we felt good enough to make it to Echo Lake that day. We made the call to the parents and dropped into Desolation Valley.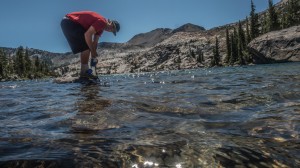 The views were great, and the last 5 miles from Lake Aloha was one of  the happiest feelings of my life. We hiked along side a bear for 500ft, then slapped on the headlamps for the last 3 miles of the trip. We finished the Tahoe Rim Trail at 9:15pm Aug.18th, 2014. 165 miles hiked, 2 pairs of shoes, 7 blisters, 8 dead chipmunks, 10 fish caught, 4 days of rain, 10 days of misery, and pounds of Mac and Cheese devoured. No doubt the greatest feeling in the world. I was at one of the lowest points, I hated every inch of the trail, and yet we had enough will power to finish it. This trip was more of a learning experience than an accomplishment. I made an immense appreciation for my home. Before you spend thousands of dollars traveling around the world, take time to fully explore what you have outside your doorstep. Now back to my senior year of high school, what is on the agenda for next summer?