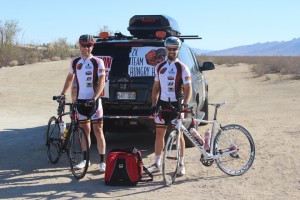 This year I hired a coach and devoted nearly all of my cycling to a single goal: The Furnace Creek 508.  The Furnace Creek 508, or The 508 as it is commonly known, is a 508 mile bike race that takes riders north from Santa Clarita, California to and across Death Valley, through the Mojave National Preserve and continues south until the finish in 28 Palms, California.  This is an ultra-endurance event with a time limit of 48 hours for solo riders and 46 for teams.  Within those constraints, the clock starts when the riders leave and ends when the solo or first team rider crosses the finish line.
The race is also self-supported meaning I had to find a crew that either really liked me or had no clue what they were getting into.  I found both in my mom and sister.  I also recruited some friends that live in California.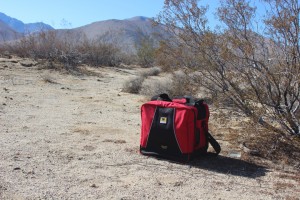 I was preparing to race The 508 as part of a two-man team, Team Hungry Hippos.  Due to my previous experience with the Mountainsmith Bike Cube, I chose the Bike Cube Deluxe as the bag of choice for the team.  My Bike Cube served me well for many years of abuse and some of the interior lining began showing the results of rough treatment.  So when I saw a shiny new bike bag on a deal-of-the-day site, I ordered it and discarded the Mountainsmith.   I regretted that decision almost immediately; and, therefore, was quite happy when my new Mountainsmith Bike Cube Deluxe arrived.
With training specific to prepare me for riding 250 plus miles in what we were targeting as a 32-35 hour finish for the team, I was riding a lot.  6 days a week was common with some days having multiple rides scheduled.  Many of these rides left from different starting locations.  As such, it was very nice to have a bag that is so well thought-out with regards to its intended usage.  I was pretty much guaranteed that as long as I had remembered to grab a clean kit, everything else I needed was in a single bag and ready to go wherever I was headed.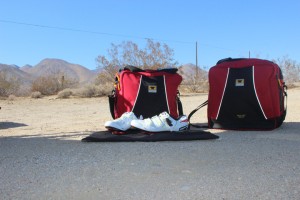 As the race approached and we headed west on the 24 hour drive from Arkansas to California, the exact fate of the race was in limbo due to the government shut-down.  As we crossed New Mexico and neared California, it was officially announced that The 508 was going to be a 353 mile out-and-back to avoid going through Death Valley and the Mojave Preserve.  As further details of the route emerged, it was revealed that the 353 miles was going to be largely through towns and cities with higher traffic and more traffic signals and stops.  Also, the route profile showed that when the 353 miles was split in two for a two-rider team, the resulting mileage and elevation gain would be easier than most weekends of training we were doing in Arkansas.  This was definitely not the challenge we were seeking by signing up for the original route.
We decided to punt but keep heading for California to somewhat retrace the route of the Ride of the Immortals with some alterations.  The Ride of the Immortals was a ride we had done in 2011 that gained 18,000-20,000 feet depending on which GPS and GPS corrections you believe in a distance of 138 miles.  It was a tough route, plus the seclusion of the route meant we would still be using and practicing with our crew.  Playing around in this area was definitely going to give us a ride that we could be proud of and that would better justify the expense of getting to California.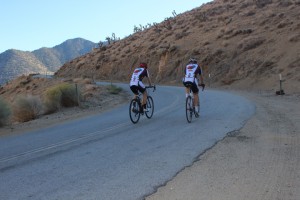 At the end of the ride, my Garmin showed 140 miles and 22,224 feet of elevation gain.  Over the course of that mileage, we had many memorable experiences.  It was around 90 degrees in the desert when we started the ride at 3:45 on the afternoon of October 4th.  After the first 16 miles and 5,200 feet of elevation gain, the temperature had fallen into the 50s.  We continued ascending as night fell.  The 8,000 foot plus elevations and nighttime resulted in temperatures near freezing by 8 o'clock.  As the temperature dropped and darkness engulfed us, I was often going to the Bike Cube Deluxe to grab different lenses, my long-finger gloves, a beanie, thicker socks, toe covers, arm and knee warmers, a heavier jersey, a jacket, etc.  Luckily the Mountainsmith's ample storage and separate compartments meant everything was organized and able to quickly be located; minimizing the time stationary in freezing conditions.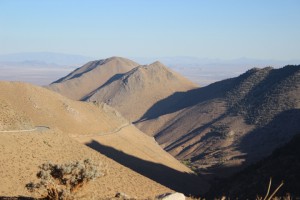 By Mile 55 we were at the top of Sherman Pass at an elevation of 9,200 feet with nearly 10,000 feet of total elevation gain.  We had also been riding for a while with a temperature that was holding at 22 degrees.  We had no choice but to warm up in the team vehicle for a while to let our extremities thaw.
We then descended the 5,500 vertical feet descent from Sherman Pass to the Kern River in the dark, with 40-50 mph wind gusts, blowing sand that looked like a fog bank in the bike headlights and made the corners plenty slippery, and temperatures that were still in the upper 20s to low 30s until the elevation again dropped below about 4,000 feet.  The combination of the wind gusts, darkness, sand, and shivers from the cold made this one of the most intense descents I have ever done.
After a short stop at the bottom, we climbed the long ascent back to the top.  At the top, we got in the chase car, had a brief rest, and drove back to the start to meet a friend and start the 16 mile, 5,200 feet climb again and retrace parts of the rest of the route.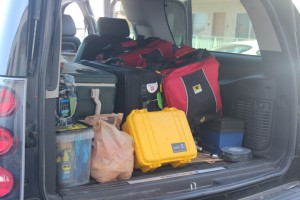 Though the course and weather threw some curves, for the most part we were prepared and had just about everything we needed within easy reach in our Mountainsmith Bike Cube Deluxe.  All-in-all, this was one of those super-hard rides that puts a huge smile on your face when it's done.  We were able to leave California satisfied, but still a little disappointed that The 508 did not happen.  Maybe next year.
BIO:
Alex is the road cycling contributor at IndustryOutsider.com and is the major contributor to IndustryOutsider.com/the508
When he finally outgrew his Dukes of Hazzard Edition Big Wheel, Alex rode department store BMX bikes as a kid while training to be the next Greg LeMond. He got his first "real" bike, a Gary Fisher Marlin, when he started college in 1995. Before he finished, he had gone from the Marlin, to a Fisher Joshua, to a Merlin XLM, to a Klein Mantra Pro, to an Ellsworth Truth, to an Ellsworth Truth SE. Just before graduating, he bought his first road bike, a Cannondale CAAD4. At this time he was still a mountain biker and made fun of "roadies".  Now he is one and proud of it.