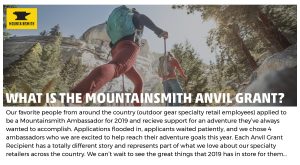 In a few sentences, describe who you are, give us some background about yourself and what you like to do for fun on your time off all year.
I am a small, blonde Colorado woman who just so happens to LOVE being outside. I grew up in Golden, where Coors is our water and the water is our playground. I get anxiety leaving the mountains, but I calm down after a couple cold ones. If you see me during my time off (which is a lot!) I will most likely be skiing Abasin, hiking with Blu (the most rad doggo), failing at fly fishing, drinking an excessive amount of coffee, backpacking often, car camping year round or planning trips to places far far away. I am average at just about everything I do, which is not so bad because I'm never complete rubbish at activities and no one has too large of expectations from me haha! Average Joe Moe? But in all seriousness, I love my life, each and everyday of my simple, silly life.
What is the trip you have planned for your Anvil Grant sponsored trip? When?
I am going on a road trip west with my boy Blu! My original plan was to hit a bunch of the Parks but Blu's human disguise is lacking and they discriminate against furry friends. Therefore, we are open to any suggestions for cool camp spots, hikes, biking etc. I have a few ideas for locations and eventually want to make it to the Oregon coast, otherwise we are winging it! We will leave Golden on February 5th. WOOHOO!
What are some of your most memorable outdoor experiences, what drove you to love doing what you do?
Growing up with the mountains and forest in my backyard made it extremely easy to become a little adventure junky. I took my first backpacking trip when I was three and that is the trip that ruined me for life. I am now unable to spend multiple days in the cityscape, I need some major help…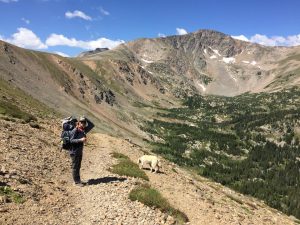 Although, I grew up in one of the greatest states to "get out there" I really found my love and passion for backpacking and hiking in New Zealand! It was the best outdoor experiences I have, and maybe will, ever have. I am getting goosebumps thinking about the quite outdoors, sitting on a rock looking out toward a lake that holds an array of alpine fish. The sun sets and nothing sounds better than a crackling fire and crawling into my puffy sleeping bag, only to wake to an early sun and another gorgeous day of hiking! Oh adventure … how I crave you so very much.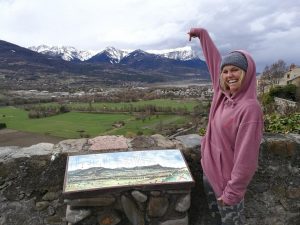 Any personal goals for outdoor adventures over the course of 2019?
SO many goals. I hope to get my wilderness first aid certification so that I can perhaps guide trips or at least feel more confident going exploring on my own. I hope to experience new mountains this coming year, take more backpacking trips and get out of my comfort zone often!
If you had a plane ticket to one place in the universe to spend 14 days with an unlimited budget, where would you go? What would you do?
That is a tough one. At this split second decision I would choose South America – El Chalten, Argentina to hike Fitz Roy/ Laguna de Los Tres, Glaciar Perito Moreno, Argentina to hike the glacier and drink whiskey on glacier ice, Torres del Paine in Chile. Explore around in a van? Live a grungy, happy 14 days and eat like a queen with my BIG budget.