A couple of months ago I moved out of my Utah apartment for a life out on the road. It sounds weird to a lot of people. Leaving a comfortable house with hot water and a shower for a life on 4 wheels living in a Ford Ranger, not the biggest of trucks I might add. Some call me a vagabond, but I just say I'm dedicated to my craft … and out for an adventure.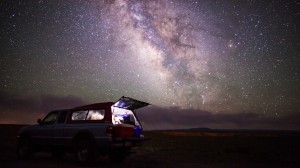 I've had this idea for a long time now, the living in my truck idea. Something about the dirtbag lifestyle pulls at me. Exploring, meeting new people, seeing places, and the experiences draw me to it. Not to mention the idea of having a stripped down life living with only the essentials and leaving a world so stuck on money and image that it hurts.
Lately I've been spending some time in Colorado but I got a call about shooting a video in Vegas for an organization looking to bring a conference to Sin City. They wanted the video to show that there is more to do in vegas than drink and gamble on the strip. Easy, from rock climbing in Red Rock Canyon, Hiking the Valley of Fire, or exploring the numberless ghost towns in the state, there's plenty to do that's not throwing quarters in to a machine and waking up at two in the afternoon with a headache.
I made the drive from the Rockies to the desert stopping at interesting spots on the way shooting when I had time. When I arrived in Las Vegas I had forgot how hot it gets there. I mapped a few places out to shoot time lapses and got some help from Three Peak Films shooting aerial footage of both the Valley of Fire and Red Rock Canyon.
The Valley of Fire has to be one of the most underrated parks in the country. It features amazing sandstone formations, arches, and beautiful hikes (with lots of history) all within 30 minutes of Vegas. Red Rock Canyon is also an easy and short drive from the city and offers hiking and climbing. I shot a few night lapses in these areas and camped out under the desert sky. Simply stunning at night.
After shooting the easy places to get to I went to a few places that don't get a lot of traffic but are really exciting. Ash Meadows, Gold Butte, and Rhyolite among others. Nevada is a place of hidden treasures. It's quirky, but it has amazingly beautiful mountains, deserts, lakes, waterfalls, and of course lots of mining history which left behind ghost town after ghost town to explore. It's seriously an underground mecca for photographers.

So now I'm on the road and I love it. The past months have been a huge eye opener to how things work in the world and what I need to survive and live comfortably. It's put what is important to me in to perspective.
What adventures have you been on lately? How has a minimalist lifestyle helped you learn more about yourself?
__________________________________________________
Like what you see?  Learn more about Derrick Lytle by visiting his Bio.