Culebra, Puerto Rico is a seemingly untapped gem smack dab in the middle of the Caribbean.  Isla Culebra or "SnakeIsland" is an island municipality of Puerto Rico.  It is located approximately 17 miles east of the Puerto Rican mainland, 12 miles west of St. Thomas and 9 miles north of Vieques (another island municipality of Puerto Rico with considerably more development).  The island is also known as Última Virgen ("Last Virgin", reflecting its position at the end of the Virgin Islands archipelago).  Culebra is just 5 miles high by 7 miles long and gorgeous beaches, snorkeling and easy access around the island via our rental jeep made it a breeze to navigate and discover.
If you're like us and would trade a pool, swim up bar service, nightlife and 5 star dining for swimming with turtles, stunning beaches, hikes to desolate Coves and an incredibly laid back vibe, I highly recommend adding Culebra to your tick list of vacation spots.  It even features Playa Flamenco, considered by some to be one of the top 5 beaches in the world!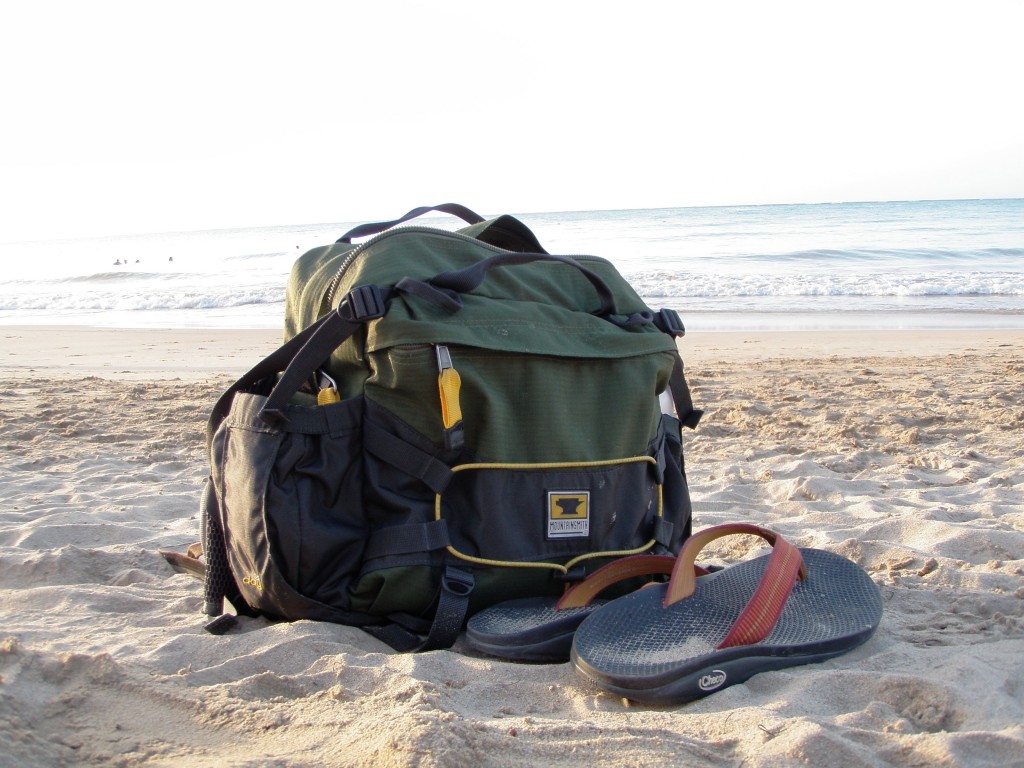 With my son entering kindergarten this school year, we were, for the first time locked into travelling with the rest of spring break crowd.  We live in the front range of Colorado and for us, that means seeking sun, sand and unique experiences for ourselves and our 3 and 6 year old when we can find the time to leave CO.  My wife and I started our search in summer of 2013 and landed on Culebra after considering the Yucatan Peninsula, Belize and even the Florida Keys.  We locked in after some great recommendations from friends and we even found flights into San Juan for about $200 less per person that surrounding islands and destinations in the Caribbean.  We managed to leave the snow and cold of Colorado with just carry on baggage and we were certainly light and nimble navigating a number of airports, shuttles, jeeps and cars over our 8 days in Puerto Rico.  Our Mountainsmith gear, the Approach 50, Haze 50, Scream 25 and Day TLS Lumbar packs housed all of our stuff for the journey there and back while the smaller pieces did double duty as beach bags while out and about on the island.
Once in San Juan, you have 2 options to get to Culebra, a short flight from the San Juan area or a 1-2 hour drive and 1-2 hour ferry ride.  We opted for the short puddle jumper flights that helped expedite the transition from the snowy mountains of Colorado to the warm sand and avoided the ferry system which seems to be notoriously unpredictable (not to mention how cool the short, 20-30 minute flight was in the little 8 seat prop plane, flying just a couple thousand feet over the crystal clear waters).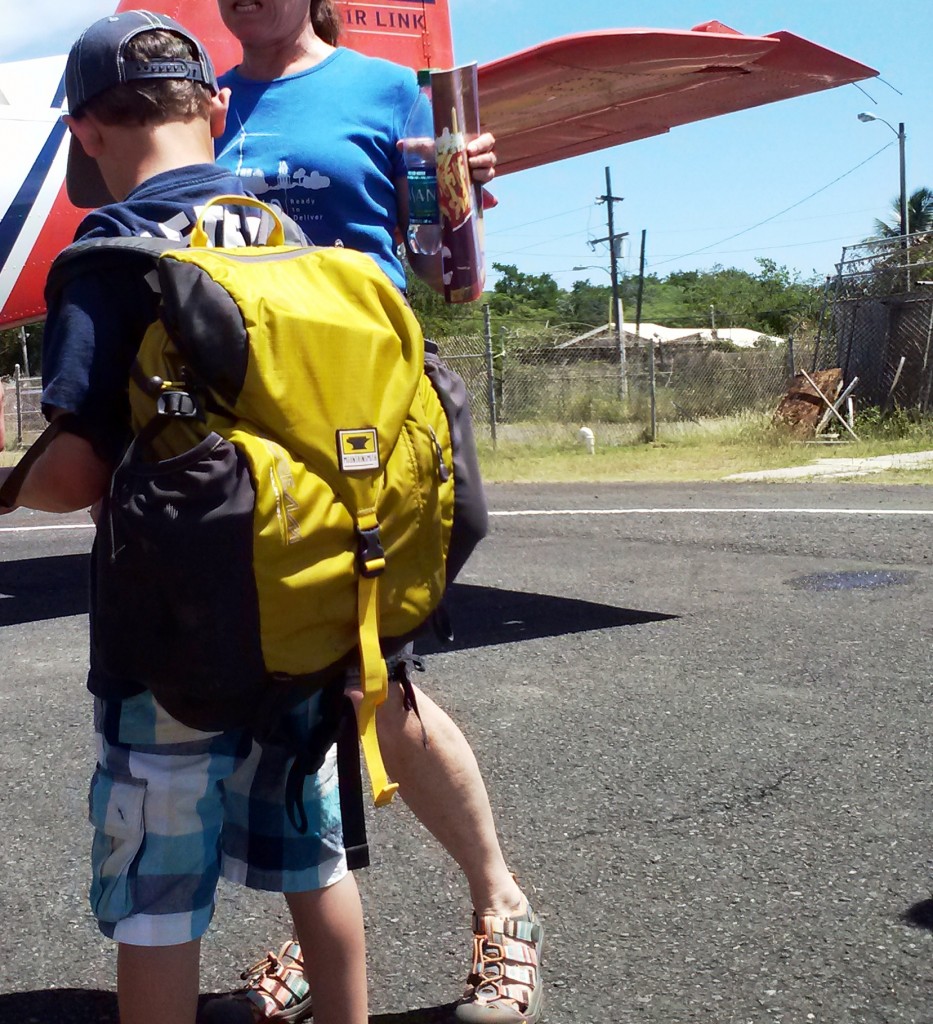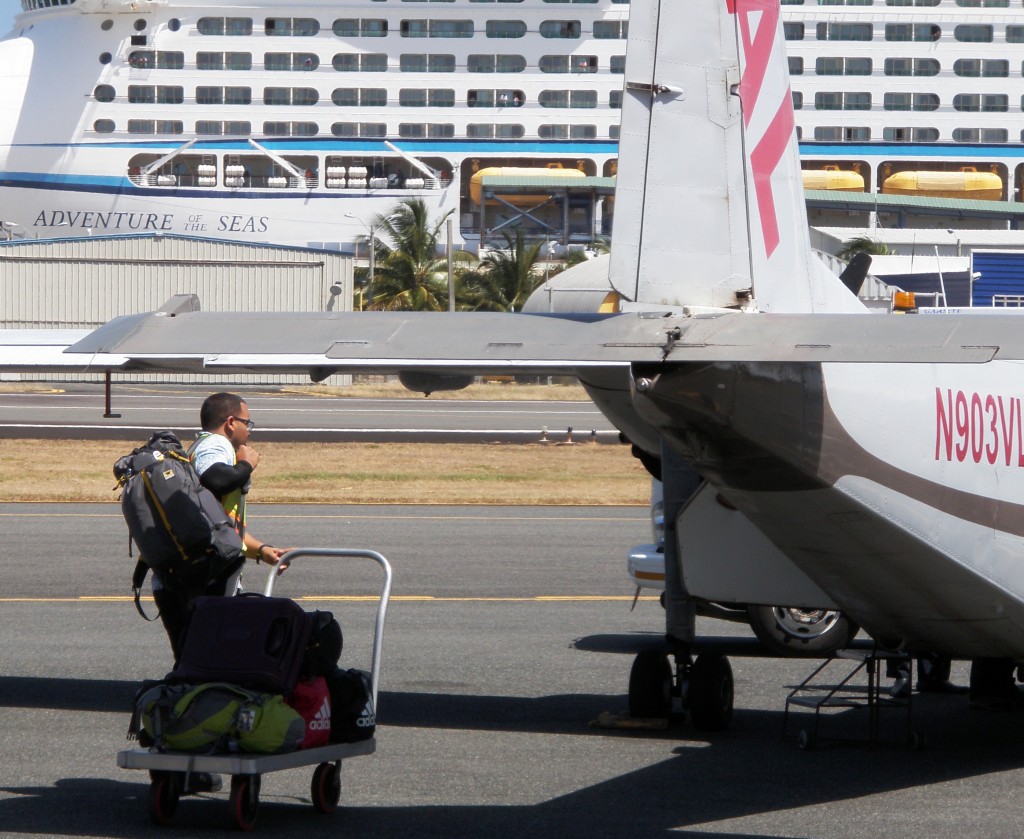 When shopping for accommodations, it seemed there were about 3 distinct styles of lodging you could go with.  Via sites like VRBO, you could find some anything from small little bungalows to palatial estates overlooking the sea.  In and around the island's main drag, there were a number of little lodges, hotels, and condos.  Finally was our choice, Culebra Beach Rental, a collection of little casitas and apartments about 100 yards from the stunning Playa Flamenco.  With our little ones in tow, we opted for this as we knew we wanted to avoid packing up and driving to the beach each day and in this place, we were steps from the beach and endless sand castle building and we could wade right into ocean to snorkel, swim and body surf.  Flamenco Beach is about 1 mile from end to end of the horseshoe shaped cove and the rental properties here offer about ½ of that stretch that feels like your very own.  A "busy" day would have 15-20 people spread over ½ mile.  Looking down to the public section of the beach from our rental, there were never more that 50 people or so over the other ½ mile.  This public stretch is very cool and home to about 6-8 little food and drink stands, a campground and 2 abandoned tanks left over from when the US Military used the island as a training ground.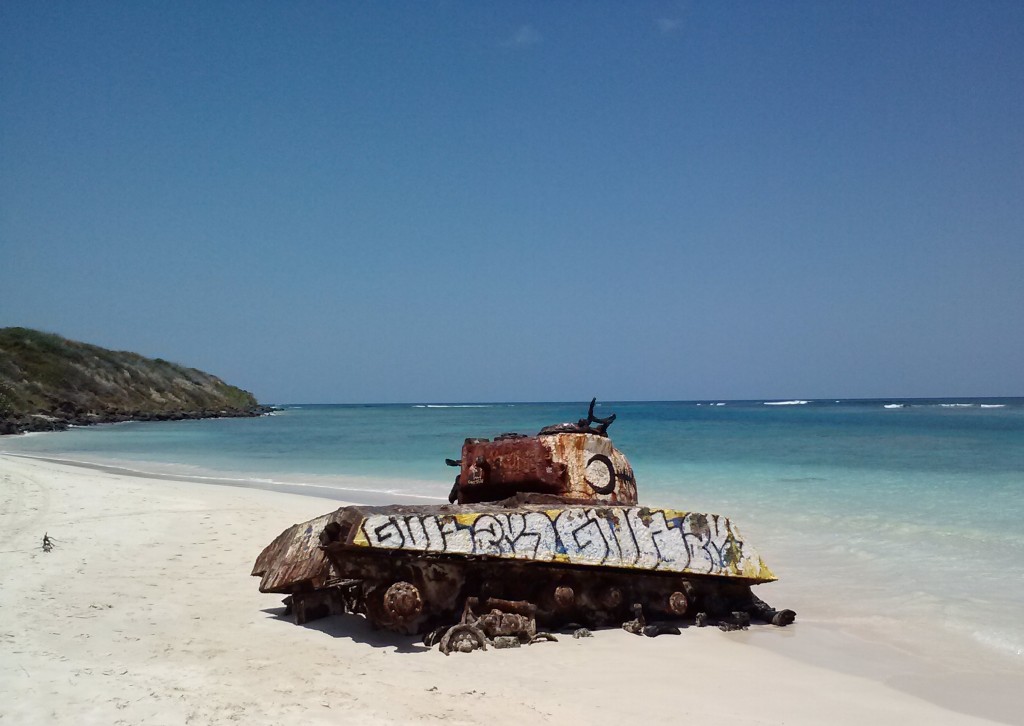 OK…enough of the lead up, here's where to spend your time on the main island and what to expect at each.  Note that we rented a jeep and enjoyed the flexibility of hopping around a bit and checking out about 5 other beaches but spent the majority of our time right out the front door at Playa Flamenco.  The list below starts there and heads counter-clockwise around the island, hitting the beaches accessible by car.  There are two beaches on the north side of the island that offer a bit more seclusion as the guide book mentions the hikes/bushwhacks needed to get there.  We'll have to come back another time to check out Playa Resaca and Playa Brava.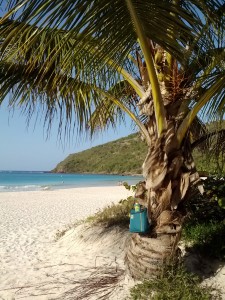 Playa Flamenco – A stunning mile long horseshoe of paradise.  This beach offers a great sand beach with coral heads wading distance into its crystal clear water littered all across its shores.  A walk from one end to the other is a great little excursion and highly recommended to check out the military tanks as one end and the rock and coral outcroppings on the other with great snorkeling to be had in waist deep water.  This was my 6 year old son's first snorkeling experience and the depth of the water, the easy access and overall accessibility made for a great spot.  Be sure to check out the two tanks (one on the very western tip of the cove and the other just up into the trees near the camping area).  Also be sure to check out the food/drink kiosks which made for some quick and easy, cheap eats and refreshments for the family.  Whether you're searching for cold beer, piña colada, empanada or something like the Puerto Rican specialty, mofongo, you can find it here.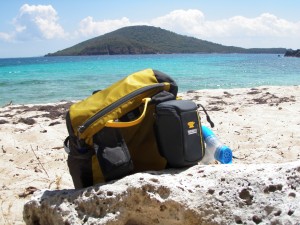 Playa Carlos Rosario – Likely the most popular of the hike in beaches due to it's proximity to Playa Flamenco and the trail head sitting in the corner of the parking lot where most Playa Flamenco day trippers park or are dropped off  for the day.  I would guess it's about a 1 mile hike each way and we managed to do it in about 30 minutes walking with our kids and stopping to smell every flower, inspect every bug and hydrate fairly often.  The trail has a fairly gentle but steady grade for about ¾ of a mile and then a steeper descent for the last ¼ of a mile.  We did it in flip flops and all but the last 100 yards as you descend to the beach where easy going but some loose ground on the last push just meant we had to hold hands with the kids and help them along a bit.  All in all, great to get in a short hike and be rewarded with stunning views of Cayo Luis Peña, a small, uninhabited island just off the west coast of Culebra.  Where we stopped to picnic, pick through shells and snorkel is technically the northern edge of Playa Tamarindo, but we continued around the little peninsula on a well worn trail to Playa Carlos Rosario to see if we were missing anything.  The little cove that comes into view after just a few more minutes on the trail is gorgeous but the shore was much rockier and we retreated back to the first spot where you pop through the trees, collected shells, played with fallen coconuts and my wife and I took turns snorkeling out to the grassy sea beds off the shore and saw and swam with a handful of graceful and fast sea turtles.  The coral here was also the most vibrant we saw on the entire island and there seemed to be larger and more varied schools of fish.  The hike back was a bit steep in the beginning but you reach the high point on the trail, it's a mellow walk back to the Playa Flamenco lot and the strong pull of the snack stands for some cheap eats and frosty beverages.
Playa Tamarindo – This beach is about a 5 minute drive from Culebra Beach Villas and likely about 10 from the center of town.  The guidebooks all highlight this beach as THE place to snorkel with turtles and it did not let us down.  The beach here is more strewn with rocks, shells and broken coral than of the soft and sandy variety, but the kids loved looking through the debris as my wife and I took turns out swimming with turtles and fish just off the shore.  I'd highly recommend this a great sunset spot and some locals recommended either an early or late day visit as some companies run boat tours here for tourists to hop in and check out the turtles so the beginning and end of each day avoids the boat traffic and we spent about 4-7pm there one afternoon and saw about 6 other people the whole time.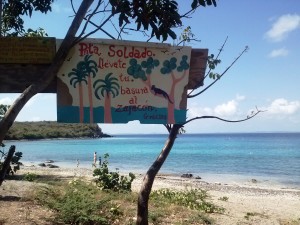 Punta Del Soldado – This often overlooked little peninsula on the island's southwestern most corner was beautiful, remote and I think we saw 4 other people there over the 3-4 hours we spent in this location.  Like Tamarindo, the beach here is great for sifting through shells and coral vs. the soft expanse of sand at Flamenco.  I really enjoyed the snorkeling in this spot.  The cove opens up just steps from the car and the coral and fish population here was only trumped by the vibrant fan coral and fish we had seen at Carlos Rosario.
Playa Zoni – The eastern most beach on the island, this narrow but long beach is a fun little drive across the island and through some rolling hills with stunning homes (likely the kind we saw on VRBO that might be nice for adults or families with older kids).  Just a few steps from the parking area, you emerge onto the sand with views of several of Culebra's sub-islands (Culebrita and yo Norte) as well as St. Thomas off to the east.  Being on the eastern shore, for those early risers, I'd imagine this would be a breathtaking spot to watch the sun rise, but we spent a late afternoon here with the sun dipping behind the palm trees and a very laid back cluster of beachgoers taking walks, playing in the water or just lounging as the day light faded.  This is said to be a prime spot for watching some of the sea turtles make their annual pilgrimage up the sand to lay their eggs and a number of tour operators will guide visitors to see this natural wonder.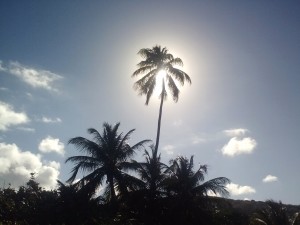 If you have yet to consider Puerto Rico for your next tropical vacation or like us had never heard of Culebra, I encourage you to add it to the mix of destinations on your life list as it will not disappoint.  A return trip for us would certainly include some more time on the main island to see the rain forests, cave systems and other beaches, but we'd be hard pressed to skip the short jaunt over to Culebra to visit its rustic and stunning beaches.