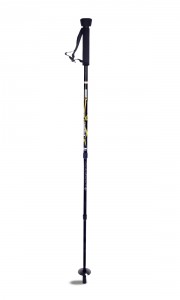 At Mountainsmith, we take our product testing seriously, taking every opportunity to use our products.  We are fortunate to live on the Front Range of the beautiful Rocky Mountains, providing us with excellent testing grounds for Mountainsmith gear.
Last weekend, Sales & Marketing Coordinator Jeremy Dodge, was heading out to Berthoud Pass for a back country snowboarding and photography expedition.  "I was about to take a pair of our Glissade snow poles for the hike, when I had a last minute thought to use the Trekker FX.  It was so easy, I just switched out the baskets for a pair of Mountainsmith Snow Baskets and I had a Monopod to use in the back country without adding any weight to carry."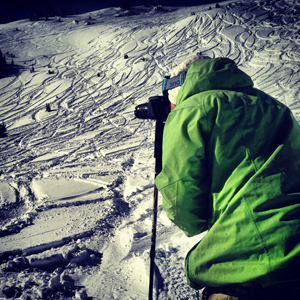 Monopods help photographers take a stable image when a tripod is not an option.  When trying to focus on a moving subject like a skier in powder, keeping the camera stable can make a big difference.  The TrekkerFX Monopod does just that, allowing the photographer to use the stability of the ground by planting the poles tip in the snow.
Mountainsmith Snow Baskets can be added to the Trekker FX, as it features the same tip as the entire Trekking Pole line.  A foam knob on the top of the pole's handle screws off to expose a 1/4-20 SAE threaded bolt for mounting most cameras.  The Trekker FX Monopod is available on Mountainsmith.com and at Mountainsmith retailers for and MSRP of $29.95.