It might be that I'm turning 30 this June or that I've finally become an adult since moving to Vermont six years ago, but I'm accepted the realities of being a grownup. Take for example my decision, last summer, to replace my 1998 Ford Exploder, which some (not me) might have called a death trap for the past 5 years.  Sure, the brakes failed twice, the car shook violently if you drove it over 60, it didn't have an emergency brake, and the aging wiring would occasionally and unceremoniously turn off my brake lights, but my mantra "if it's not broken, don't fix it" might have become evidence of a suspended adolescence had I not finally traded the Ford for a Subaru. (Vermont's unofficially official state vehicle.) So, I've admitted I have a problem, but I'm improving. While my girlfriend would still argue with this statement, I'd offer my interactions with a pair of Mountainsmith packs as evidence of good purchasing judgment. Here's why:
Nearly eight years ago I bought a Mountainsmith Parallax pack, it was my first and only camera bag.  I purchased the pack in the summer of 2007 for a shoot I was hired to do in Costa Rica, prior to that I only had a large cumbersome pelican case with which to travel. In 2007, I was living in Chicago working several jobs and trying to make it as an adventure filmmaker: I was shooting with the Panasonic HVX 200, a giant brick compared to today's compact DSLR's.  As an early videographer one was not afforded the luxury of carrying around a small camera like a photographer, instead you had to accept your fate and lug around a gigantic camera (like the HVX), extra batteries, chargers and various oddly shaped items. The Parallax was my companion. What sold me on it was the fact that I was able to empty everything from the pelican case into the Parallax and still have room in the extra pockets for the laptop, small tripod, and some snacks.  Yes, I looked like a teenage mutant turtle when wearing the fully stuffed Parallax, but I was oblivious to the fact. Until the Parallax grew up too.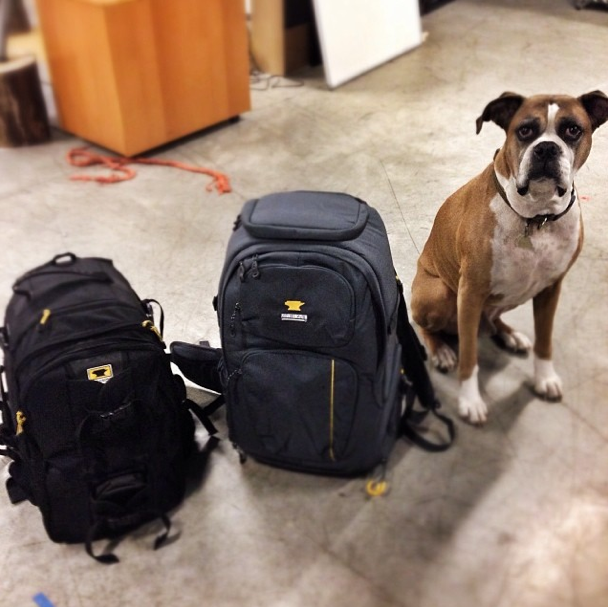 Three months ago, I replaced my first Parallax with this year's finely-tuned 2014 version.  The pack has matured a lot since 2007 but its functionality and awesomeness have not. I'm glad I made the upgrade.
The new pack stows better in the overhead compartment of an airplane. In the past, I would frantically peek around at available overhead compartment space and dodge glances from the gate staff and flight attendants, afraid my pack would be flagged as too large to carry on.  The new Parallax has limited space in the front pockets, which some might consider a disadvantage compared to the old one, but it makes for smoother travel. A bonus is that the smaller pockets make me less likely to clock a small child with 40 pounds of Canon gear when I turn around. Call this backpack etiquette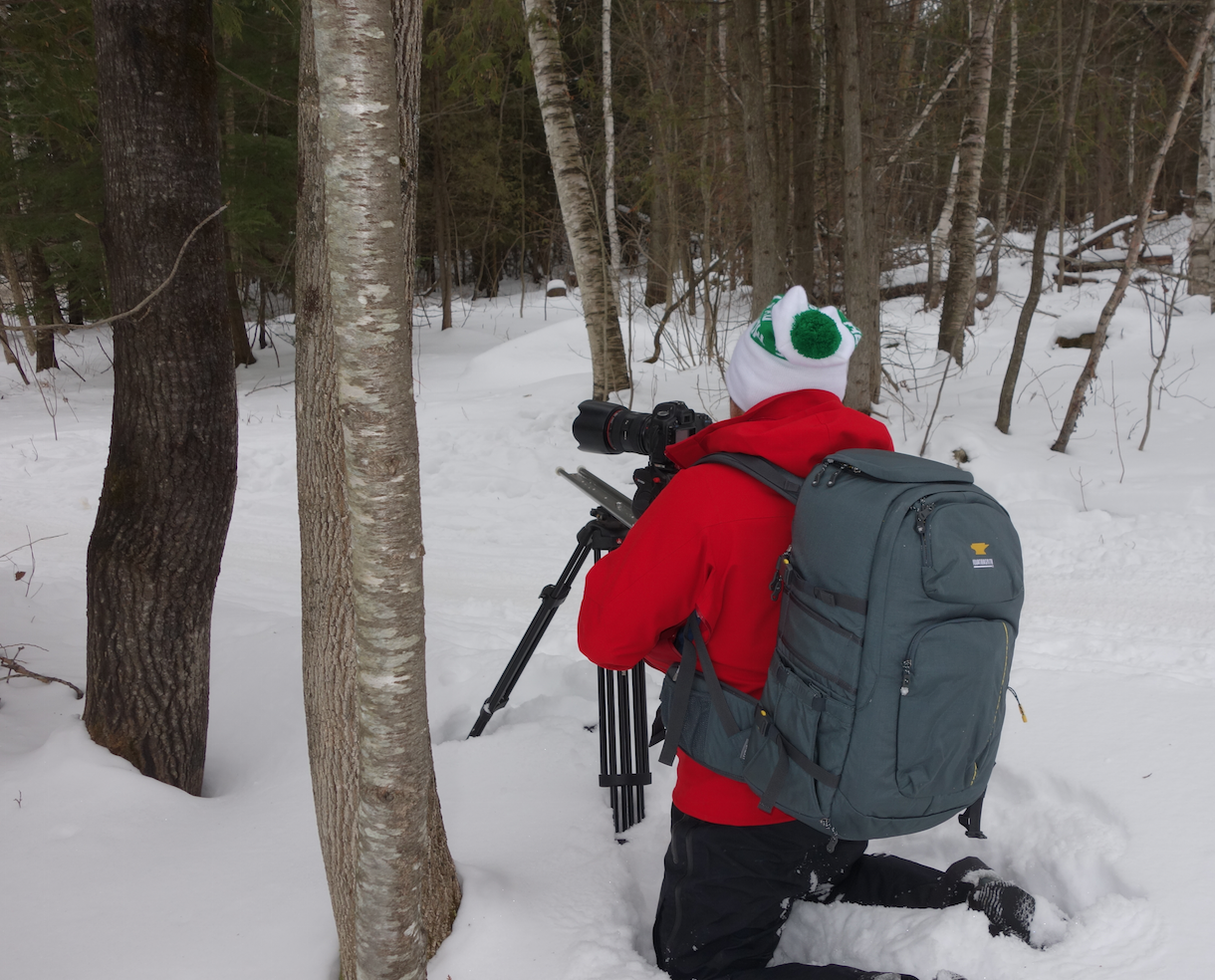 I don't travel light. As the in house videographer for Ibex Outdoor Clothing, I've travelled to New Zealand, Uruguay, Argentina, and throughout the US and always with the Parallax in tow. Since upgrading three months ago, things are easier. New features including a new side panel, a zipper top panel and a real hip belt lend comfort and ease. (The new hip belt is particularly awesome, big and beefy and able to take weight off the shoulders.) I've also tested, first-hand, the equipment protection in the pack.
Last month, while shooting the Fall 2014 Ibex line in Telluride, Colorado, I was not lucky. If you've never been to Telluride, it's breathtaking as in, it literally took my breathe away. I suffered pulmonary edema a few days into the trip.  That was embarrassing, but it gets worse. After two visits to the Telluride Medical Center and sitting out 3-days of the trip due to altitude sickness, I was cleared for work again.  I packed my 5D Mark II and three lenses into the Parallax and strapped a slider and steadycam to the sides for a day of skiing. The pack weighed 45 pounds but carried like 20.
We filmed all morning and into the afternoon and I was still groggy from my altitude sickness.  While descending down a narrow trail, I suddenly came upon an unexpected three foot drop to a flat cat-track.  I tried to stop but the weight in my pack carried me forward.  At this point I attempted a half-hearted jump off the ledge but the front tip on my right ski caught.  I was sailing towards the ground with 45lbs of expensive camera gear on my back leading my way.  My fall pulled my foot up in my boot and the spin move rotated my ankle a bit, though it felt like 180 degrees.  I landed awkwardly, smashing the Parallax and my livelihood into the ground.
Ankle sprained.
Pride hurt.
Camera gear… fine.
Growing up is painful. The limitations of the world get sharper when we age. That is unless you're the Parallax. In that case, growing up means fewer compromises, more features for more travels and a handsome design that invites adventurers of any age with one look to know – "That's my bag."
Evan Kay is a full time videographer and social media manager for Ibex Outdoor Clothing. A devoted adventurer, Evan can be found on pre-dawn skinning sessions, weekend mountain traverses and in the occasional mountain bike enduro race. Evan's ease in all things adventure can be felt in his film work: the carefully framed figures living life outdoors are filled with a visual respect, the fraternity of mountain life. Evan lives in North Pomfret, Vermont with his girlfriend, Jordana and Arthur, an energetic 9-year old Boxer. 
Follow Evan on twitter: @ibexdude
Evan's new climbing film The Black Canyon: The New Black Project is being world premiered at the Montrose Adventure Film Festival, April 4-6th.  He will also be hosting two Adventure Filmmaking Workshops at the Festival.  Watch the trailer here and keep an eye out for the full-film on Ibex's website www.ibex.com mid April.  Festival passes can be purchased at http://montroseaff.bpt.me.